Peacemaker Just Confirmed Yet Another Bizarre Character Exists In The DCEU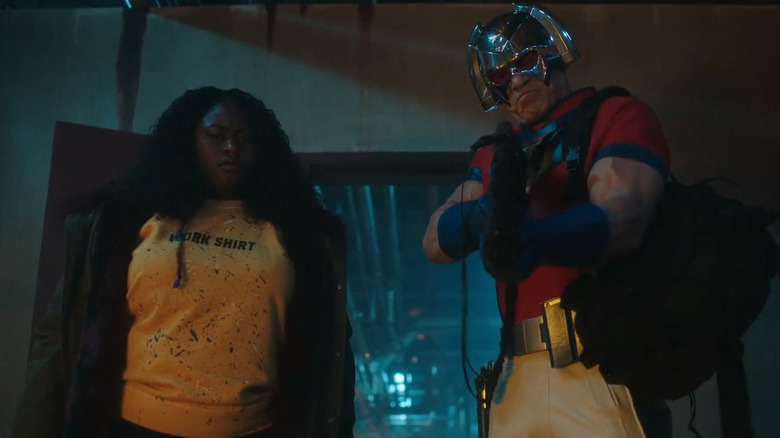 HBO Max
This post contains minor spoilers for the new episode of "Peacemaker."
In the age of onscreen superhero dominance, there's nothing quite like the joy of recognizing a well-placed Easter egg. Nothing gets the blood pumping like a sharp reminder that these interconnected universes are in fact connected and have oodles of stories to pull from. "Peacemaker" certainly hasn't shied away from whipping out fun references — the show itself is a spin-off of James Gunns' wonderfully bloody superhero romp, "The Suicide Squad." Naturally, it's stuffed with mentions of the movie's events and characters, alongside references to the comics and broader cinematic universe.
But every now and then, there's a tidbit so wonderful, it deserves a whole loving appreciation post. The latest episode "Monkey Dory" definitely delivers. In the midst of all the crime-solving and friend-bonding, Leota Adebayo (Danielle Brooks) pays a visit to Peacemaker's (John Cena) trailer. There, her wandering eyes catch a glimpse of a newspaper headline that will rock your world: New Hero Peacemaker Apprehends Kite Man. That's right folks, it's official — the Kite Man renaissance is upon us! If this is your first encounter with the aerially-inclined villain, perhaps you're thinking to yourself that's obviously a joke! A villain with a kite strapped to his back? Haha, that James Gunn is a funny guy! You make a solid point. But there's nothing funny about the introduction of Kite Man ... mostly.
Kite Man, Hell Yeah!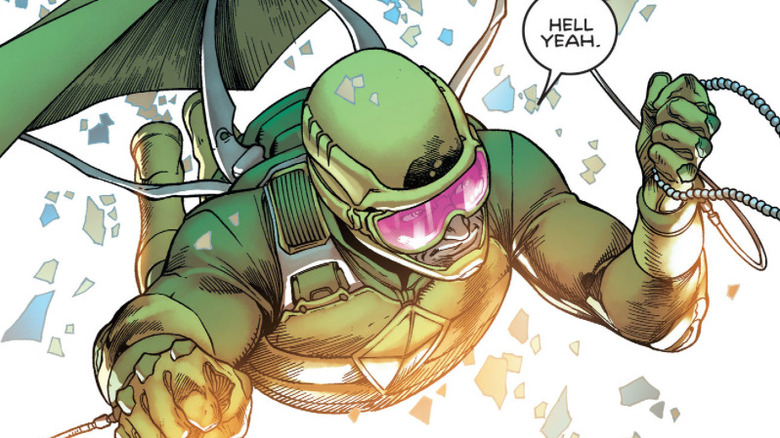 DC Comics
Surely you're familiar with the world's most memorable Batman villain, Kite Man? If not, I see how this might be confusing. Kite Man is a ridiculous name with an even more bizarre concept — a villain who uses kites for evil?! That's wild. That would be like naming a villain Condiment King or tossing in some weirdo named Crazy Quilt, who exclusively commits color-themed crimes. But then again, I'm pretty sure our good pal James Gunn has already proven he can make a meal out of the world's most ridiculous comic book concepts. After all, we're talking about the guy who made me cry over a sad-eyed weirdo named Polka Dot Man! His powers included mommy-issues and exploding polka dot boils! That was real! It really happened! I really sobbed about it and I have it on good record that lots of other people did too! And don't even get me started on Ratcatcher 2. The point is, you should probably join me in quaking with excitement over the mere mention of Kite Man.
Now, Kite Man doesn't actually appear in the "Peacemaker" episode and there's absolutely no reason to believe that he will. That Peacemaker is a pretty violent chap, and though zooming into the newspaper has failed me thus far, I'm guessing his takedown of Kite Man wasn't super gentle. But! This still makes Kite Man canon in the DCEU. If he survived his Peacemaker encounter, he could very well still be out there, plotting his follow-up reign of terror. Personally, I'm now convinced that I have to watch "Peacemaker" not just because it's currently the biggest series in the world, but because of the five seconds where Kite Man's name appears and the very thin possibility that my favorite kite-obsessed doofus may show his face. In case you aren't sharing in my unbridled joy, here's a quick crash course on all things Kite Man.
The Ballad of Kite Man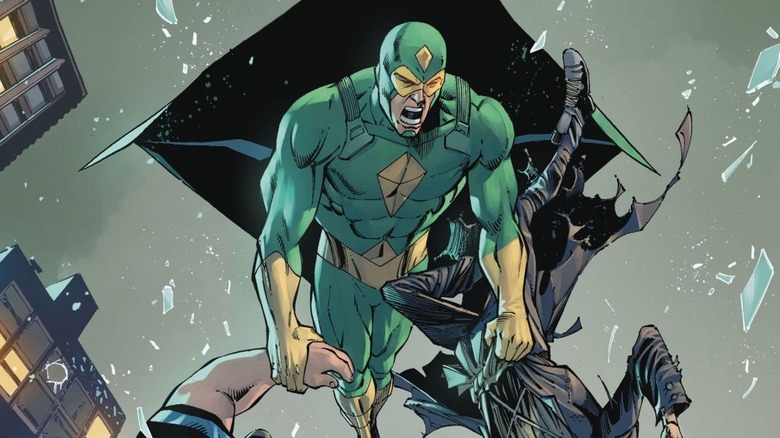 DC Comics
It begins with a man named Charlie Brown. Ridiculous as it may be, i's a very fitting name because Kite Man's whole thing is being a joke. He first appeared back in 1960 (a Bill Finger and Dick Sprang creation from Batman #133) strapped to a kite and dropping tear gas on civillians. Actually named Charles "Chuck" Brown (a "Peanuts"-inspired joke), Kite Man was your average gimmicky villain using kites to commit heinous crimes. Whipping out all sorts of odd creations — like his "flashbulb kite" and "mammoth kite" — he would do some evil, and then glide away for a seamless escape ... and then he'd be routinely stopped in his tracks. At one point, Batman even defeats him using his a bat-shaped kite of his own, which sounds humiliating (and maybe counts as copyright infringement, so Chuck should definitely sue). In his scattered appearances, Kite Man mostly served as a joke character to be quickly defeated or punned about later on. And then he was reborn.
DC comic writer Tom King kicked off the Kite Man renaissance by breathing new life into the character. His first appearance in King's Batman saw him doing as Kite Man does: crashing through a window, stealing a woman's pearls, then hopping out to glide away to freedom — but not before uttering his instantly iconic catchphrase: "Kite Man. Hell yeah." Just a panel later, he's abruptly yanked out of his aerial bliss by Gotham Girl, one of Batman's many proteges. This may sound like a repeat of this past, but in reality, the running Kite Man joke was on the verge of paying off.
Kite Man Reborn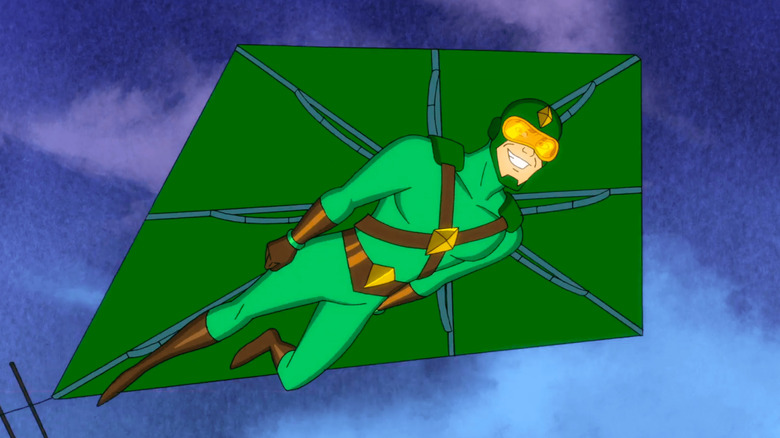 HBO Max
In the "War of Jokes and Riddles" comic storyline, we get the Kite Man origin story: once upon a time, he was just a small-time criminal with a degree in aerodynamics engineering. Poor ol' Chuck Brown also happened to be a former Joker henchman. In the midst of a supervillain gang war, this caught Batman's attention. Hoping to put an end to the war between The Joker and The Riddler, Batman walks into a bar (!) corners Chuck, and demands he set up a meeting with the Joker so the Caped Crusader can swoop in, toss his nemesis in prison, and end the violence. But using Chuck as a pawn was a pretty popular idea: at the same time, the Joker made plans to use Chuck as a mole for Riddler.
This presents a very dire, life-threatening crisis for Charlie: get in the middle of two supervillain's war or double-cross Batman. Somewhere in the middle of all the fear and death threats, Chuck finds time to fly a kite with his son. Sadly, Riddler had already connected him to Batman and poisoned the kite string, which ultimately kills Chuck's son. That's a villain origin story if I've ever heard one! You can probably guess what happens next: Chuck puts his degree to work, renames himself Kite Man and begins a life of kite-themed crimes.
Nowadays, Kite Man is a star! Anyone familiar with the "Harley Quinn" animated series knowns this firsthand. The series follows Harley's identity crisis and many misadventures after breaking up with Joker. Amongst it's hilarious ensemble of villains is Kite Man, voiced by Matt Oberg. He too is building up his villainous reputation, mostly because everyone still considers him a joke. Probably because of, ya know, the kites. And yet, he remains increasingly optimistic, positive he can match up to the likes of Harley and her fellow A-list villains. And who can argue? It kinda pays off. He swoops to the gangs rescue a couple of times and even manages to catch Poison Ivy's eye, despite her once calling him a "kite f***ing freak." Kite Man for the win! Nothing can get this man down! Except for like ... rain. And competent superheroes. 
But other than that, Kite Man is incredible and obviously ripe for more onscreen appearances. That mysterious DC series James Gunn is currently developing? It should be Kite Man. That secret Jensen Ackles project? Imagine Dean Winchester as Kite Man! The time has come to follow in his optimistic tracks and bet all the chips on Kite Man!