Will There Be A Cruella Sequel? Here's What We Know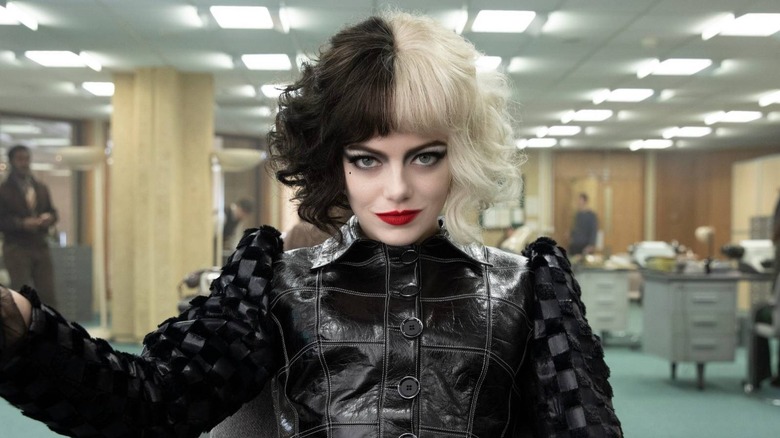 Disney
In 2021, Emma Stone wowed Disney fans as she became "Cruella," the iconic "101 Dalmatians" villain who terrified generations of kids in her pursuit of the perfect coat. A style icon, even if she is a bit too fond of puppy genocide, Cruella de Vil is one mean fashion designer, in more ways than one. This campy, stylish origin story was a big hit among fans, with critics praising the edgy crime adventure and cool '70s setting.
Although I originally thought "Cruella" was unnecessarily evil, I have to admit I enjoyed its quirky twist on the classic Disney tale. Taking a peek at Cruella de Vil's humble beginnings gives the character a really twisted reason for being. It also happens to be Disney's best live-action film adaptation to date. Emma Stone plays a blinder, too, giving the evil de Vil buckets of eccentric British charm as she revels in the punk rock glam of the '70s.
What's next for the iconic Disney villain? Thankfully, there's plenty more story to tell, and it looks as though a "Cruella" sequel might actually happen.
A Mid-Credits Scene Sets Up a Cruella Sequel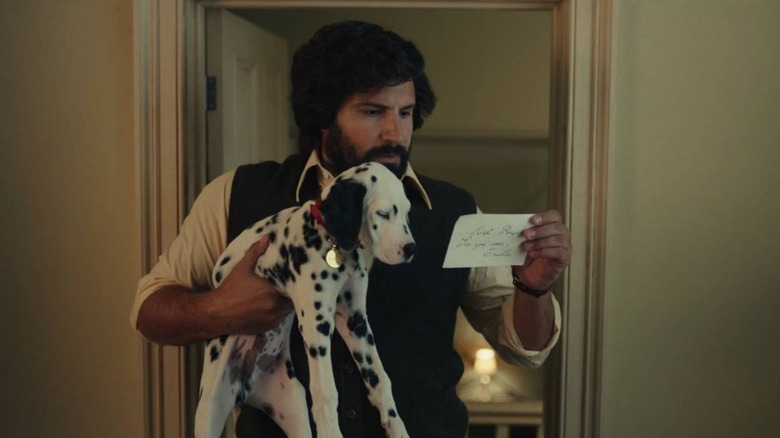 Disney
By the end of the movie, Cruella has inherited her family fortune and taken up residence in "Hell Hall," setting the scene for the young villain to become the de Vil we know and love. Moving her gang into the British manor, Cruella has some ideas for their next move ... and in a mid-credits scene, we see how that starts to take shape.
The scene introduces Pongo and Perdita, the two dogs at the center of "101 Dalmatians," as they're given new homes with Roger (Kayvan Novak) and Anita (Kirby Howell-Baptiste). This obviously sets up the events of the classic Disney animated film. But could this also be the next "Cruella" film?
It's certainly an interesting twist. In the original novel by Dodie Smith (as well as the Disney animated feature), it's not Cruella who gives the pups to Roger and Anita. Not to mention, it seems like a genuine gift. After all, Cruella is on fairly good terms with Anita after her former classmate helps raise her profile as a fashion designer.
Obviously, the rehoming of Pongo and Perdita sets up the events of "101 Dalmatians." However, it's going to be a while before those pups mature, leaving plenty of time for a "Cruella" sequel in between.
Director Craig Gillespie Wants to Make a Sequel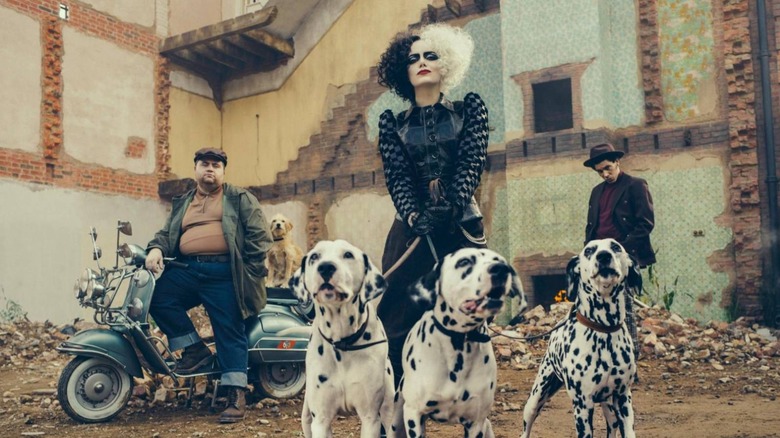 Disney
Although "Cruella" didn't do so well at the box office, it certainly has a lot of fans who are keen to see Emma Stone back in this wicked role. Thankfully, director Craig Gillespie already has some ideas for a sequel:
"I feel like we've only just met her. I'd love to now see the full-blown Cruella, fully loaded. She's managed to get the support system around her and she can really expand on her brand. I'd love to see where that takes her and how you could almost destroy her from inside out, if she's not careful with all that power."
It's easy to see Cruella taking it up a notch for a sequel, with Jasper (Joel Fry), Horace (Paul Walter Hauser), Artie (John McCrea), and John the Valet (Mark Strong) all along for the ride. Gillespie even suggested he would be down to return.
"If it was with this gang. It was such a joy to work with everybody, and Tony writing it, and Disney was so supportive. They really fostered a feeling of safety where we could just really go for it without the repercussions. We all were pushing it all the time and thinking, 'I don't know if Disney's gonna be okay with this,' but they would always call and be okay."
It looks as though Disney was keen to see more of Cruella's story, too...
Disney Confirms a Cruella Sequel Is in the Works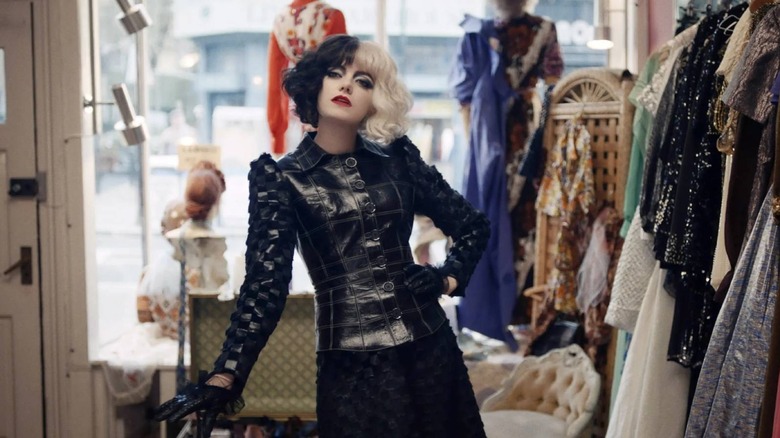 Disney
Merely a week after "Cruella" was released in theaters and on Disney+, there was word that Disney had already greenlit a sequel. According to The Hollywood Reporter, director Craig Gillespie will be back for "Cruella 2" alongside writer Tony McNamara.
But what about Emma Stone and the rest of the cast?
Typically, Disney kept tight-lipped about the news, issuing a vague statement that doesn't really confirm anything.
"We are very pleased with 'Cruella's' box office success, in conjunction with its strong Disney+ Premier Access performance to date. The film has been incredibly well received by audiences around the world, with a 97% Audience Score on Rotten Tomatoes in addition to A's in every demographic from CinemaScore on opening weekend, ranking it among the most popular of our live-action reimaginings. We look forward to a long run as audiences continue to enjoy this fantastic film."
When it comes to a potential sequel, that's obviously encouraging. And it looks as though Emma Stone has already agreed to reprise her role.
Emma Stone Will Return for the Cruella Sequel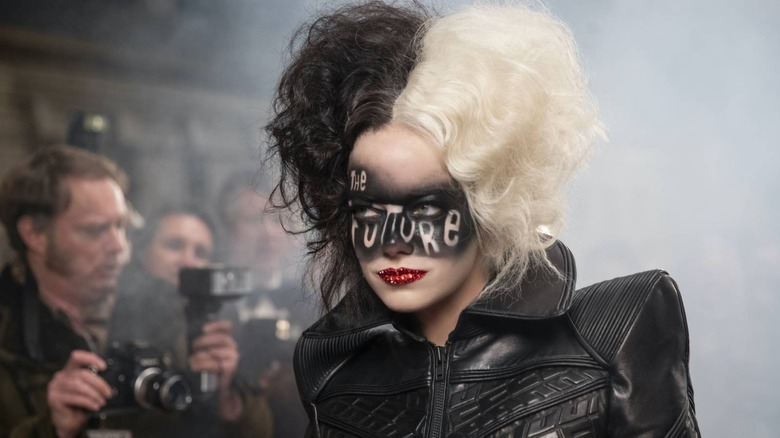 Disney
That's right — it's already been confirmed that Emma Stone is back for "Cruella 2."
According to Deadline, the 33-year-old "Cruella" star has already reached a deal with Disney for the upcoming sequel. They've even made allowances should the film get a day-and-date release via Disney+ and in theaters.
It's said that Stone's deal "mutually benefits both sides," which is crucial right now. During the pandemic, Disney was forced to reassess how it released its movies, and after the high-profile Scarlett Johansson lawsuit, it looks as though its stars will be getting a fair deal.
"'Cruella,' due to the pandemic, was released in theaters and on Disney+ PVOD tier on May 26, earning more than $222 million in worldwide ticket sales. The release of 'Cruella 2' is a ways off, and it's not certain at this time whether the movie will be a pure theatrical release or like its predecessor released simultaneously in homes."
Either way, it looks as though "Cruella 2" is in the bag, and with Emma Stone back as the twisted Disney villain, it's one to look forward to.