Diabolical Teaser: Animated The Boys Spin-Off Weaponizes An Adorable Baby, Again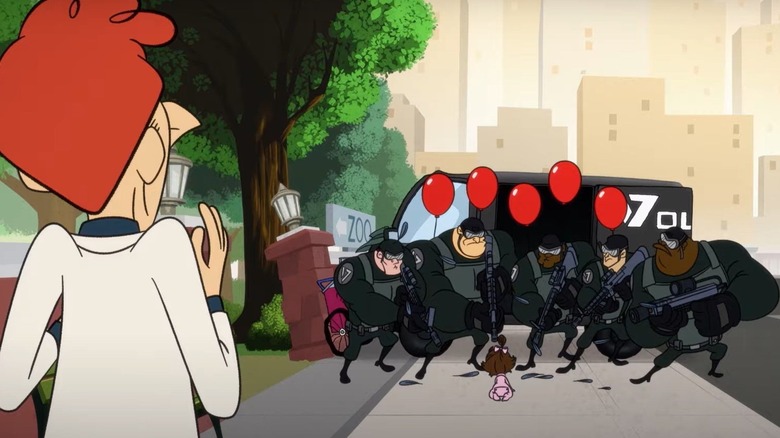 Amazon Studios
Well, they did warn us that it would be gory, violent, and push even more boundaries than the original series already had. Just when you thought it was safe to go back into the comforting waters of wholesome and inspiring superhero stories, "The Boys" is back to drag superpowered individuals back down to Earth in shocking, provocative, and slightly disturbing fashion ... though in a different medium, this time around. Not content to depict edgy superheroes and villains with all their flaws in live-action alone, "The Boys: Diabolical" will boldly take the property's penchant for irreverence and genre deconstruction into the world of animation. At first blush, the style almost seems to evoke the kid-friendly colors and visuals of "The Jetsons" ... until the lasers start shooting out of a baby's eyes and obliterates an entire SWAT team. You know, just normal children's entertainment!
Amazon just released our first look at this new spin-off series, concisely laying out the show's premise as an extension of the same tone from the original "The Boys." I'm going to go out on a limb and make the bold prediction that the studio will be inundated with complaints by irate parents in no time, all of whom assumed from a brief glance at its cartoony aesthetics that it would be fit to keep their kids occupied for a little while. Check out the footage of the mischievous, super-powered little killer below!
The Boys: Diabolical Teaser
In the universe of "The Boys," there is absolutely nothing off-limits — especially when you consider that the original series already depicted the notion of infants gifted with powers far beyond their control, to deadly effect. "The Boys: Diabolical" returns to similarly shocking ground, depicting what appears to be a Vought scientist trying to corral a runaway child before she can make a mess of things. Mission extremely unsuccessful, man. Even from just this brief glimpse at the show, it appears to be ... a lot. Between "The Boys," "Invincible," and James Gunn's "Peacemaker" series, these darker and more visceral takes on superheroes/supervillains clearly have an audience, but I'm curious where the limit will be for just how long viewers will remain interested in them. This isn't even the only spin-off of "The Boys," either, as a live-action college-set series has previously been given the green light. The irony isn't lost on me that "The Boys," which has frequently poked fun at the rate at which Marvel movies and shows have taken over our calendar on a yearly basis, is now following a similar trajectory.
In any case, the initial announcement of "Diabolical" revealed that "The Boys" producers Seth Rogen and Evan Goldberg will serve as writers on the spin-off series and will be joined by Awkwafina, Garth Ennis, Eliot and Ilana Glazer, Simon Racioppa, Justin Roiland and Ben Bayouth, Andy Samberg, and Aisha Tyler. The series is scheduled to run for eight episodes and, as announced for the first time in this teaser, will premiere on March 4, 2022 on Amazon Prime Video.