Moon Knight Comics You Should Read To Prep For The Disney+ Series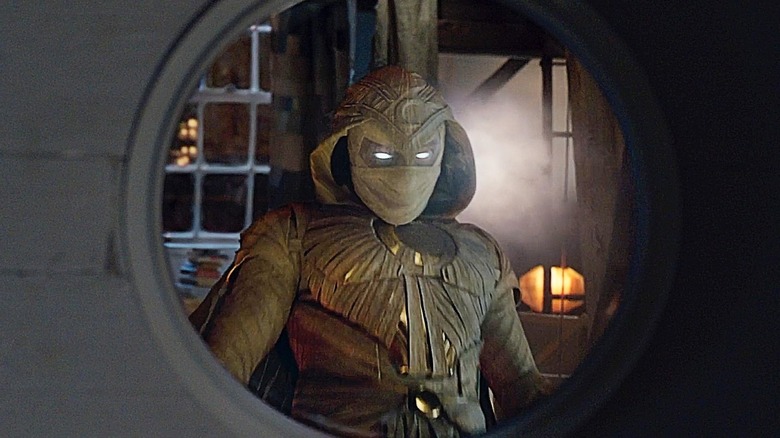 Marvel Studios
Marvel fans have something big to look forward to in March as the "Moon Knight" series is set to arrive on Disney+. This is a character many fans have long desired to see brought to life, ever since the Marvel Cinematic Universe paved the way for slightly lesser-known characters to make the jump from page to screen. In this case, Oscar Isaac ("Star Wars: The Force Awakens," "Ex Machina") is bringing the character to life. And that is going to be quite the acting challenge, as this character has multiple personalities and blurs the line between reality and fiction.
Marc Spector is the man behind Moon Knight, but it's not quite as simple as that. This isn't like Bruce Wayne being Batman. Imbued with the spirit of an Egyptian moon god, Spector is given great powers and agility ... or so he thinks. It gets complicated as this all might be in his head, since he suffers from a sort of ill-defined form of multiple personality disorder. As we saw in the trailer, that is going to make things very interesting in adapting the comics into live-action.
For those who are looking to become more familiar with the property before the show arrives, we're here to recommend some reading from the pages of Marvel Comics, from the character's origins up through some very recent storylines. Here are the "Moon Knight" comics you should read in preparation for the show.
Werewolf by Night #32 and #33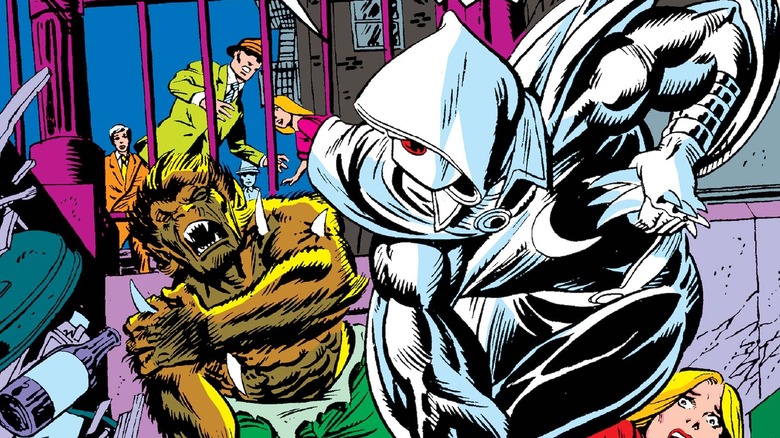 Marvel
As a baseline, it is good to know where the character came from, and Moon Knight was birthed by writer Doug Moench in the pages of "Werewolf by Night," specifically issues #32 and #33, back in 1972. We get hints of his mercenary backstory and our first taste of his now-classic look. While his story would be enriched in the years to come, this is where it all began. The issues are available digitally through Marvel.com or Marvel Unlimited, making them quite easy to access.
Here is the synopsis:
In the light of the moon, the Werewolf battles a mysterious stalker known as Moon Knight. But how did Moon Knight come to possess his silver weaponry? After a crowd begins to gather, the battle is postponed. For three nights in a row, it's Jack Russell vs. Moon Knight!
Moon Knight (1980)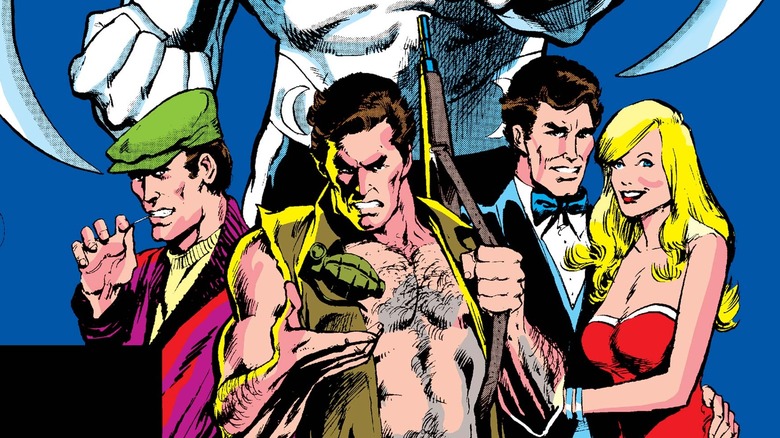 Marvel
Writer Doug Moench and artist Bill Sienkiewicz finally got the chance to put Marc Spector front-and-center with a solo "Moon Knight" series in 1980. This is largely where his wild backstory was first introduced and is, to this day, the definitive backstory for the complex hero. The series ran for 38 issues, so there is plenty to dive into, though reading the first arc would certainly do just fine. Again, these issues are available digitally, meaning you won't have to hunt down expensive physical issues.
Here is the synopsis:
Before he was the macabre Moon Knight, he was mercenary Marc Spector. Witness the origin of the hero known as Moon Knight! Cloaked in the spirit of the Egyptian moon god, Moon Knight swears vengeance on "Bushman," the mercenary who takes innocent lives and leaves his colleagues for dead.
Moon Knight #2 (1985)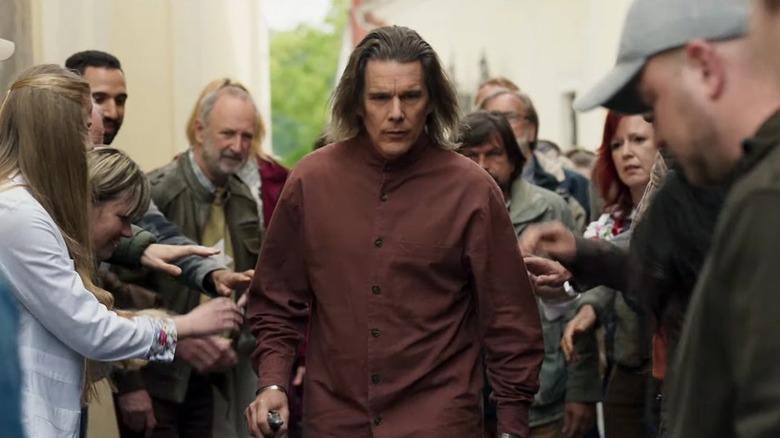 Marvel Studios
"Moon Knight" #2, in the character's second volume of stories, is a fascinating case now that the show is coming out. Ethan Hawke is said to be playing a man named Arthur Harrow, likely the villain of the series. Interestingly enough, he appeared in just one issue, this very issue, written by Alan Zelenetz with art by Chris Warner. Harrow is a mad scientist focused on ending pain in the human body. As is often the case with mad scientists, his plan doesn't go well. Given that this is the only issue that the character appears in, it would be a good read, though it is a little hard to come by as it isn't readily available directly through Marvel. But resourceful readers should be able to find a way to it.
Here is the synopsis:
Moon Knight heads to the Yucatan to face a madman that is turning innocent people into mindless slaves.
Moon Knight (2006)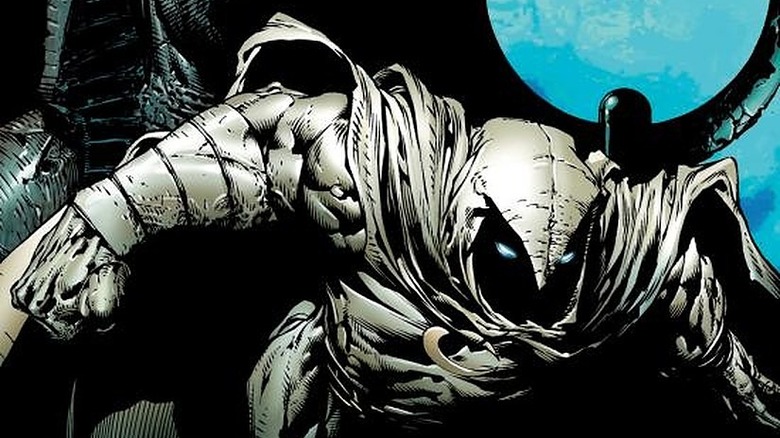 Marvel
Sometimes, after a character has existed for several decades, things get complicated and/or stale. The beauty of comics is that it is the perfect medium for reinvention, and that's exactly what writer Charlie Huston and artist David Finch did in 2006 with a revamped "Moon Knight" solo series. The book takes more of a stripped-down, back to basics approach to the character. In many ways, it could represent the perfect jumping-on point for readers. This was the first "Moon Knight" title I ever read, so I can say that with confidence. This is readily available through digital retailers and collected editions, making it very easy to get a hold of as well.
Here is the synopsis:
It's hard to pin down who Moon Knight truly is. Sometimes he's the enormously wealthy, somewhat crazy Marc Spector. Others he's the brutally violent vigilante who follows the will of Khonshu, God of Vengeance. Even more personalities may dwell within his schizophrenic psyche, but thankfully, the madness helps make Moon Knight one of the grittiest, most engaging and unpredictable titles in the Marvel line-up.
Avengers: The Age of Khonshu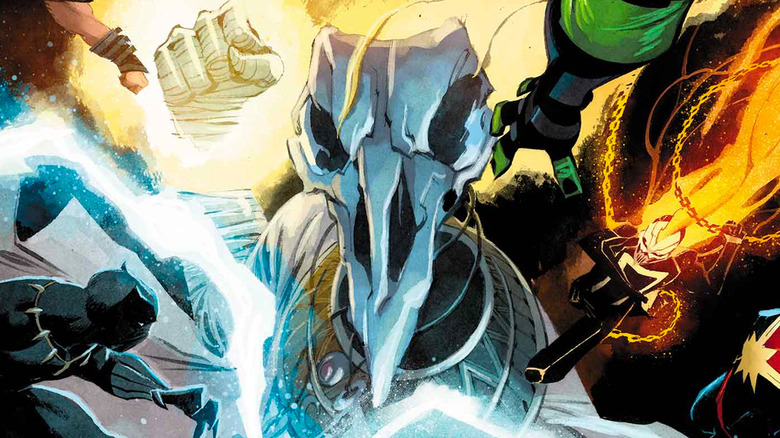 Marvel
Last, but certainly not least, we have by far the most recent entry on the list, but one that is certainly worth including. In Jason Aaron's run on "Avengers," the "Age of Khonshu" event that ran in 2020 brought Moon Knight into the fold alongside Earth's Mightiest Heroes in a big way. And, as the name implies, the moon god Khonshu was a big part of the whole thing, tying back to our hero in question. It remains to be seen if Isaac will interact with the rest of the MCU down the line, but this storyline gives us a taste of what that could look like. The issues are available digitally as well as in a collected edition.
Here is the synopsis:
New York City goes the way of New Thebes City in this pulse-pounding arc! Moon Knight, avatar of an Egyptian moon god, is now the Avengers' worst enemy. Khonshu's true motives have disturbed an enchanted bed of power in the mind of Marc Spector, and now mummies and moon priests have begun to reshape the world in Khonshu's ancient image. So begins a new dawn. So fall the Avengers.
"Moon Knight" arrives on Disney+ on March 30, 2022.