Edgar Wright Recreates Decadent London In Last Night In Soho Featurette [Exclusive]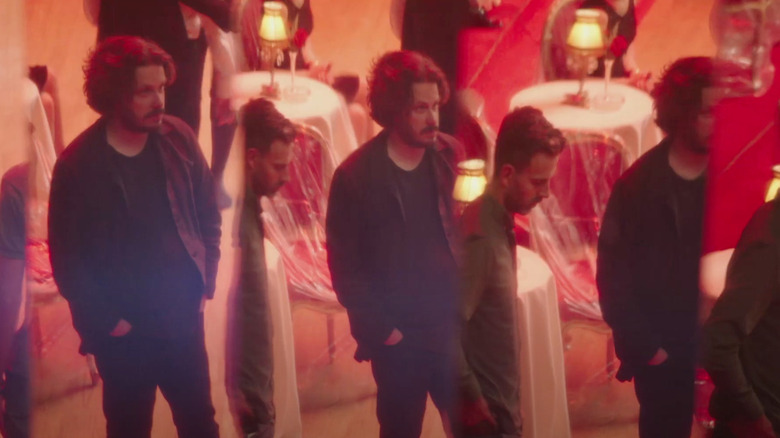 Focus Features
We may receive a commission on purchases made from links.
Many were hoping to get a chance to catch "Last Night in Soho" in theaters, if only for the sake of seeing the latest stylish bit of cinematic razzle-dazzle from filmmaker Edgar Wright ("Hot Fuzz," "Scott Pilgrim vs the World," "Baby Driver"). Unfortunately, like so many other non-superhero movies from visionary directors like Guillermo del Toro ("Nightmare Alley") or Wes Anderson ("The French Dispatch"), "Last Night in Soho" fizzled at the box office despite opening in a large number of theaters (over 3000), capping out at just under $23 million worldwide on a $43 million budget. 
Every time a bold, original film from an important director goes south at the box office it feels like a little death, but luckily audiences will now get a second chance to experience Wright's giallo-tinged time travel horror movie now that it is out on digital. To celebrate the arrival of "Last Night in Soho" on 4K, Blu-ray and DVD on January 18, 2022, Universal Pictures has provided SlashFilm with an exclusive clip from the movie's many bonus features, which you can check out below! 
Exclusive Last Night in Soho Clip
In this exclusive behind-the-scenes clip from "Last Night in Soho," Anya Taylor-Joy, Edgar Wright, and production designer Marcus Rowland talk about recreating the decadent and visually stylized worlds of the Café de Paris and the Rialto. Here is what Wright had to say about his motivation for recreating the period in such detail: 
"I guess, in a way, the film is almost like a cautionary tale for time travelers. I think me making the film is me trying to cure myself of my desire to go back to the 1960s."
For all the physical media lovers out there, the disc for the movie includes five big featurettes alongside deleted scenes, animatics, two commentary tracks and lots of other goodies. You can check out our own Jeff Ewing's review, but be sure to make up your own mind and catch the film for yourself now that it is available on both digital and disc. 
Here is the official synopsis for "Last Night in Soho":
In Edgar Wright's psychological thriller, Eloise (Thomasin McKenzie, 'Jojo Rabbit,' 'Old'), an aspiring fashion designer, is mysteriously able to enter the 1960s, where she encounters a dazzling wannabe singer, Sandie (Anya Taylor-Joy, Emma, 'The Queen's Gambit'). But the glamour is not all it appears to be, and the dreams of the past start to crack and splinter into something far darker.