The Proud Family: Louder And Prouder Trailer: The Disney Channel Original Animated Series Gets A Streaming Revival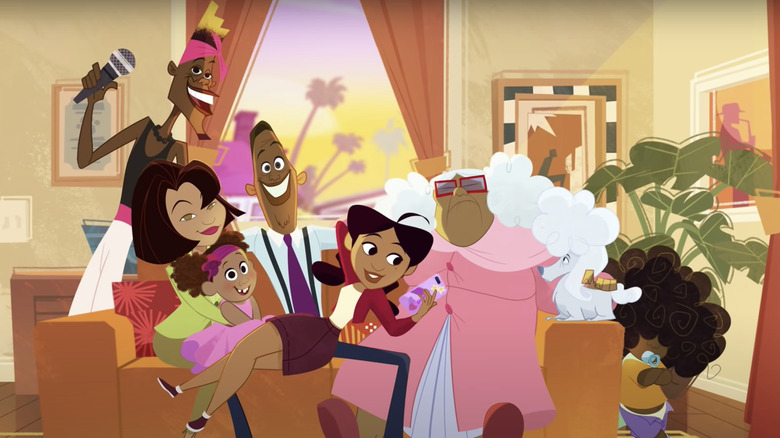 Disney+
It's been over 20 years since "The Proud Family" kicked off its initial run as the first Disney Channel original animated series. With a theme song by Solange Knowles and Destiny's Child, the show first aired from 2001 to 2005, crossing over with "Lilo & Stitch" at one point and culminating in "The Proud Family Movie," which acted as the series finale. Now it's back in a Disney+ revival series, "The Proud Family: Louder and Prouder," which is set to begin streaming in February.
The original voice cast, including Kyla Pratt, Tommy Davidson, Jo Marie Payton, Soleil Moon Frye, Cedric the Entertainer, Carlos Mencia, and more, is returning for "The Proud Family: Louder and Prouder." There are also some famous guest voices such as Tiffany Haddish, Gabrielle Union, Lil Nas X, and Leslie Odom, Jr., joining them for this revival.
The coming-of-age series will update the misadventures of Penny Proud and her family for the 2020s. She's 14 years old now, but her father — by a stretch of funny, overprotective parental logic — doesn't want her dating anyone before she's married.
Check out the trailer for "The Proud Family: Louder and Prouder" below.
The Proud Family: Louder and Prouder Trailer
The trailer has a new character, voiced by Billy Porter, introducing his brawny husband, voiced by Zachary Quinto. At a Television Critics Association panel last week (via Deadline), "Proud Family" creator Bruce W. Smith and co-executive producer Ralph Farquhar explained that "Louder and Prouder" will live up to its title by engaging, in a forthright manner, with stories that could only be hinted at before. Farquhar said:
"A lot has changed in 20 years, that's for sure. Before, we used to have to tip toe and used coded language. Now we can go straight at it."
The official synopsis for "The Proud Family: Louder and Prouder" from Disney+ is as follows:
A continuation of the acclaimed series, "The Proud Family: Louder and Prouder" follows the adventures and misadventures of newly 14-year-old Penny Proud and her Proud Family as they navigate modern life with hilarity and heart. The 2020s brings new career highs for mom Trudy, wilder dreams for dad Oscar and new challenges for Penny, including a socially woke neighbor who thinks she has a lot to teach her, bullying social media influencers who want to cancel her and her own teenage hormones.

Penny's friends return, including Dijonay, LaCienega, Zoey and Michael. Penny's Suga Mama also returns, ready as ever to dispense tough love or a gentle hand whenever Penny needs it. Among the new faces are Maya and KG, new kids who not only have to deal with the struggles of being the new kid but also having two dads, a first for Smithville.
"The Proud Family: Louder and Prouder" debuts on Disney+ on February 23, 2022.