The Man Who Fell To Earth Teaser: Chiwetel Ejiofor Is Here To Change The Future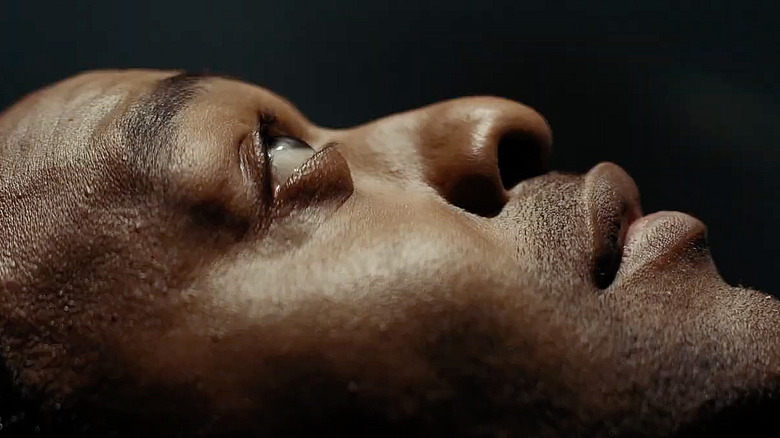 Showtime
After moving from Hulu to CBS All Access (before that service was rebranded as Paramount+) and then to Showtime, the TV series version of "The Man Who Fell to Earth" is finally ready to invade homes this year. The show is loosely based on the 1963 sci-fi novel of the same name by "The Queen's Gambit" author Walter Tevis, which itself was famously turned into a film starring David Bowie in 1976. But where Bowie played Thomas Jerome Newton, a human-like alien who crash-landed on Earth in search of water to aid his drought-stricken home planet, Chiwetel Ejiofor is starring in Showtime's series as "Faraday," another member of Newton's species who has made his way to Earth for as-yet-unknown reasons. Naomie Harris co-stars in the show as a human scientist who assists Ejiofor's other-worldly visitor on his mission and has an appropriate reaction to meeting an extraterrestrial for the first time.
For more on that, along with a sneak peek at some of the show's more celestial visuals, check out the teaser trailer below.
The Man Who Fell To Earth Teaser
The official synopsis for "The Man Who Fell to Earth" is as vague as the teaser when it comes to specific plot details:
"An alien who arrives on Earth at a turning point in human evolution [must] confront his own past to determine our future."
Co-showrunners Alex Kurtzman and Jenny Lumet ("Star Trek: Discovery") were recently a little more forthcoming about the series, revealing that Ejiofor's character isn't the first member of his species to visit Earth. They also confirmed the show will focus less on the theme of loneliness from the original novel and 1970s film version of "The Man Who Fell to Earth" in favor of telling what they see as a more uplifting story to share with audiences in 2022. As Lumet put it:
"I believe in human beings, and I wanted to write about human beings pulling it out, stepping up, and making it through. Because we're pretty cool species. And I believe that if a spaceman came to Earth, he would see all our shenanigans and he would say, 'Wait a minute, you guys are capable of some really beautiful stuff.'"
Jimmi Simpson ("Westworld"), Kate Mulgrew ("Star Trek: Prodigy"), Clarke Peters ("Da 5 Bloods"), Sarah Quist ("EastEnders"), and Rob Delaney ("Catastrophe") are among those filling out the cast of "The Man Who Fell to Earth." The series will debut this spring on Showtime.