The Man Who Fell To Earth First Look: Chiwetel Ejiofor Steps Into David Bowie's Space Shoes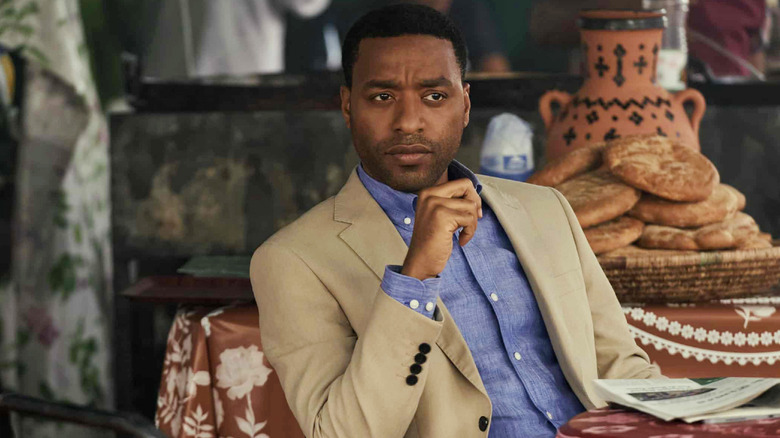 Netflix
There's a starman waiting in the sky, but he's (obviously) not the late David Bowie. No, it's Chiwetel Ejiofor who's starring in "The Man Who Fell to Earth," a TV series that re-imagines elements of the 1963 sci-fi novel by Walter Tevis (who, fun fact, also wrote "The Queen's Gambit"), as well as the 1976 film adaptation starring Bowie as a humanoid alien who crash-lands on Earth in search of water to help his drought-stricken home world.
How do you replace someone like Bowie, a music icon and actor with such an other-worldly screen presence that it left you wondering if he secretly really was an extraterrestrial (or a Goblin King)? The answer is you don't, as "The Man Who Fell to Earth" co-showrunners Alex Kurtzman and Jenny Lumet (both of whom have served as executive producers on "Star Trek: Discovery") told EW. Instead, the duo were keen to emphasize that Ejiofor, pictured below with his co-star Naomie Harris, is playing "an entirely different" non-human than Bowie did in the '70s movie.
As Kurtzman explained:
"[Ejiofor's character] is of the same alien species that Bowie was in the film, but he's not the same character — and he wasn't the first one here [on Earth]."
The Man Who Fell to Earth Image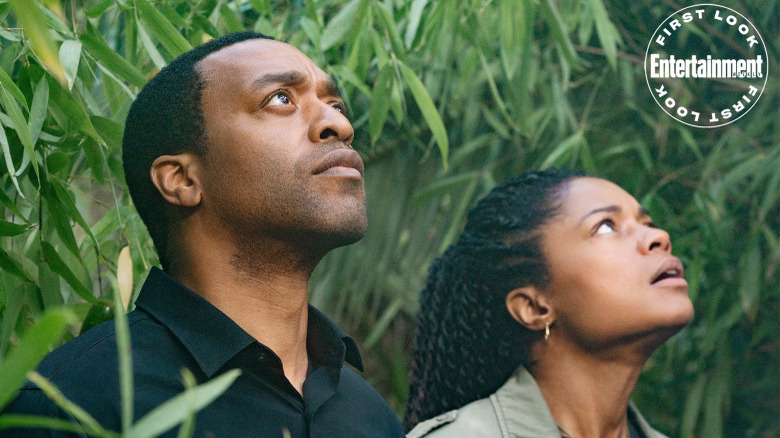 Showtime/EW
So, what brings Ejiofor's non-Earthling to our humble little planet in "The Man Who Fell to Earth"? Kurtzman and Lumet are keeping that to themselves for now, but confirmed that he sets out looking for Harris' character — a human scientist who has "such extraordinary ability inside of her, but is afraid to engage with the part of herself that can make the world better." 
Another big difference between Bowie's movie and Ejiofor's series? The latter wrestles with the daunting problems facing humanity in the present but tells what Kurtzman describes as a "much more uplifting" story. Lumet added:
"I believe in human beings, and I wanted to write about human beings pulling it out, stepping up, and making it through. Because we're pretty cool species. And I believe that if a spaceman came to Earth, he would see all our shenanigans and he would say, 'Wait a minute, you guys are capable of some really beautiful stuff.'"
A sci-fi show with a more optimistic, while still nuanced, take on us humans and our ability to do better could make for a nice change of pace in the modern TV landscape. (Between "Westworld" and "Black Mirror," we're not exactly hurting for sci-fi series with a bleak outlook towards human nature.) Bring it on, I say.
"The Man Who Fell to Earth" debuts on Showtime in 2022.