SNL Spoofs Bel-Air With A Very Serious Drama About Steve Urkel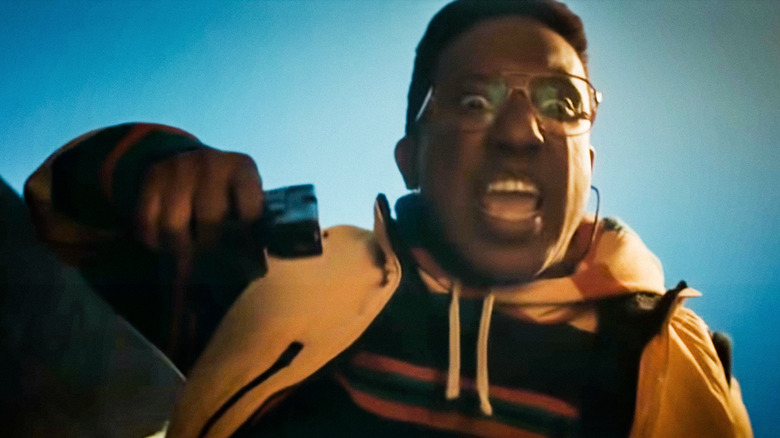 A few years ago, many were calling for a return to the Roaring '20s. While those plans were derailed thanks to the general state of the world right now, streaming services still decided to turn back the clock. Although, they stopped at the '90s. "Full House," "Saved By The Bell," "Daria," and "Legends of the Hidden Temple" are just a few favorites that have been revived by various streamers. 
Now Peacock has dropped the trailer for "Bel Air," a dramatic retelling of the iconic Will Smith sitcom that saw the then-rapper-now-megastar's life get flipped, turned upside down as he moved from the mean streets of Philadelphia to the posh high society of LA's westside.
But as it tend to do, "Saturday Night Live" asks the question, "Why stop there?" Now that its parent network has tackled "The Fresh Prince of Bel Air," the long-running sketch show targets "Family Matters" as the next dark, gritty reboot.
Did I Do That?
On the latest "Saturday Night Live," which was hosted by "West Side Story" and "Schmigadoon!" star Ariana DeBose with musical guest Bleachers, the cast debuted "the next 90s show about the black experience to be given a serious, high-stakes remake": "Urkel." Based on the "Perfect Strangers" spinoff and TGIF line up staple "Family Matters," Chris Redd steps into the shoes and trademark red glasses of Jaleel White's Steven Quincy Urkel to bring the lovable nerd into modern day Chicago. The skit also features Ego Nwodim as Laura Winslow and Keenan Thompson as Officer Carl Winslow, originally played by the incomparable Reginald VelJohnson.
As the faux trailer says, "Family Matters" is probably "the #1 worst choice for a sitcom to modernize like this" and "SNL" does a great job of showing us why. Redd going full "Joker" on Laura's boyfriend is both the highlight of the sketch and the top reason why this wouldn't work for real. Plus, can you imagine what storylines they would come up with involving Officer Winslow and Chicago mayor Lori Lightfoot? I don't even want to speculate on that because the scariest part of this bit is that some studio executive might watch this and be like, "Wait. But what if..." and actually will this into existence.
I'm sure that every generation says this, but "Saturday Night Live" doesn't hit the same way as it used to. However, an awesome bit still emerges every once in a while, and I think this trailer for "Urkel" is one of those occasions.