Bel-Air Trailer: The Fresh Prince Gets A Fresh Dramatic Makeover For Peacock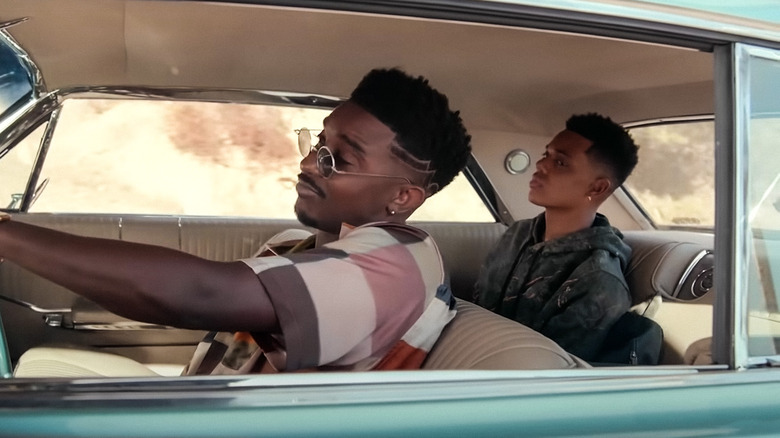 Peacock
The trailer for Will Smith and Morgan Cooper's dramatic reimagining of "The Fresh Prince of Bel-Air" is here, and unfortunately it doesn't include an angsty, down-tempo cover of the original show's theme song like I'd hoped. There's still a lot to unpack in this first look, though, which puts a whole new spin on the story of how Will's life got turned upside-down.
The new trailer re-introduces us to the boy from West Philadelphia, now played by Jabari Banks. Though we don't get a catchy rap recap, we do get a lot of insight into what led Banks' Will to Bel-Air. As house manager Geoffrey (Jimmy Akingbola) puts it, Will ended up in a "scrap on the ball court" that "got nasty." Footage shows that, during a fight, Will fired a warning shot in the air and was roughly apprehended by police. The guys he scrapped with are still after him, so he was sent to Bel-Air to lie low.
This isn't majorly different from the original "Fresh Prince of Bel-Air" premise, but the trailer does reveal some pretty major changes. Most noticeably: preppy Carlton is cool now?! Olly Sholotan takes over the role made famous by Alfonso Ribeiro, and we see in quick flashes that he spends his time driving sports cars, playing lacrosse, and speaking to a large crowd.
Meet The New Banks Family
We also see Will reunite — seemingly in the middle of a swanky family event — with his Aunt Viv (Cassandra Freeman), Uncle Phil (Adrian Holmes), and cousins Ashley (Akira Akbar) and Hilary (Coco Jones). Across the original sitcom's six-season run, Will had a rocky relationship with some of his upper class relatives, but when he meets the Banks family in "Bel-Air," they're all smiles. Hilary looks very elegant, with a long ponytail and pink seersucker suit, and she soon gets Will decked out in a new outfit as well.
The rest of the trailer focuses on Will's dramatic Bel-Air culture shock as he navigates private school, a house party, a basketball game, and more rich-people get-togethers. This first look is interesting enough, and I can see the merits of telling this as a serious story, but in the end the trailer mostly just leaves me wanting to throw on reruns of "Fresh Prince."
Still, the story behind the creation of "Bel-Air" is a fun one. Apparently, in 2019 Will Smith saw cinematographer Morgan Cooper's trailer that reimagined the classic sitcom series as a drama. Smith loved it, and decided to develop it into a real show with Cooper serving as a director, writer, and co-executive producer. Two years later, and "Bel-Air" is a reality. The series already has a two-season order at Peacock.
"Bel-Air" debuts on Peacock on February 13.