GLOW's Deanna Booher Changed What Was Possible For Fat Women On Television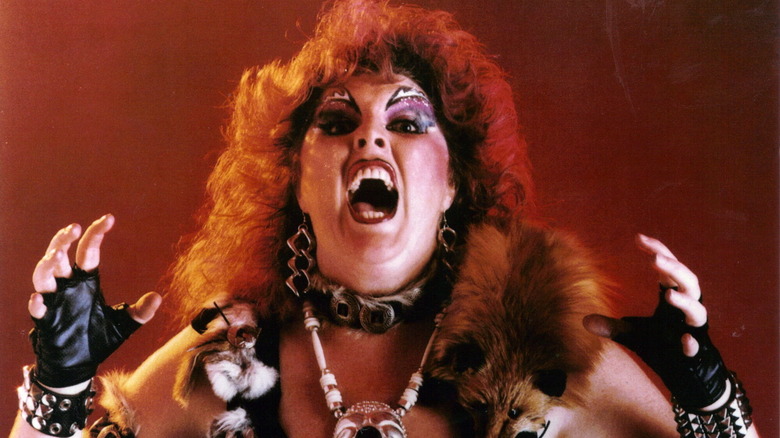 Gorgeous Ladies of Wrestling
Whether you knew her as Matilda The Hun, Queen Adrena, Juicy Joy, Queen Kong, or the Bearded Lady from "Spaceballs," the world of professional wrestling and entertainment lost a great one this weekend with the passing of Deanna Booher at the age of 73. Booher got her start in the 1980s as an amateur mud wrestler well into her thirties, where because of her large frame, she grappled competitors of all gender identities. After California law barred her from wrestling men, she fought a 700-pound bear. No, I'm serious. Booher was a known personality in Los Angeles in the 1980s, but it was her run on the original GLOW (Gorgeous Ladies of Wrestling and the inspiration for the Netflix show of the same name) that turned her into an icon, and completely changed what was possible for fat women on television.
Booher was not alone in her large stature, and frequently wrestled alongside Mt. Fuji (Emily Dole) a nearly 6-foot-tall Samoan Olympic shot-putter. The difference being, however, was that Booher was a massive heel. Matilda the Hun was an absolute monster who dressed provocatively, wore garish makeup, ate raw meat in the ring, yelled obscenities, and intentionally scared children in the crowd. Booher enjoyed every minute of it, and completely subverted what was the "acceptable" way to present fat women on television. She wasn't a side-kick, she wasn't a sassy best friend, she wasn't comedic relief, and she surely wasn't a tragic figure. The first female "monster heel,"Deanna Booher was sultry, surly, and strong as hell.
Booher Unabashedly Embraced Being Big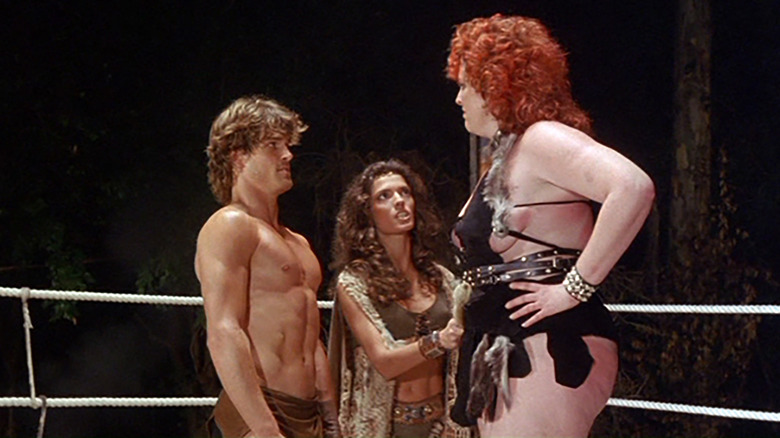 Concorde Pictures
Before professional wrestling, Booher was a sex photojournalist and sex worker, developing her Queen Adrena wrestling character based on her work the dominatrix world. So often, fat people in entertainment are meant to be successful in spite of their bodies, but Booher demanded that her success exist because of her body. After her professional wrestling career was finished, she continued working as a stuntwoman, and frequently appeared in cameo roles in film and television. No matter the role, Booher made sure that her truth was always represented as being huge, horrifying, and hot. If you look at her character names from her acting career, they perfectly embrace her attitude like Tough Broad, Big Lady w/ Whip, Nude Model, Meanest Woman Truck Driver or stereotypical "big" sounding character names like Mrs. Lurch and Bertha. She completely owned who she was, and no one would dare question her unless they wanted to experience her proven strength.
We like to believe that our current era is more progressive than the years that came before, but we've still not had someone in the public eye that looks or acts like Booher. Sure, there's plenty from the 1980s era of GLOW that has aged poorly (like the time they had her wear a Nazi helmet to make her seem like more of a heel, yikes) but in terms of fat representation, the show is still untouchable. With the exception of "Shrill" or the criminally underseen women's arm wrestling film "Golden Arm," studios still struggle with how to represent fat women on screen in non-stereotypical roles. Booher was the blueprint for breaking the mold, and she will be so dearly missed.