Here's When You Can Watch House Of Gucci At Home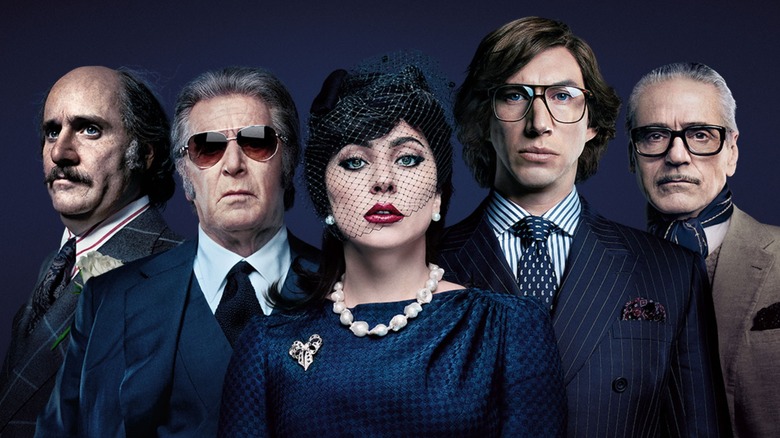 MGM
I'm (trying to be) what you might call a "professional," which is why I'll resist the temptation to fill this entire story with nothing but quintessentially Italian "pinched finger" emojis. Filmmaker Ridley Scott's other 2021 film, "The Last Duel," received most of the attention (and, in certain corners, controversy) last year but "House of Gucci," starring Lady Gaga, Adam Driver, Jeremy Irons, Robert De Niro, and Jared Leto as members of the fabulously wealthy Gucci dynasty, deserved its fair share of the spotlight as well. /Film's Chris Evangelista largely praised the film in his review, acknowledging the messiness of the structure, tone, and accents while still praising the many joys to be found in this otherwise dark, brutal satire of a story:
"Despite the film's often nasty subject matter, 'House of Gucci' makes us chuckle at how ridiculous everyone is up on the screen. They may wear the hottest fashions and dwell in palatial homes, but deep down, they're all a bunch of trashy goofballs who have no idea how anything works. They just stumble through life and get by because of their wealth. And perhaps all of this will be a little too cruel, and too crass, for certain audiences. After all, 'House of Gucci' is ultimately telling the story behind a real-life murder. But there's not much sympathy to be found here, and that's a feature, not a bug."
The shocking real-life hit on Maurizio Gucci (Driver) by his ex-wife Patrizia (Gaga) provided plenty of real-life drama at the time, making this unbelievable turn of events ripe for a cinematic retelling in Ridley Scott's capable hands. Months after pulling a decent-ish performance at the box office during its theatrical release, the film is finally coming home to digital and Blu-ray. Here's where and when you can watch "House of Gucci" at home.
House of Gucci Digital and Blu-ray Release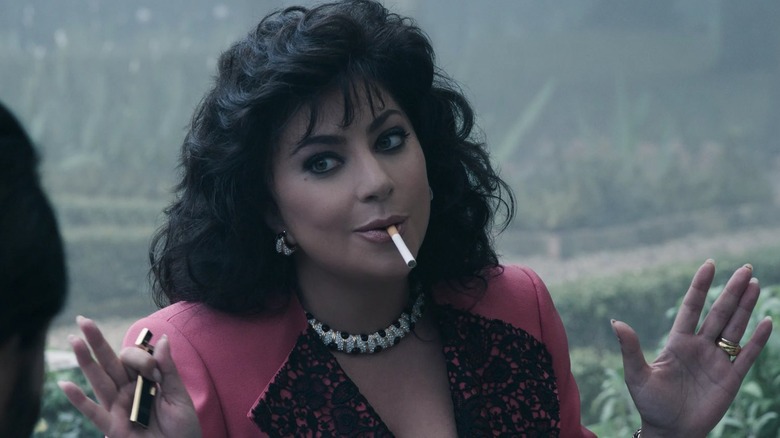 MGM
Praise be to the Father, Son, and House of Gucci. Fans of Ridley Scott's latest and those who missed the film in theaters the first time around will be eager to know that the wait is nearly over. "House of Gucci" will be made available on digital for a release on February 1, 2022. For the physical media collectors among us (a dying breed, to be sure, but a cause still worth championing!), the film will then come to Blu-ray, DVD, and on demand on February 22, 2022. You may notice a certain glaring omission, however. In a disappointing development, it doesn't appear that "House of Gucci" will be receiving a 4K release for some unknown reason. "The Last Duel" received a sparkling 4K transfer, which only makes this feel like an even bigger misstep. The murder-happy saga of the Guccis is worth seeing in crystal-clear 4K just as much as the sordid medieval trial by combat in "The Last Duel," people!
Disappointment aside, at least we know that "House of Gucci" will come with a solid amount of bonus features. Included in the release will be:
The Rise of the House of Gucci – Go behind the scenes to discover how Ridley Scott's vision of this astonishing story fell into place.
The Lady of the House – An up-close look at Lady Gaga's performance as Patrizia Reggiani and how her powerhouse charisma and unwavering dedication breathe life into this complex character.
Styling House of Gucci – A deep dive into the visual delights of the film, from aesthetics to attitude.
Here's the synopsis for "House of Gucci":
"House of Gucci" is inspired by the shocking true story of the family behind the Italian fashion empire. When Patrizia Reggiani (Lady Gaga), an outsider from humble beginnings, marries into the Gucci family, her unbridled ambition begins to unravel the family legacy and triggers a reckless spiral of betrayal, decadence, revenge, and ultimately...murder.