The Morning Watch: All The Trick Arrows In Marvel's Hawkeye, VFX Artists React To Paddington & More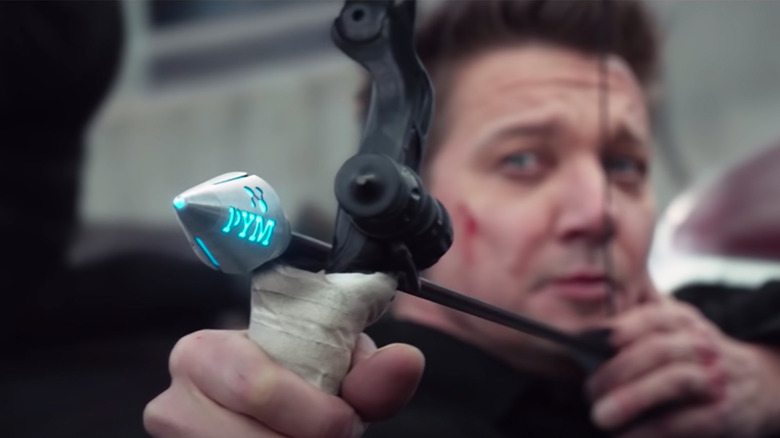 Marvel Studios
(The Morning Watch is a recurring feature that highlights a handful of noteworthy videos from around the web. They could be video essays, fan-made productions, featurettes, short films, hilarious sketches, or just anything that has to do with our favorite movies and TV shows.)
In this edition, take a closer look at all the trick arrows from Marvel's "Hawkeye" series and how they were created with practical and visual effects. Plus, speaking of visual effects, find out what the Corridor Crew gang thinks of the VFX work done on movies like "Paddington," "Dumbo," and "Mowgli: Legend of the Jungle." And finally, see what "One Night in Miami" writer and "Soul" co-director Kemp Powers selects from the Criterion Collection closet.
All the Trick Arrows in Hawkeye
First up, Marvel sat down for a chat with Greg Steele, VFX supervisor of the "Hawkeye" series, to find out how they brought the various trick arrows in Clint Barton's arsenal to life. Along with the physical arrows used on set, VFX have to bring them all to life because Jeremy Renner and Hailee Steinfeld aren't actually firing any projectiles from their bows during production. Watch the whole video for more insight into the creation of various action sequences from the entire season.
VFX Artists React to Paddington & More
Next, with a deeper dive into visual effects work, the Corridor Crew gang brought in Josée Chapdelaine, a CG supervisor and head of CFX at Rodeo FX to discuss some of her favorite sequences featuring impressive VFX work. They start by focusing on everyone's favorite bear, in "Paddington," as well as other CGI animals in "Dumbo" and "Mowgli: Legend of the Jungle." But they also highlight a zombie monster truck sequence from "Zombieland: Double Tap."
Kemp Powers Enters the Criterion Collection Closet
Finally, Kemp Powers has been making waves with his screenwriting work on "One Night in Miami," as well as becoming Pixar's first Black writer and director with "Soul." Soon, he'll be stepping into the multiverse with "Spider-Man: Across the Spider-Verse (Part One)," but before that, the Criterion Collection invited him into their library closet to pick some of his favorite films. He couldn't help but pick "One Night in Miami," but also selected "12 Angry Men," "Cronos," and more.