The Real-Life Murders That Inspired Rear Window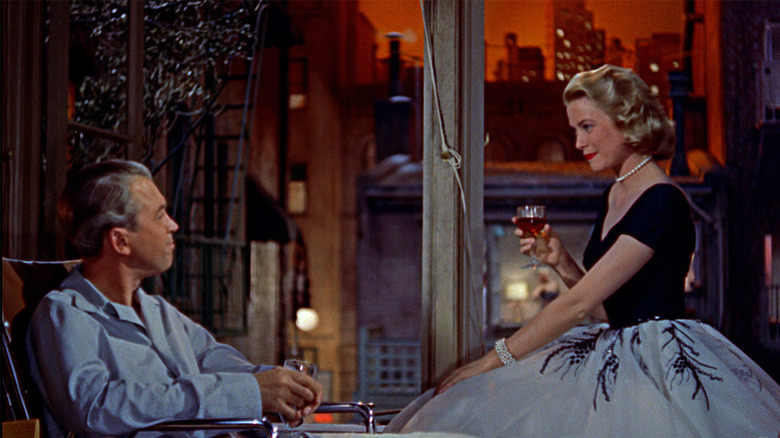 Paramount
"Rear Window" is one of Alfred Hitchcock's greatest films, a staple of Film 101 courses, and a regular contender in the conversation about the greatest movies of all time. The 1954 mystery-thriller focuses on one L. B. "Jeff" Jefferies (Jimmy Stewart), a professional photographer confined to his apartment while he recovers from a leg injury sustained on the job. As his curiosity gets the best of him and his girlfriend Lisa (Grace Kelly), the shutterbug turns his lens on his neighbors who share a large courtyard in the complex, leading to Jeff's suspicion that one of the neighbors might have killed their wife. Hitchcock's film is based on a screenplay by John Michael Hayes, adapted from Cornell Woolrich's 1942 short story "It Had to Be Murder." Here is the moment in Woolrich's story when Jeffries solidifies his conclusion:
For two days a sort of formless uneasiness, a disembodied suspicion, I don't know what to call it, had been flitting and volplaning around in my mind, like an insect looking for a landing place. More than once, just as it had been ready to settle, some slight thing, some slight reassuring thing, such as the raising of the shades after they had been down unnaturally long, had been enough to keep it winging aimlessly, prevent it from staying still long enough for me to recognize it. The point of contact had been there all along, waiting to receive it. Now, for some reason, within a split second after he tossed over the empty mattresses, it landed—zoom! And the point of contact expanded—or exploded, whatever you care to call it—into a certainty of murder.
While Woolrich's short tale provides the skeleton of the film's narrative, Hitchcock took inspiration from the real world, with a focus on two cases in particular: those of the 1910 murder of Corrine Henrietta Turner and the 1924 murder of Emily Kaye, both allegedly at the hands of their husbands.
The Murder of Cora Henrietta Turner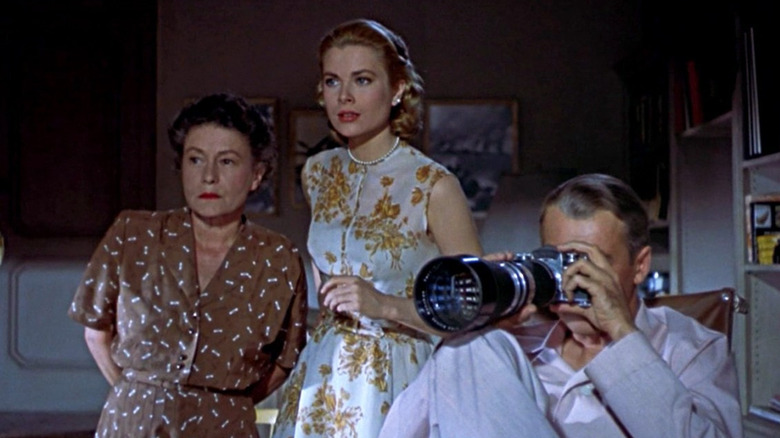 Paramount
In the book-length interview "Hitchcock/Truffaut," filmmaker Francois Truffaut spoke with Hitchcock about his oeuvre from his earliest films to "Frenzy." When "Rear Window" came up, Hitchcock mentioned that the killing "presented something of a problem," so the "Psycho" director used a pair of news stories from the British press as further inspiration. One is "the Patrick Mahon case" and the other is "the case of Dr. Crippen."
Dr. Crippen's full name is Hawley Harvey Crippen, and he was an American homeopath practicing in London with his second wife Cora, a music hall singer. While managing Drouet's Institution for the Deaf, Crippen met and engaged in an affair with his employee, typist Ethel Le Neve (Cora is alleged to have had multiple affairs, as well). In 1905, the Crippens moved to 39 Hilldrop Crescent on Camden Road, where they took in lodgers for cash. Following a party on January 31, 1910, Cora disappeared from their London home; Crippen's story was that she had gone to the United States. Hitchcock elaborates:
"But Crippen made a crucial blunder that turned out to be his undoing. He allowed the secretary to wear some of his wife's jewelry, and this started the neighbors talking. Scotland Yard was brought in, and Inspector Dew went down to question Crippen, who gave a fairly plausible account of his wife's absence, insisting that she had gone to live in California. Inspector Dew had more or less given up, but when he went back for some formality, Dr. Crippen ran away with the secretary."
The story ends with Inspector Dew and Co. conducting a search of the house after Crippen bailed. There, Scotland Yard uncovered the torso of a human body, buried under the brick floor of the basement. The head was never recovered, but Crippen and his mistress were captured when the pair fled to Canada on the S.S. Montrose and tried to pose as a father and son. Crippen was later hanged for the murder of Cora Henrietta Turner at Pentonville Prison on November 23, 1910.
With that, Hitchcock now had the foundation for the film's crucial plot point and the most damning evidence against Mr. Thorwald: that Mrs. Thorwald wouldn't have gone on a trip without bringing her wedding ring. It's a truth so evident in real-world crime stories that fiction can't deny it: no one leaves portable, sentimental items behind in their travels.
The Murder of Emily Kaye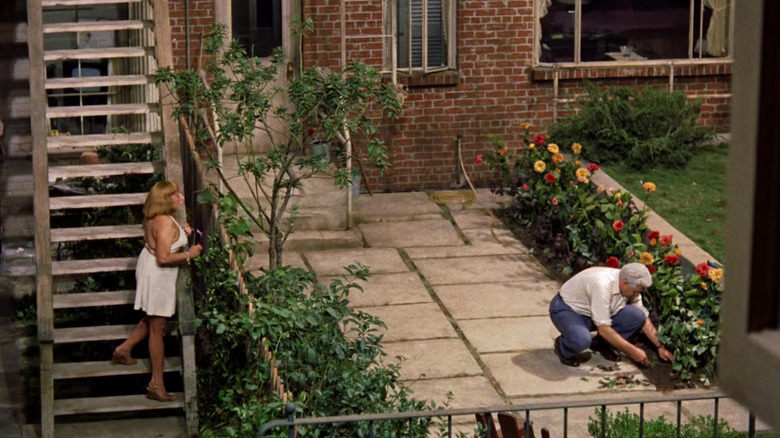 Paramount
L.B. Jeffries has his doubts about whether or not the real Mrs. Thorwald went on a trip as her shifty husband alleges, but one thing neither Jeff nor his nosy caretaker Stella (Thelma Ritter) can figure is how he got rid of Mrs. Thorwald — at no point do the onlookers see any human-sized bags being carted out of the Thorwald residence. Hitchcock tells Truffaut how truth was strange enough for fiction in the case of Emily Kaye, who was murdered by bookkeeper/small-time crook Patrick Mahon in 1924:
"He cut up the body and threw it, piece by piece, out of a train window. But he didn't know what to do with the head, and that's where I got the idea of having them look for the victim's head in ""Rear Window." What Patrick Mahon did was to put the head in the fireplace and light the fire. Then something happened that may sound phony, but is absolutely true. Like in a stage play, just as he put the head in the fire, a thunderstorm came on, with lightning and thunder. Somehow, the heat of the fire made the eyes open wide, as if they were staring at Mahon. He ran out to the beach screaming, with the storm pouring down on him, and didn't get back until several hours later. By that time the fire had burned the head.

Several years later, one of the four chief inspectors of Scotland yard came to see me. He had handled the investigation after Mahon's arrest, and he told me they'd had a problem in getting hold of that head; they only found traces of it but not the head itself.

In all cases involving mutilation, you see, the biggest problem for the police is to locate the head."
Such details were too macabre for a 1954 picture, but the two major takeaways the director got from true crime are: people don't leave their wedding rings behind on weekend trips, and a headless body makes the cops' jobs far more difficult. With "Rear Window," Alfred Hitchcock straddles the line between condemning the voyeurism society engages in, and putting the lure of said voyeurism on display for audiences to become complicit in it themselves. Despite Stella quipping that she didn't "want any part of" this business of dismembered bodies and shaky alibis, she, along with Jeff, Lisa, and the rest of us, can't help but watch.