Dirty Work, Bob Saget's Hilarious Feature Directorial Debut, Is Now Streaming On HBO Max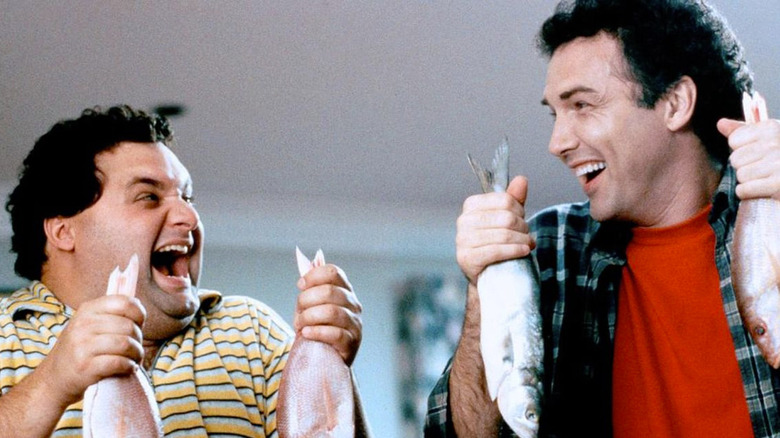 MGM
Bob Saget died over the weekend at the way-too-young age of 65. Saget was an unapologetically dirty stand-up comedian who became the face of safe wholesomeness thanks to his role as a widowed dad on "Full House" and his hosting duties on "America's Funniest Home Videos." Week after week, audiences invited Saget into their homes, and he was so good at playing a square that his perceived boringness clung to him. In the latter half of his career, where he would perform blue stand-up or pop-up to deliver a filthy monologue in the documentary "The Aristocrats," some people were shocked. How could this be the Bob Saget we all knew as "the dad from 'Full House'"? How could the guy making all those silly voices on "America's Funniest Home Videos" be this raunchy? 
But Saget wasn't hiding his naughtier side. He was just waiting for the chance to unleash it on a wider audience. And he got that chance in 1998 with "Dirty Work." The film was released one year after Saget walked away from hosting "America's Funniest Home Videos," and it's safe to say the film was not what the majority of the public expected from the once and future Danny Tanner. Indeed, Saget wasn't even the film's selling point – he was practically anonymous in the marketing material. Instead, the focus was on the film's star: Norm Macdonald.  
Macdonald had acted in films before – mostly small supporting roles in titles like "Billy Madison" and "The People vs. Larry Flynt." But "Dirty Work" was the comedian's first starring role, and it arrived at a particularly interesting time for Macdonald. Before "Dirty Work," Macdonald was a fixture on "Saturday Night Live," garnering plenty of attention for his deadpan delivery during the Weekend Update segments. But in 1998, Don Ohlmeyer, president of NBC's West Coast division, had Macdonald removed as Weekend Update anchor. The reasons are murky, but Macdonald always thought he lost the gig for his persistent mockery of O.J. Simpson, who was on trial for murder at the time. Ohlmeyer was friendly with Simpson, but claimed that wasn't the reason he had Macdonald removed from Update. "Saturday Night Live" kept Macdonald around, but he eventually was let go. It could've been a career-killing move. Instead, Macdonald ended up with his own movie.
I Have To Go Lift Weights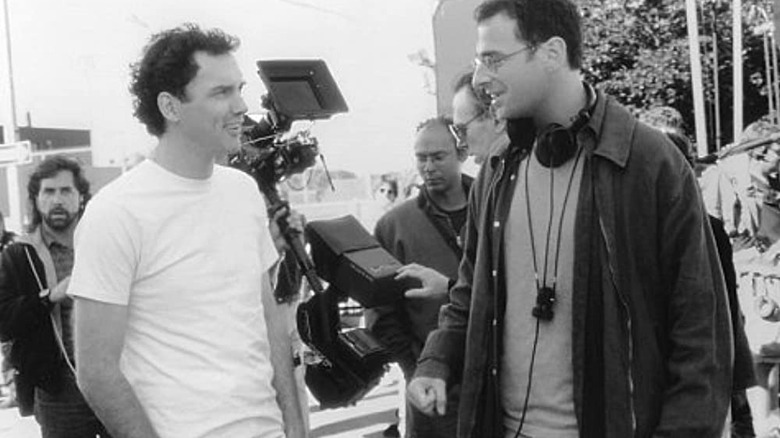 MGM
Co-written by and starring Macdonald, "Dirty Work" is so '90s that I'm surprised Bill Clinton didn't come marching through a scene blowing on a saxophone. Hell, the movie even trots out Third Eye Blind's "Semi-Charmed Life" in the first twenty minutes. But part of what makes "Dirty Work" so funny is that it's not-so-subtly spoofing the raunch dude-bro comedies of the era. While the third act of the film gets too earnest for its own good, the majority of "Dirty Work" can barely keep a straight face. 
While I doubt anyone would call Saget a great director, he has a firm grasp on the material here, and the material is silly. Macdonald and Artie Lange play lifelong friends who decide to start a business devoted to "pranking" people. The pranks are dumb on the surface, but they almost always lead to bigger, weirder, and funnier results. Example: at one point, Macdonald and Lange decide to hide some smelly, rotting fish in a mansion. Through a series of unfortunate events, this results in a total bloodbath – the house belongs to some gangsters, and the talk of fish leads to a violent clash. It all happens off-screen, with Saget keeping the camera on Macdonald and Lange's blank faces as they (and we) overhear the chaos in another room. "He took away my chainsaw, and now he's using it on me!" an off-screen victim is heard screaming at one point. 
Sure, there's a semblance of a plot here: Macdonald and Lange are doing their "dirty work" to help raise enough money for an operation for their dying father, played by Jack Warden. But all of this is just an excuse to let Macdonald bring his own particular brand of humor to the masses. Macdonald isn't even trying to act here; he simply wanders through scenes with a bemused, sly smirk, and delivers his lines with a flat, hilarious affectation. When trying to get out of a social event he mutters, "I have to go ... lift weights," only to immediately ask himself, "What?" as he realizes how terrible that excuse is.
Now Streaming on HBO Max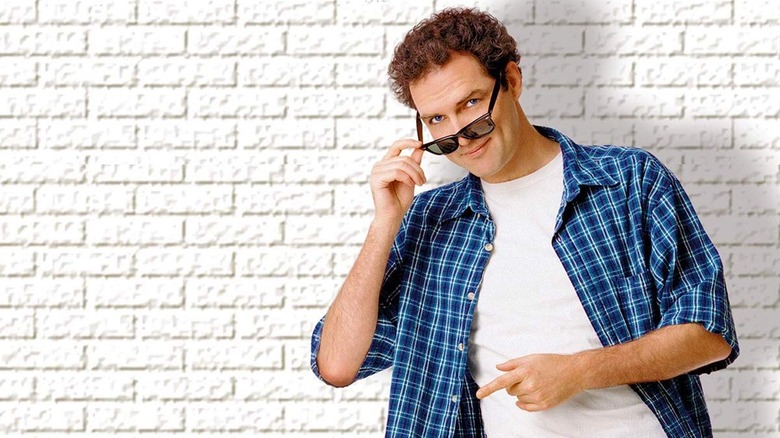 MGM
"Dirty Work" is so unapologetically silly, so unconcerned with having anything resembling a message, that it stands apart from the forgettable comedies that were arriving at the time. Saget and Macdonald clearly had similar comedic sensibilities, and they worked together beautifully here, leaning into the raunchiness, the goofiness, the stupidity. And, sadly, they would never really be able to capture that magic again.
Macdonald went on to star in other films, but none of them came close to being as funny as "Dirty Work." And Saget's filmmaking career didn't fare much better. And now they're both gone (Macdonald died in June of 2021). They're not the only ones. Chris Farley has a hilarious, uncredited cameo as a man who had the tip of his nose bitten off by a sex worker – but by the time "Dirty Work" hit theaters, Farley had been dead for almost a year. 
But "Dirty Work" lives on. The film is currently streaming on HBO Max, and those looking to revisit Saget's work in the wake of his untimely death would be wise to seek it out. Has it aged particularly well? Probably not – there are more than a few jokes in the film that would never make it into a studio comedy these days. But if you're willing to roll with the punches, you'll find "Dirty Work" hilarious. It's hard not to get swept up in the absurdity of it all.
"You can make people laugh and it might not be their cup of tea, but you're doing something great for people. That's why I'm doing it," Saget said during his final interview. "We all have the same joke, which is that laughter is the best medicine — no, it's actually Percocet. Everybody has a version of that. Well, the other one is when they say, you know, if you could just make one person laugh, you're a really crappy comic."