The Heartfelt Movie Bob Saget Made For His Late Sister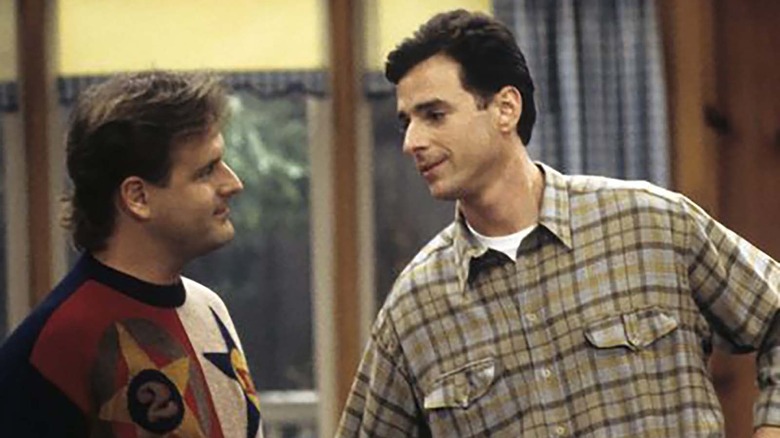 ABC
The late, great Bob Saget was a man who wore many hats and wore them well: rude and raucous R-rated comedian, beloved and chaste TV sitcom dad, hilarious host of "America's Funniest Home Videos" — the list goes on. But one of his more selfless turns in the entertainment industry has gone largely unnoticed over the years, and hell, what better time than now to highlight it, right? Years back, Saget directed the film "For Hope," which was based on and dedicated to his late sister, Gay.
The 1996 made-for-television drama follows a woman, played by Dana Delany, who suffers from scleroderma, the same incurable disease from which Saget's sister suffered. The film is loosely based on her story, which sadly ended in 1994 when she passed away from the illness. Sadly, Saget's other sister, Andrea, had also died nearly 10 years prior due to a brain aneurysm. 
According to the Mayo Clinic, the autoimmune disease is part of "a group of rare diseases that involve the hardening and tightening of the skin and connective tissues." The uncommon ailment is more common in women and often occurs between the ages of 30 and 50. Some people affected see changes in their skin while others see changes in blood vessels, internal organs, and their digestive tract, all depending on the severity of the disease present.
Saget Had a History With the Disease Before His Film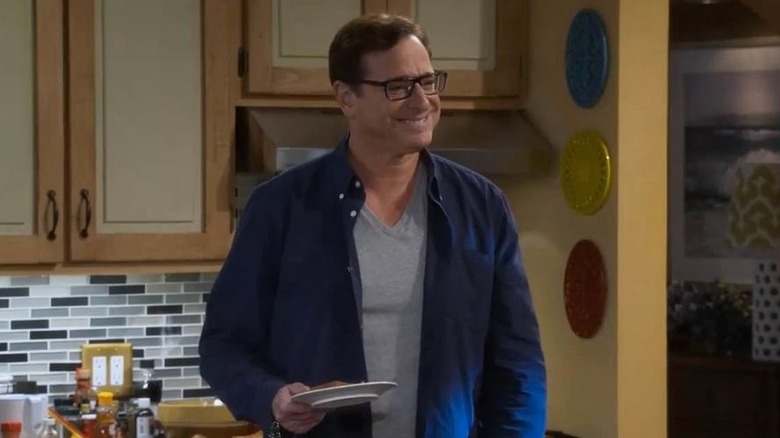 Netfllix
Interestingly enough, in 2019, Saget revealed to NIH Medline Plus Magazine that he had become acquainted with the disease years before it would come into his personal life and influence his filmmaking:
"I got a call from someone I did not know asking me to host a comedy fundraiser for a disease I knew very little about. I said yes and hosted the event, which starred Ellen DeGeneres, Rosie O'Donnell and others. Little did I know that just a few years later, my sister would be diagnosed with the disease."
In the same interview, the comic revealed that his sister ended up returning home to live with their parents following her diagnosis, illustrating how the stages of the disease affected his family's lives, which he later brought to the screen. "She needed so much help," he said. "It is incredibly painful to have a loved one experience a condition like this. It is a very painful disease. My family is still having post-traumatic stress disorder. I don't know how my parents endured."
Saget Will Be Missed By Those Looking For a Cure
ABC
From the film project to his personal goals, it was clear the actor was dedicated to supporting research for this terrible ailment. He proudly stated that "one of my life's missions [is] to help find a cure for this disease" in a May 2019 Instagram post, and throughout his time here on Earth, he definitely made an impact within the scleroderma community.
On January 9, 2022 — the day of Saget's death — the Scleroderma Research Foundation penned a heartfelt tribute to the TV personality via Instagram following his years of dedicated support:
"In loving memory of Bob Saget, a cherished colleague, friend, and Scleroderma Research Foundation Board member for over 20 years. Bob was a relentless champion for scleroderma patients and the mission of the SRF—finding a cure for scleroderma. He will be dearly missed."
The comic clearly had a passion for doing good, and through this he made some livelong allies, including the Scleroderma Research Foundation's founder, Sharon Monsky. Through her bond with Saget and his support of the foundation's efforts, she secured a cameo role in Saget's film "My Hope," which, if you think about it, is now a heartfelt memory for both his sister and himself. It's clear that "Full House" fans aren't the only ones who will be grieving Saget for the foreseeable future.