1883 Clip: The Duttons Face A Perilous Moment [Exclusive]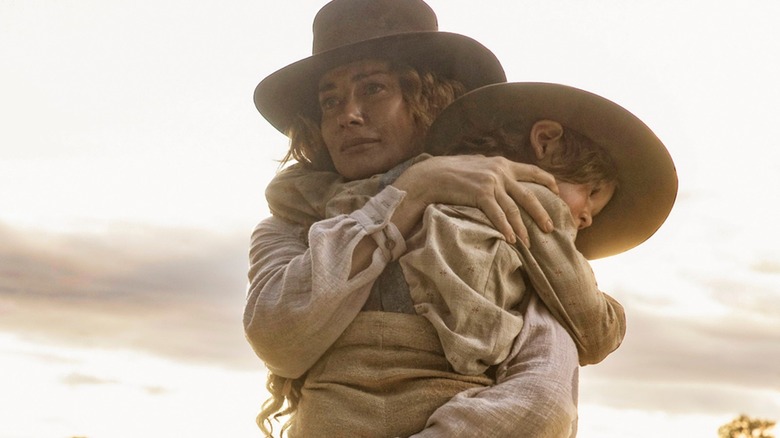 Paramount+
"1883" will air its fourth episode on Paramount+ on Sunday, January 9, 2022. The journey West for the ancestors of the Dutton family of "Yellowstone" fame is getting harder with each passing day, and in this exclusive clip, we get a look at the family attempting a river crossing. 
If you haven't watched yet, here is the official synopsis for the series:
From Academy Award nominee Taylor Sheridan, co-creator of Yellowstone, 1883 follows the Dutton family as they embark on a journey west through the Great Plains toward the last bastion of untamed America. It is a stark retelling of Western expansion, and an intense study of one family fleeing poverty to seek a better future in America's promised land – Montana.
And here's the logline for "1883" episode 4. 
The group faces the harrowing task of crossing the river with their wagons and supplies. Thomas and Noemi grow closer.
Check out our exclusive sneak peek below!
"A Real Hoot, Son"
In this clip, we get to watch an attempt by James (Tim McGraw), little John Dutton Sr. (Audie Rick), and Margaret (Faith Hill) at crossing a difficult river before the rest of the wagon train does it. It's harrowing, and even in this short moment, you can see why. Not only that, but you can get a sense of the incredible relationship between Margaret and James. 
A while back I got to attend the show's premiere at the Wynn Las Vegas, and Hill talked about that relationship, saying:
"I think there has to be a lot of trust there, and respect. And look, I guess as a backstory, 'Hey, we're going to pick up the family and move West,' and 'West, where?' 'I don't know. We'll figure it out as we're traveling along.' I think there just to be a lot of trust and faith that the dream of James, of my husband, is something that I'm willing to go along with and trust him. He been in war. I was a nurse in war, actually, in the war, when I was 17. That's kind of part of the backstory that comes in a little later. 

"It is kind of a [modern] relationship ... Particularly, allowing my husband to take our daughter off on these amazing adventures, which, my gosh, was definitely unheard of, for that time period. But obviously, she's very capable of handling herself."
She certainly is. Also, you can hear Audie Rick at the end, and I'm dying of cute with this kid. 
"1883" airs Sundays on Paramount+.