10 Legendary Moments In Sidney Poitier's Life That Should Be Celebrated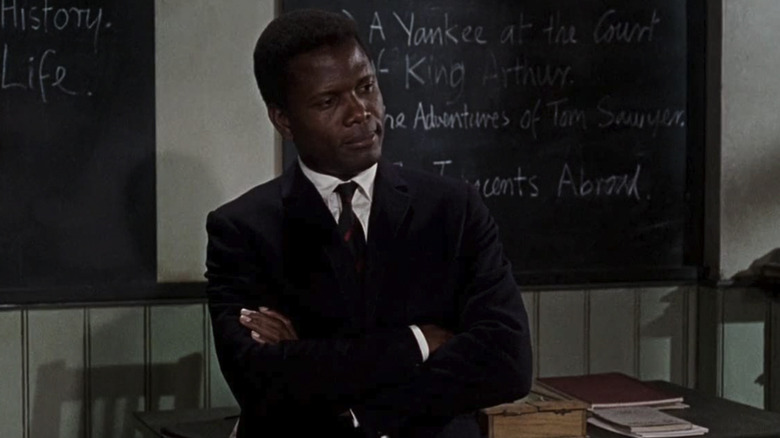 Columbia Pictures
Sidney Poitier led an enormous life. In addition to being a overwhelmingly awarded actor, he was a recipient of the Presidential Medal of Honor, received knighthood from Queen Elizabeth II, sat on the board of directors at the Walt Disney Company, and served as Bahamian ambassador to Japan, while also serving as the Bahaman ambassador to UNESCO. He passed away on January 6, 2022 at the age of 94 in his home in the Bahamas. On the day of his death, Poitier was the oldest living Oscar winner, as well as the earliest winner still alive. The loss the world experienced with his passing is immeasurable. 
There is much to celebrate about the life of a legend, and looking back over his years on this planet reveals a litany of remarkable performances and firsts in the entertainment world.
Blackboard Jungle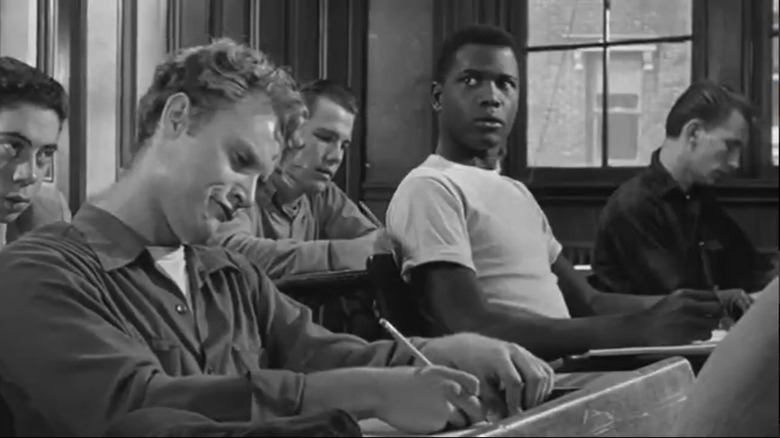 MGM
Poitier's breakout film role was Richard Brooks' 1955 juvenile delinquent flick "Blackboard Jungle," a social drama about a suffering public school full of struggling students, and the noble teacher (Glenn Ford) who vows to turn the place around. The ostensible leader of the students is the character of Gregory Miller, played by Poitier, then already 28 years old. (Recall that teenagers looked older in the 1950s.) Over the course of the film, Miller's stubbornness melts away and he reveals a talent for music and a willingness to learn, grow, and stick with the school. 
The story of "Blackboard Jungle" is certainly cliché, even tipping into the corny; even in the 1950s, these tropes were old (one can go back to Best Picture nominee "Boys Town" for an earlier rendition of the Heroic Teacher archetype). But Poitier communicated an honest emotional intensity in his scenes, rightfully grabbing the eye of the filmgoing public. 
The Defiant Ones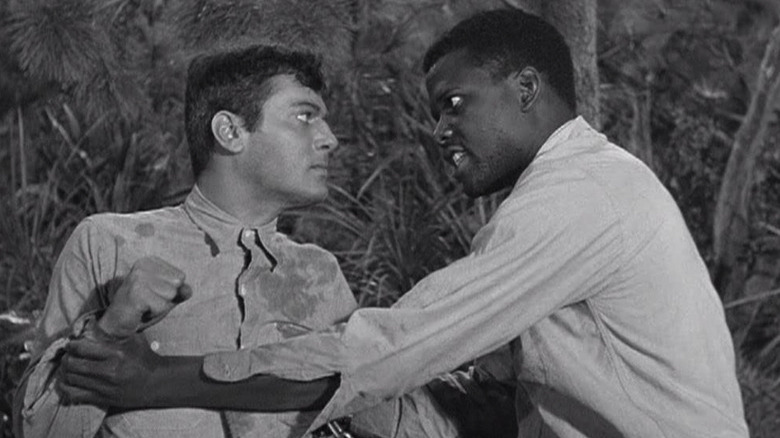 United Artists
In 1958, Poitier received his first of two Academy Award nominations for "The Defiant Ones," a prison escape film. It was a film that addressed the pervasive racism in the American penal system, assuming that a white prisoner and a black prisoner, in being shackled together, would most assuredly murder each other. Poitier and his co-star, Tony Curtis, are the prisoners in question who go on the lam following a prison bus crash, chained together at the wrist. Rather than killing each other, Curtis and Poitier begin to respect one another, realizing that they both contain decency. By the end of the film, one of them makes a sacrifice for the other. 
Poitier's retrospectives often describe him as "noble," and while he frequently played roles that required him to play "dignified," he could also project both quiet gentleness and extreme rage. There are scenes in "The Defiant Ones" wherein he gets to play both. 
"The Defiant Ones" earned Poitier an Academy Award nomination for Best Actor, and made him the first Black man ever nominated in the category. 
Lilies of the Field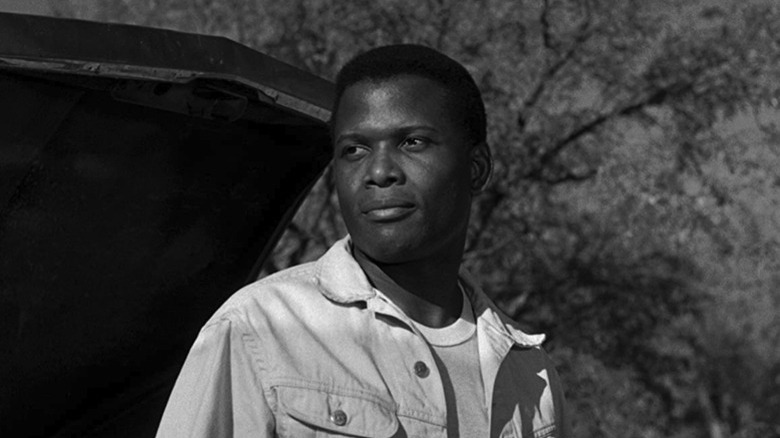 United Artists
Poitier worked with numerous notable Hollywood directors throughout the 1950s. He would re-team with Richard Brooks in 1957 for "Something of Value," released the same year as "Edge of the City," a film for which Poitier was honored at the Venice Film Festival. In 1959, he would star as Porgy in a film version of "Porgy and Bess" for Otto Preminger (his singing, however, was dubbed). In 1961, he starred in Donald Petrie's "A Raisin in the Sun," based on Lorraine Hansberry's play. 
In Ralph Nelson's "Lilies of the Field," Poitier played an itinerant handyman who falls into the charge of a convent of rather ascetic German nuns, overseen by a strict Mother Superior (Lilia Skala, also nominated for an Academy Award). Over the course of the movie, Poitier's character learns how much the nuns had to suffer in order to flee Germany — they jumped the then-new Berlin wall — and agrees to stay and help them build a chapel, finally realizing his dream of becoming an architect. There is a lot of push-and-pull between Skala and Poitier, with Poitier eventually having to trick Skala into thanking him for all his hard work. Poitier himself was raised Catholic and eventually, later in life, announced that he was agnostic. 
Poitier was a strong screen presence and would flourish when he was given equally outsize personalities to react to. You'll find that Poitier frequently acted opposite other outsize actors who could occasionally match his intensity.
(There is a 1979 made-for-TV sequel to "Lilies of the Field" called "Christmas Lilies of the Field," starring Billy Dee Williams in the Poitier role. I haven't seen it and it's likely you haven't, either.)
To Sir, With Love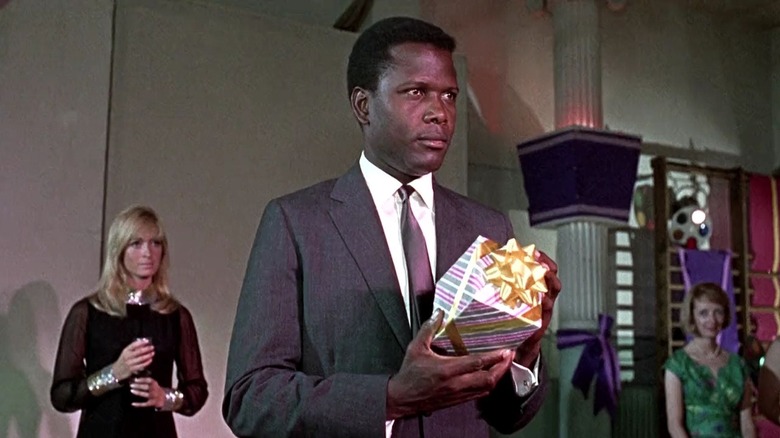 Columbia Pictures
In 1967, Poitier made what could perhaps be seen as a companion piece to "Blackboard Jungle" in "To Sir, With Love," another film about a noble teacher whose presence and open-mindedness transformed the lives of troubled youths. Only this time, Poitier played the teacher. His character has some very progressive views of education, allowing the youths — all previously kicked out of other schools — to ignore the textbooks, and talk frankly about adult issues. 
"To Sir, With Love" was a huge box office hit (it made $42 million on a $640,000 budget), but was not deeply beloved by critics. Racism, for instance, is ignored in the film, and it was subsequently lambasted as being sentimental and an example of "non-realism." Its financial success, however, led to Poitier becoming very rich: His contract was a meager payday of $30,000, but included 10% of the film's grosses. Columbia wanted to seal off Poitier's share of income at $25,000, but Poitier negotiated that Columbia continue to pay him annual percentages on the film's earnings for the next 80 years. This was one of the biggest actor paychecks to date, comparable to Jack Nicholson's merchandising pay for 1989's "Batman." 
Poitier took his craft seriously, but knew that one had to be savvy in business to succeed. "To Sir, With Love" was an example of Poitier behaving masterfully at both.
The late Peter Bogdanovich would direct Poitier in "To Sir, With Love 2" in 1996.
Guess Who's Coming to Dinner & In the Heat of the Night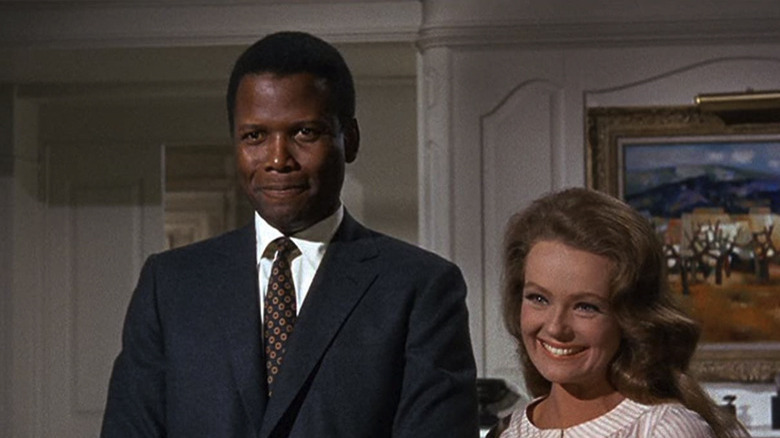 Columbia Pictures
1967 was, indeed, a banner year for Poitier. In addition to the success of "To Sir, With Love," he also starred in Norman Jewison's "In the Heat of the Night" and Stanley Kramer's "Guess Who's Coming to Dinner." 
In "In the Heat of the Night," Poitier plays a Philadelphia police detective who agrees to help solve a murder investigation in the very racist town of Sparta, Mississippi. There is a scene in "Night" wherein Poitier is slapped in the face by a racist local. Poitier only agreed to act in the scene if he got to slap the man back. "In the Heat of the Night" was also notable in terms of lighting design, as it is considered the first film to have Black actors in mind when lighting them; most film lighting up to that point had been calibrated to reflect off of pale skin. Cinematographer Haskell Wexler adjusted lighting to properly see Poitier's features. 
"Guess Who's Coming to Dinner" plays very mawkish to the modern eye, but one does have to consider how groundbreaking it was. In the film, Spencer Tracy and Katharine Hepburn learn that their daughter (Katharine Houghton, Hepburn's real-life niece) has returned from a Hawaiian vacation with a new fiancé. Not only is he 14 years her senior, but he is a Black man. During the filming of "Dinner," miscegenation was still illegal in 17 states and interracial couples were rarely seen on screen in mainstream Hollywood movies. The film centers more on the Tracy character than on Poitier, but it's clearly breaking new ground — a common theme in Poitier's career — forcing much-needed conversations in Hollywood about social injustices. The landmark case of Loving v. Virginia would finally change miscegenation laws only six months before "Dinner's" release, making the film very timely. 
Buck and the Preacher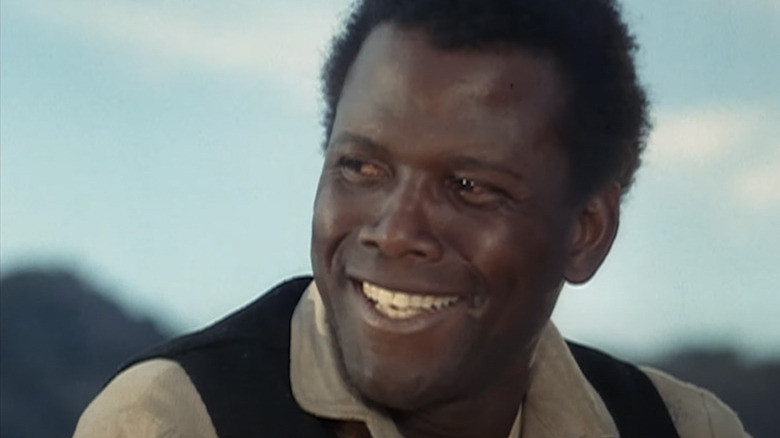 Columbia Pictures
1972's "Buck and the Preacher" is not a terrifically well-known western, and was barely a success at the box office. The plot of the film follows a wagon train of Black people fleeing Louisiana after the end of the Civil War, only to be pursued by resentful White racists who plan to "scare" them back to Louisiana to continue "sharecropping," which was a way to essentially continue slavery after is abolition. There is, it seems, a lot of violence and some have compared it to blaxploitation revenge films. 
"Buck and the Preacher" is significant as it was Poitier's first time as director. Poitier didn't initially sign on for the job — he was only set to star in the film — and only stepped in as director after the first director, Joseph Sargent, quit over problems he had with certain cast members. Poitier claimed that directing filled him with confidence. After only a few takes, he says he felt very well-suited to directing and now finally had a taste of a craft he had not previously pursued. 
Poitier would go on to direct eight additional films — mostly comedies. He would work with Gene Wilder, Richard Pryor, and made several films with Bill Cosby, long before knowledge of Cosby's crimes was made public. His final film as director was 1990's "Ghost Dad."
Separate But Equal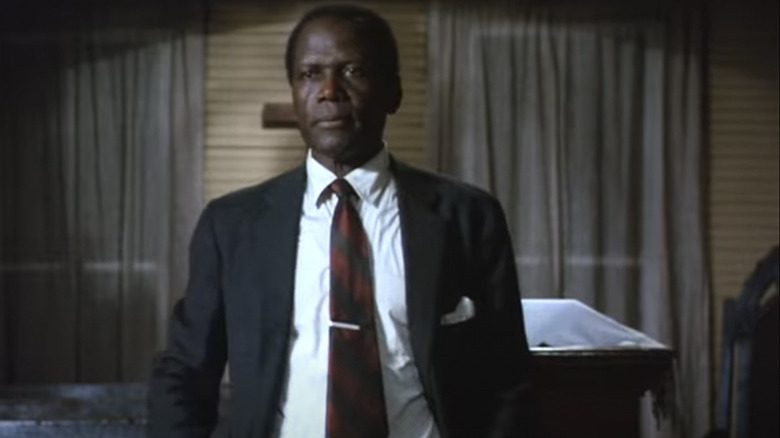 ABC
Sidney Poitier was nominated for two Emmys in his career. The first was for playing Thurgood Marshall in the 1991 miniseries "Separate But Equal" about the landmark 1954 court case Brown v. Board of Education, which ruled that segregated schools were a violation of the Constitution. Although Marshall was only 46 when he argued the Brown case and Poitier was already 64 in 1991, Poitier was old enough to have lived through Brown; he was already living in the United States and acting in films in 1954. Confronting America's and England's racist lies was a common theme in Poitier's films, and playing a civil rights giant like Thurgood Marshall was a natural step for him. 
Poitier occasionally came under fire from critics for being "too perfect." As early as the 1960s, many noted that Poitier played characters that had few flaws, never gave into base desires and, importantly, never displayed any form of overt sexuality. Poitier was of two minds of the criticism. On one had, he wanted to stretch and play various kinds of roles — a desire, I imagine, felt by most actors — but on the other, felt that he needed to play upstanding moral characters as a role model for Black kids. He played upstanding characters throughout his career as a way of fighting a lot of the racist stereotypes seen on Hollywood screens in the time of his youth. Morality, his ethos seemed to say, was a way to deconstruct prejudice. 
Sneakers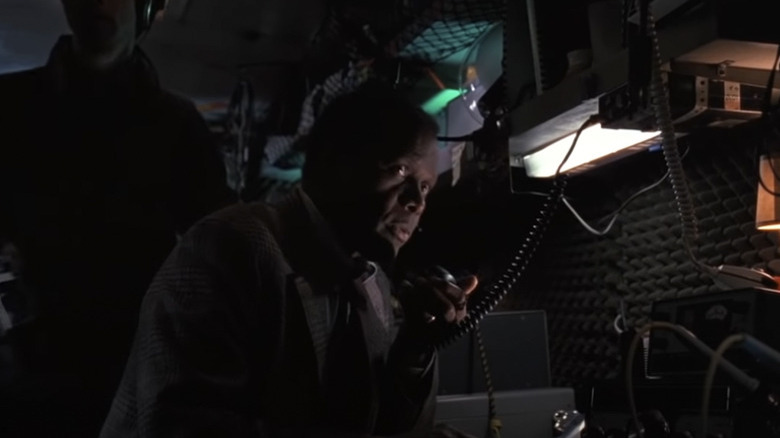 Universal Pictures
There are two types of people in the world. Those who adore and are obsessed with Phil Alden Robinson's 1992 film "Sneakers," and those who haven't seen it yet. In "Sneakers," Poitier plays a former CIA agent named Donald Crease who was kicked out of the agency for his temper. Crease is the "serious" member of a crew of misfits and former criminals who break into banks in order to test their security. It's a living. Despite his temper, Crease is the one keeping the rest of the ensemble on track, emerging as one of two adults in the room; Mary McDonnell plays the other. And wow, this cast: Robert Redford, Ben Kingsley, Dan Aykroyd, David Strathairn, and River Phoenix also star. 
"Sneakers" is intense, playful, and very, very funny (the "be a beacon" scene makes me giggle every time). Its politics may be dated (it was made right after the fall of the Soviet Union and speaks to global politics that were only in play for maybe a two year period), but it still plays well to a modern audience. Poitier's presence is invaluable. When he says, "You guys would be chalk outlines without me," we buy it.
Diplomacy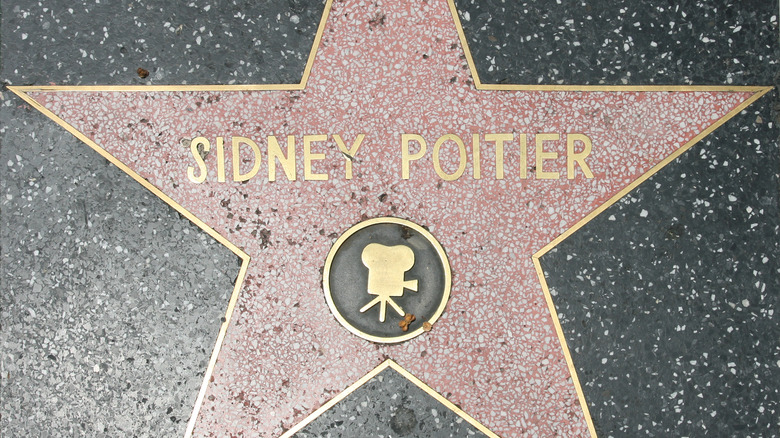 Jose Antonio Sanchez / Shutterstock
Poitier was born in Miami — unexpectedly, it turns out. He was two months premature and was born while his parents were vacationing in Florida, but lived his early life in his home country of the Bahamas and had a home there. He's perhaps the most famous person from the country. In 1997, Poitier was named Bahamian ambassador to Japan, a position he held until 2007. Poitier frequently played intelligent and cultured characters because he himself was intelligent and cultured. From 2002 to 2007, Poitier also became the concurrent ambassador to UNESCO (the United Nations Educational, Scientific and Cultural Organization), an organization built to allow nations to share artistic, scientific, and educational discoveries with one another. 
In 1994, Poitier got a star on the Hollywood Walk of Fame. You can visit it at 7065 Hollywood Blvd., Hollywood, CA 90028. Leave a yellow elder, the national flower of the Bahamas.
Knighthood, Kennedy Center Honor, and the Presidential Medal of Honor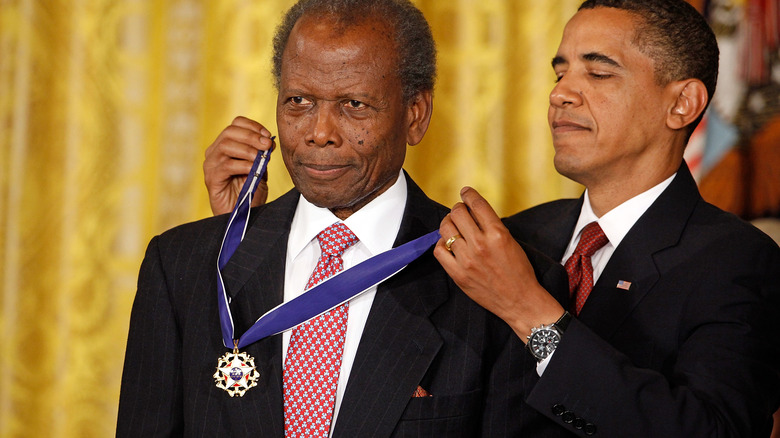 Chip Somodevilla / Getty Images
The last non-documentary feature film Poitier acted in was 1997's "The Jackal," starring Bruce Willis, although he continued to work in TV for several more years, notably playing Nelson Mandela in a 1997 TV movie opposite Michael Caine, who played F.W. de Klerk. His final film was a 2001 TV movie called "The Last Brickmaker in America."
In 1974, for his contribution to the arts, Sidney Poitier granted an honorary knighthood by Queen Elizabeth II. Yes, he was Sir Sidney Poitier. His full title was Sir Sidney Poitier, Honorary Knight Commander of the Order of the British Empire. Personally, I regret never meeting Poitier, not just because it would have been an extreme honor, but also because I have now missed out on addressing him this way. 
In 1995, he received the Kennedy Center honor. In 2009, Poitier was granted the Presidential Medal of Freedom by Barack Obama. In his 94 years, Sidney Poitier accomplished more than most of us would if we lived twice his age. He was honorable, talented, kind, and diplomatic. Rest in peace. Let's celebrate his life.