The Alfred Hitchcock Easter Egg You May Not Have Noticed In La La Land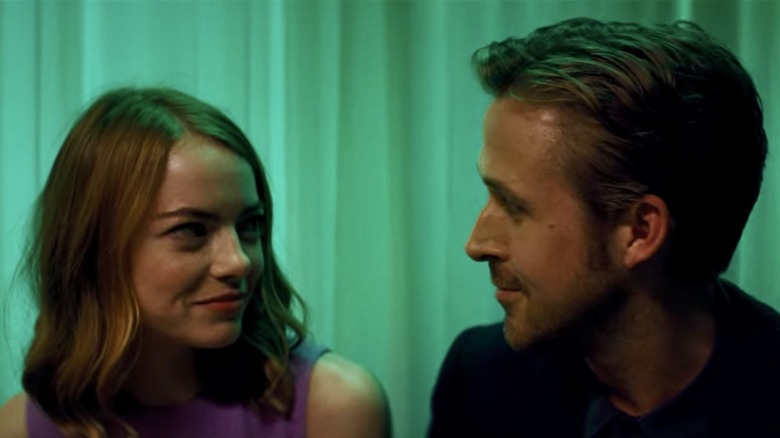 Lionsgate
A musical with singing and dancing and bright costumes isn't necessarily the first place you would expect to find an Alfred Hitchcock Easter egg, but Damien Chazelle's "La La Land" has a nice hidden treat for those looking for it. On the surface, it may not have much in common with Hitchcock's thrillers. However, when you consider the mood of wistful regret and longing that permeates it, it's not hard to see why Chazelle might use a scene in it to homage "Vertigo," the dark and devastating Hitchcock film that dethroned "Citizen Kane" as the greatest movie of all time in a once-a-decade poll that last happened in 2012.
Always Green, Ever Singing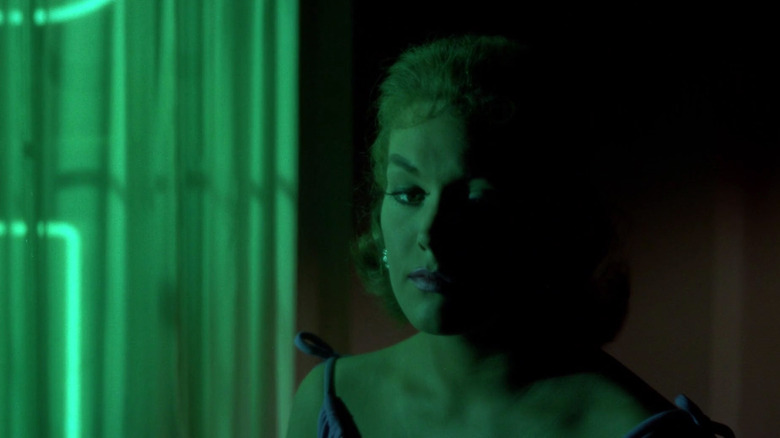 Paramount Pictures
As noted in the Blu-ray commentary for "La La Land" (via Den of Geek), Chazelle arrived at the Hitchcock homage in "La La Land" at the last minute. He had been watching "Vertigo" the night before they filmed the scene where Mia (Emma Stone) and Sebastian (Ryan Gosling) sit at a piano, singing "City of Stars" in their apartment. A green light shines through the curtains behind them, and it's very reminiscent of the window in the apartment of Kim Novak's "Vertigo" character, Madeleine.
Hitchcock's use of color in "Vertigo" was quite deliberate, with green symbolizing Madeleine and the "always green, ever living" nature of the trees in the redwood forest. Her hold — or, rather, that of her blonde alter ago, Judy — over the memory of the protagonist, Scottie (James Stewart), is as strong as the one Mia and Sebastian have on each other in "La La Land." Chazelle went one step further and even dressed Mia in purple as a callback to Madeleine.
There's a surreal, dreamlike quality to "Vertigo," as Hitchcock blurs the line between fantasy and reality in Scottie's mind. A dream sequence also overtakes reality at the end of "La La Land," so "Vertigo" was a natural touchstone for this film. Knowing the homage was intentional helps the viewer appreciate the effect that Chazelle was going for as he sought to capture the spirit of old Hollywood in his modern musical.
By turns joyous and melancholy, "La La Land" won Chazelle and Stone the Academy Awards for Best Director and Best Actress. It looked like the movie had won Best Picture, too — right up until the infamous moment, midway through a producer's acceptance speech, when it became clear that the real winner was Barry Jenkins' "Moonlight." Someone handed the presenter, Warren Beatty, the wrong envelope on stage, leading to a mixup during the announcement, and the rest is history.
In retrospect, the gaffe feels like an accidental tribute to Hitchcock. After all, Hitchcock was the master of suspense, and his films are an essential part of movie history. For its part, "La La Land" was already rife with references to other classic musicals, and it's now a memorable part of Oscars history thanks to the suspense created by the massive flub on Hollywood's biggest night.