Tom Holland (Jokingly) Thinks He's Going To Win An Oscar For Spider-Man: No Way Home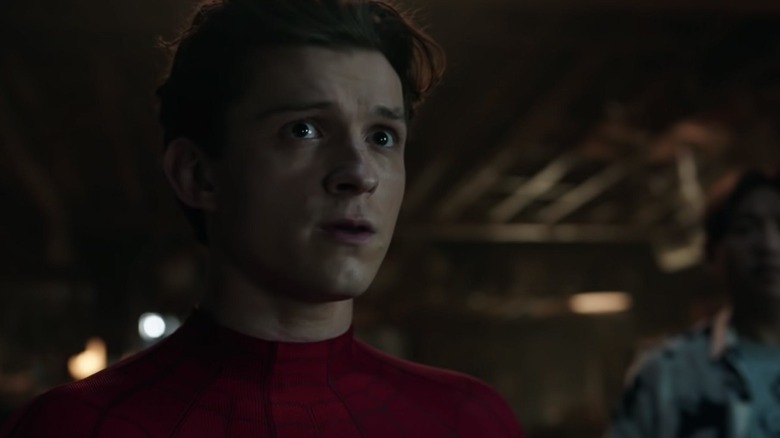 Sony Pictures
That Tom Holland guy sure is everywhere these days! Do you think it has anything to do with his role in "Spider-Man No Way Home"? The latest MCU flick hasn't even been in theaters for a month, yet it continues to hit major milestones, having already become one of the highest-grossing films of all time. An undeniable box office smash, the conversation surrounding the film is really ramping up and already heading in a particularly prestigious direction as the 94th Oscars loom on the horizon.
Earlier this week, Sony Pictures and Marvel Studios gave their box office hit a major awards push, and now the people (i.e. Twitter) are abuzz with big questions like: can Tom Holland actually win an Oscar as Peter Parker? As for the star himself, he's much too busy to worry about awards season — Holland is continuing along the press circuit, reflecting on his time as the teenage web-slinger. In a recent chat with The Hollywood Reporter, he considered the future of his Spider-Man and also managed to slip in a quick joke about his Oscar chances:
"There have been conversations about the future of Spider-Man — whether it would be me, I'm not too sure yet. Maybe I'll be a producer or something, I don't know. I do know that I love this character, and I would be sad to say goodbye. But I have achieved basically everything I wanted to achieve as this character, I really think I'm going to win the Oscar for this movie. So there, it's great."
His Oscar joke at the end earned a laugh from co-stars Zendaya and Jacob Batalon, but given the actual Oscar campaign for No Way Home has officially begun, it might be time to stifle those giggles. Actually receiving a nomination for the Best Actor would mean triumphing over the long list of incredible performances from this year, but maybe it's not entirely outside the realm of possibility. After all, "No Way Home" wouldn't be the first superhero movie acknowledged by the Academy Awards — it wouldn't even be the first from the MCU.
Can Tom Holland Swing His Way Into The Oscars?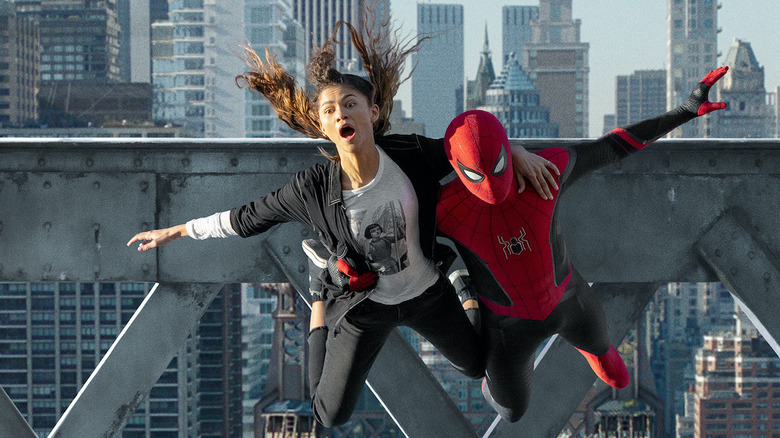 Sony Pictures
Even if he can't withstand the finicky nature of Academy voters or the prestigious films primed to snag nomination spots, Tom Holland has another route to the Oscar stage. Instead of climbing those steps to grab his very first trophy, Holland could be the one handing them out. Back in 2018, Marvel's new Spider-Man added Oscar presenter to his illustrious resume, so the 2022 Oscars could see him reprising the same role. Or better yet, he could take a promotion and star in Academy telecast as the new host of the show! 
This very idea was floated to Holland in a separate interview with THR, where Holland was asked if he'd be open to hosting the Oscars. Now bear with me, because the Spider-Man star had a many-layered response. Holland began by turning the hypothetical offer down, saying:
​​"Maybe in the future, but in all honesty, I'm just too busy right now. I don't have the time. I've got an Uncharted press tour to do, and then I start shooting in early March for this TV show [Apple TV+'s The Crowded Room] which is going to take up a lot of my time and is definitely the hardest role I've ever taken on. So maybe one day in the future. But no, not right now. And you know I would love to do that — I love that kind of thing, I love being put under pressure and doing things that I feel uncomfortable doing. So I'm interested in it, but I just don't have the time."
According to THR's reporter, the interview reached its end and Holland hung up — only to call back two minutes later to backpedal on his answer.
"I just wanted to quickly backtrack on what I said. You asking me about the Oscars — you're the first person to bring that up — and I'm sitting here going, 'Of course I would host the f***ing Oscars!' I just went to the bathroom and I was looking at myself in the mirror and I was like, 'What kind of f***ing idiot wouldn't host the Oscars?' So yeah, if they ask me to, I would, and it would be very fun. I would really enjoy it."
That's a yes if I've ever heard one. And why not? Holland does have a sort of Hugh Jackman-esque quality about him, given his background in musical theater and everyman attitude. And Jackman is a host extraordinaire, having hosted both the Oscar and Tony Awards in the past. So if winning an Oscar is out of the question, Holland could always just swing on by as a host. Speaking of swinging, this would be an excellent opportunity to revitalize the short-lived joys of "Spider-Man: Turn Off The Dark." Picture this: a room full of Oscar hopefuls in fabulous gowns and suits, with a masked up Tom Holland hovering over their heads, reenacting scenes from "No Way Home"! Could he fall from the ceiling at any moment? You betcha, but that's half the fun! 
Live Spidey stunts aside, having Tom Holland (and certainly his co-star Zendaya) host the Oscars wouldn't be the craziest idea for the telecast. Given the historically low ratings that plagued the show last year versus the overwhelming popularity of "No Way Home" and its lead stars, inviting them aboard could be enough to grab the attention of a younger and larger audience.