Will There Be A Snake Eyes Sequel? Here's What We Know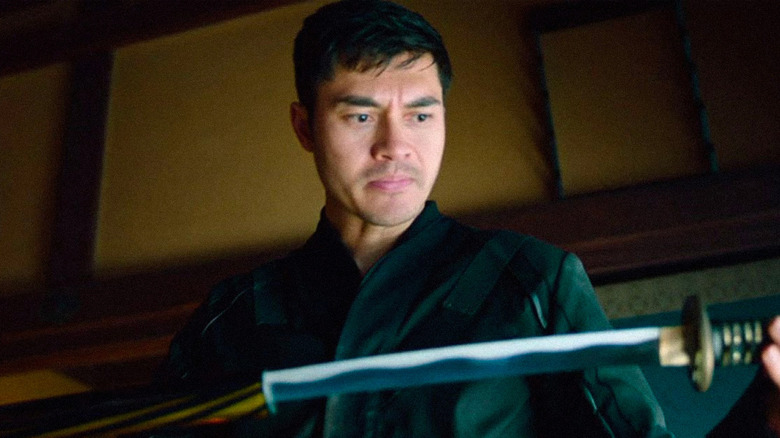 Paramount Pictures
The "G.I. Joe" films have been on shaky footing since a big-screen adaptation was first attempted in 2009. Hasbro's burgeoning empire struck gold with its "Transformers" film series, and they're invested in recreating that success with their second-most famous '80s property. The weird and sometimes-wonderful world of the Joes and their enmity with Cobra has resonated ... kind of ... but Hasbro and their studio partner, Paramount, are still trying to find an angle that can entice the generation of moviegoers for whom "G.I. Joe" is a near-foreign concept.
The disconnect between long-time fans of the property and a new potential audience prompted Hasbro to announce a "G.I. Joe" reboot with "a more millennial approach" in 2017. That millennial-friendly pivot manifested somewhat in "Snake Eyes: G.I. Joe Origins," a hard reset that introduced one of the cooler Joe protagonists from an entirely new perspective.
To some, it failed yet again to hit whatever intangible mark that's come to be expected of the "G.I. Joe" films. But to the unbiased minority (myself and maybe five other people) the film was perfectly fine! It honored creator Larry Hama's desire for an Asian Snake Eyes. The cast was stacked with beautiful people, the coveted quest for honor, and altogether uncomplicated lore. What more, besides a sequel, could one possibly ask for?
"Snake Eyes" may not have resonated with everyone, but Hasbro's not out of the fight yet. Will there be a sequel to the origin film? The answer might be more complicated than you think.
Mixed Reviews Plagued Snake Eyes' Release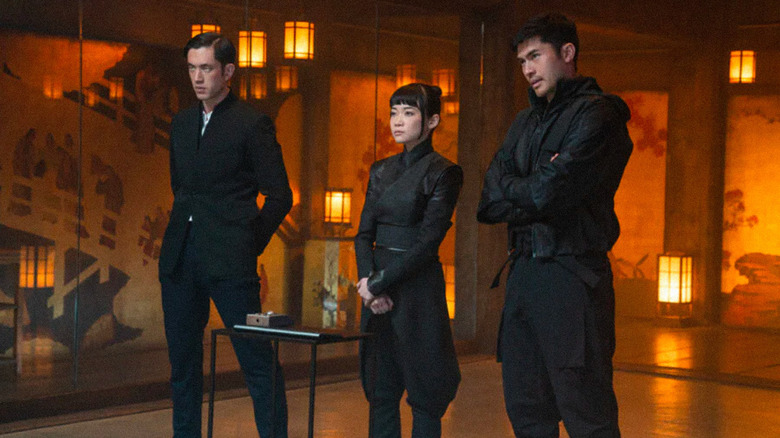 Paramount Pictures
"Snake Eyes," at its worst, takes some controversial liberties with the hero's origins. Critics and fans alike were split down the middle about the film and its remixed canon. Snake Eyes is characteristically mute, and never reveals the face behind his heavily-tinted helmet. "Crazy Rich Asians" lead Henry Golding opts for a chattier interpretation of the character, a polarizing change for anyone who grew up loving the silent assassin.
Some bristled at the film's inability to establish the larger world of "G.I. Joe." Samara Weaving ("Ready or Not") and Úrsula Corberó ("Money Heist") appeared as franchise mainstays Scarlett and the Baroness, but they were peripheral introductions in the film. The film instead focused on Snake Eyes and his blood-brother-turned-enemy Storm Shadow (Andrew Koji, a real scene stealer), but some were still frustrated by the cameo treatment for such important characters.
"Snake Eyes," even to the uninitiated, reads as a ground-zero refresh — a choice that both Golding and producer Lorenzo di Bonaventura have defended. The purpose of the film, according to di Bonaventura, was to introduce Snake Eyes before he loses his voice. The producer told Inverse that, if the film succeeds in securing a sequel or two, "we will eventually get to the point where [Snake Eyes] no longer speaks." Golding agreed in naming "Snake Eyes" a fresh start for the franchise. The priority was to cleanly build Snake Eyes' history and build out from there. In starting small, the franchise can hopefully take more risks in the future.
Hasbro Isn't Likely to Give Up on Their Franchise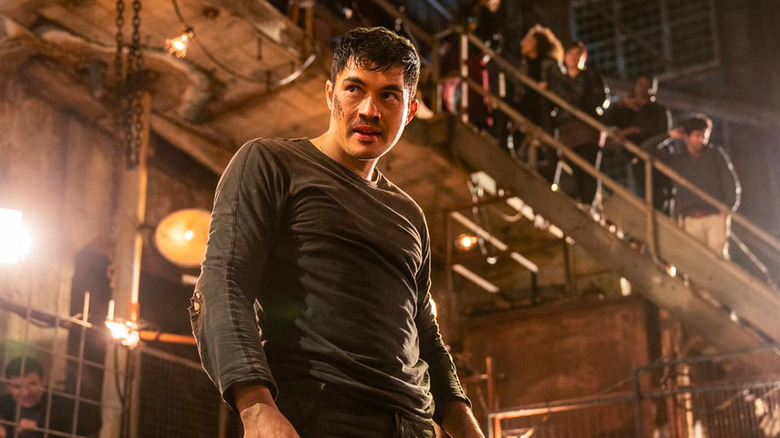 Paramount Pictures
So, is a sequel in the cards? Paramount and Hasbro have been developing a follow-up, "G.I. Joe: Ever Vigilant," for what feels like forever. "Ever Vigilant" was originally meant to release in 2020, but was swapped out for "Snake Eyes" — most likely to reboot the franchise. Now, all signs point to a return for the eponymous commando in a new "G.I. Joe" film ... as long as box office results don't give the studios cold feet.
"Snake Eyes" earned a wincing $40 million worldwide, less than half of its $88 million budget. Granted, it premiered in the thick of the COVID-19 pandemic when the Delta variant was just beginning to emerge. If "Snake Eyes" had released 20 years ago, it could have made up for a dismal opening with video rentals and Blu-ray sales. But in the age of the cinema-to-streaming pipeline, box office receipts are make or break for potential sequels.
Still, with movie theaters beginning to recover, we shouldn't expect Hasbro to give up just yet. The company is adamant about building an answer to Marvel's daunting movie universe. Is "G.I. Joe" the key to that success? Probably not. But the studio has an excellent cast to work with in the future, one that made the best parts of "Snake Eyes" sing. All that's left now is striking the right tone with forever fans and new audiences alike.
It's possible that the long-gestating "Ever Vigilant" will move forward whether we like it or not. When this will happen, though, and in what capacity, is anyone's guess.