Will There Be A Sequel To Love And Monsters? Here's What We Know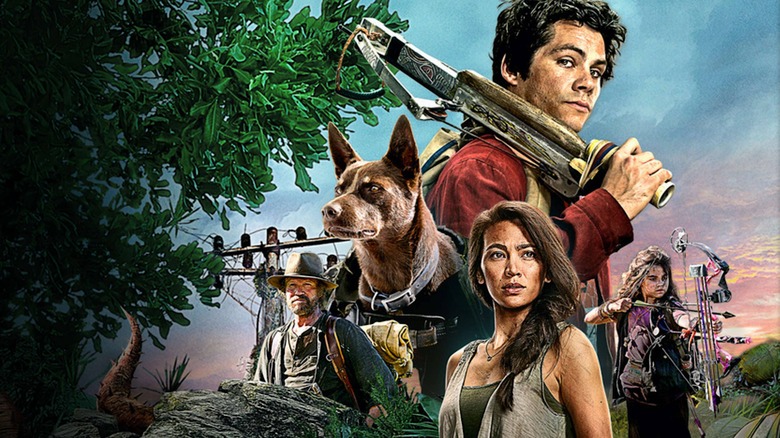 Paramount Pictures
To put it lightly, the ongoing pandemic has thrown a few major wrenches into the world's plans over the past few years. For the entertainment industry, that means a whirlwind of rescheduled release dates or shifts to digital debuts. And though the theatrical experience is still sacred to many, more and more people are choosing to stay home to enjoy a movie these days. So unfortunately, unless the box office buzz is projected to be out of this world, studios have relegated smaller and lesser known projects to unceremonious, barely promoted streaming releases and fans are deprived of the option to see some great hidden gems on the big screen.
One such victim was "Love and Monsters," starring Dylan O'Brien, Jessica Henwick, Dan Ewing, Ariana Greenblatt, and Michael Rooker. Originally planned for a February 2020 release, the post-apocalyptic John Hughes-esque monster adventure from director Michael Matthews and writers Brian Duffield and Matthew Robinson had a very small theatrical release of 387 screens on October 16, 2020, which was also the same day it dropped digitally on Apple TV and FandangoNOW.
But due to the way we left O'Brien's Joel at the end of the movie, many speculated that we could still see this world in theaters more widely one day in a sequel. Despite it being nominated for an Academy Award for Best Visual Effects, there has not been an official green light given out just yet. But here's what we do know about a possible "Love and Monsters 2."
Dear Aimee, It's Not Looking Good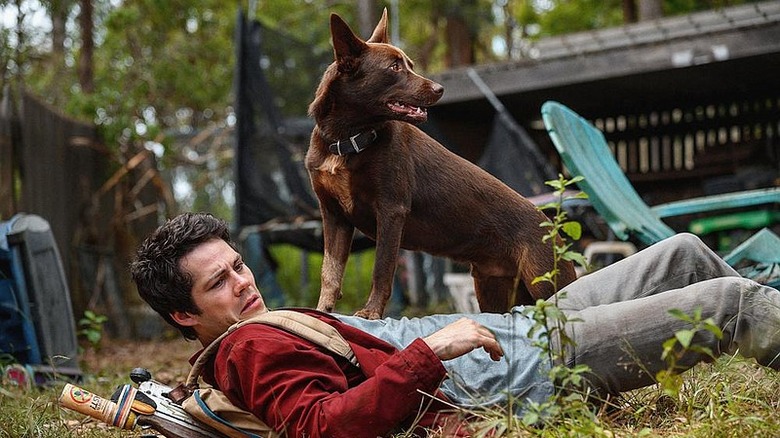 Paramount Pictures
In "Love and Monsters," the Earth is seven years deep into a mutated monster-filled apocalypse. While 95% of the human population has been wiped out, a few colonies have survived and are doing their best to continue to do so. "Teen Wolf" and "Maze Runner" star O'Brien plays meek but romantic survivor Joel. When he finds out that his high school sweetheart is living at a colony 80 miles away, he's determined to reunite with her. Although, he isn't exactly the survivalist type. With the help of a very good canine companion named Boy and other travelers they meet along the way, Joel ventures into the unknown to overcome his ineptitude and find true love.
With the introduction of other colonies and many more monsters for Joel and Boy to encounter, this story is ripe with potential for a sequel. Although, while speaking to Decider about the possibility of more tales from this world, Matthews mentioned it wasn't really what they were going for when they set out to make the first one. However, as is often the case in Hollywood, you should never say never.
"There's been some discussion about [a sequel]. I've got a few interesting ideas. But we did focus on this just being its own movie. It's not the approach of, 'How do we start a franchise?' It was really like, 'Let's make a cool movie! And then let's see what the response is, how it does, and think about an interesting way of where that world can go.' For me, and for Dylan, that's been quite a key thing: Not trying to visualize it as this movie that's a franchise starter. That's really up to the audience."
With any luck, the audience finds and embraces "Love and Monsters" on digital platforms so that a sequel or spinoff can happen. It was one of my favorite films to debut during the pandemic because O'Brien was so charming and the world created for the film was incredibly interesting. It's a very cool spin on the kaiju genre. (Also, how can you not love Boy?) If you haven't seen it yet and would like to check it out for yourself, you can find "Love and Monsters" currently streaming on Hulu and Paramount+.