Everything We Know About Servant Season 3 So Far
Apple TV+
Anytime someone asks me about M. Night Shyamalan's series "Servant," I have to take a deep breath. The Philadelphia-set horror series is one of the most disturbing shows on air right now. It's darker than most anything Shyamalan has done before, but includes some of his signatures, including disorienting dialogue and twists that pull the rug out from under you.
The show follows a woman named Dorothy (Lauren Ambrose) and her husband, chef Sean (Toby Kebbell). In the first season, the couple hires a mysterious young nanny, Leanne (Nell Tiger Free), to care for their infant son Jericho. There are a few problems with this setup, starting with the fact that Jericho isn't a real baby but a lifelike doll the family had created after something tragic happened to the real Jericho. Dorothy doesn't seem to know this, and treats doll Jericho like a real son. When Leanne arrives, Jericho seems to miraculously become real once more.
The end of the first season is when the show gets really dark. We learn that the real Jericho died as the result of a tragic, gruesome accident when Dorothy left him in her car in a post-partum fog. This is pretty much when my soul left my body and I lost the ability to think about anything besides that poor, dead baby, but the show did keep going, airing a second season that involved baby kidnapping, a lot of culty activity, and one main character burying another alive.
When and Where To Watch Servant Season 3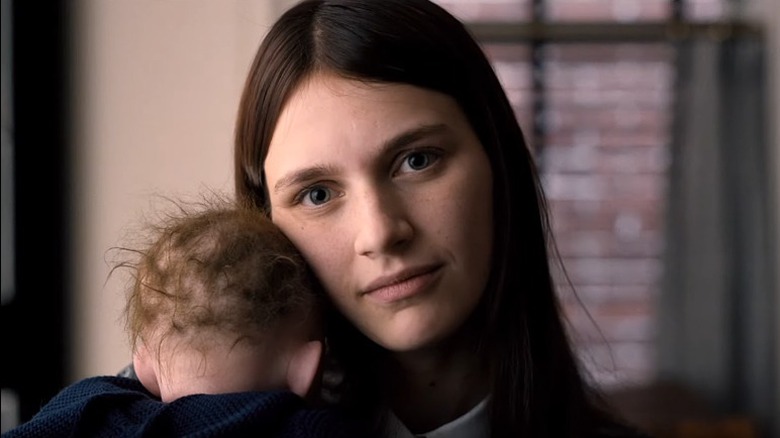 Apple TV+
"Servant" airs exclusively on Apple TV+, where it debuted as one of the first original programs on the streamer in 2019. If you haven't hopped on board the Apple TV+ train yet, it's worth looking into. The subscription service is currently priced at $4.99 a month in the United States, and also offers a seven-day free trial. When you're done being spooked to your core by "Servant," you can flip over to "Ted Lasso" or "Mythic Quest" for some comedic relief.
The show will return for its third season on Friday, January 21, 2022. Don't forget that Apple TV+ uses the weekly drop strategy for its shows, so on that day, you'll only be able to catch the first episode of the new season. If the show's third season includes 10 episodes, as the first two did, it'll run through the end of March 2022. The series has also already been picked up for its fourth and final season, which has no release date as of yet.
What We Think Servant Season 3 Will Be About
"Servant" isn't a particularly cohesive narrative; key plot points tend to get dropped at pivotal moments in favor of whatever Shyamalan thinks will creep us out most in the immediate future. So it's tough to say how much the end of the show's second season, which ended with Leanne killing a cult member named Josephine (Barbara Sukowa) and Jericho mysteriously returning yet again, will relate to the third season.
The season 3 trailer offers more clues. At the start of it, Dorothy is enjoying her reunion with the returned Jericho, still apparently unaware of the truth about her baby's death. Sean is cooking, but in a fun way, not the food-as-horror way Shyamalan sometimes employs to great effect. But there are also a bunch of mysterious people wandering the streets around the family's home, and Dorothy is getting paranoid about Leanne's presence.
From what we can tell, it looks like the season will involve a major face-off between Dorothy and Leanne, a return of the Church of Lesser Saints (or a similarly sinister group), and Leanne experiencing either hallucinations or visions. Dorothy's brother Julian (Rupert Grint), who said he saw Jericho during a near-death experience last season, also seems to have some insight he's not sharing, as Dorothy demands he explain what's going on. Mostly, the new season seems to be about how Jericho's return might not be the miracle it first seemed like it was.
What We Know About the Servant Season 3 Cast and Crew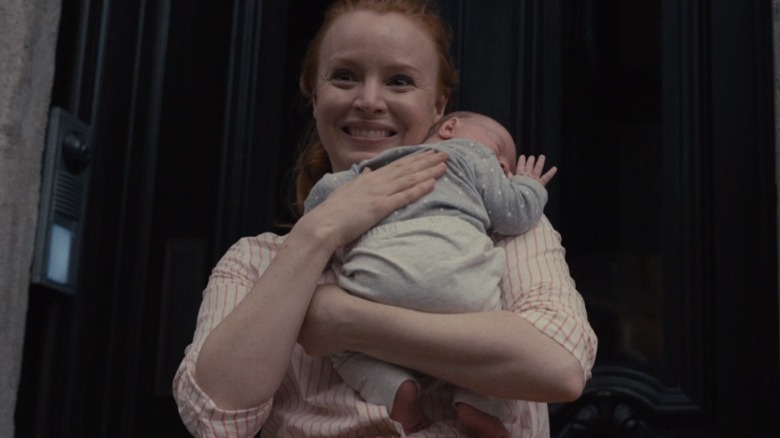 Apple TV+
"Servant" season 3 will see all four of the show's lead cast members — Nell Tiger Free, Lauren Ambrose, Toby Kebbell, and Rupert Grint-return in their roles. "Mr. Robot" actor Sunita Mani will also be joining the cast, though her role hasn't been revealed yet. The trailer also shows several shots of specific strangers who seem to be living in the park near the main characters' home, but it's tough to tell who will be significant at this point.
Personally, I think Ambrose is the biggest draw "Servant" has. The "Six Feet Under" actress has shown amazing range playing a parent who is in turn shattered, hopeful, and delusional. The new season's trailer looks as if it'll give her a lot to work with, placing her in the middle of a "Rosemary's Baby"-like conspiracy related to her child and the darkness that surrounds him.