The Outfit: Release Date, Cast, And More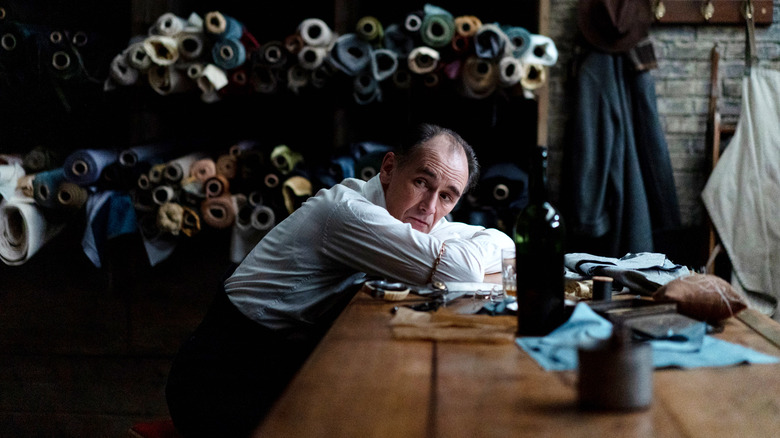 Focus Features
(Welcome to ...And More, our no-frills, zero B.S. guide to when and where you can watch upcoming movies and shows, and everything else you could possibly stand to know.)
Whether you know him best for his decades of work as an esteemed theater actor and playwright, his performances in acclaimed historical dramas directed by the likes of Steven Spielberg, Christopher Nolan, and Aaron Sorkin, or as the guy who portrayed the wealthy weirdos in "Ready Player One" and "Don't Look Up," Mark Rylance has probably appeared on your radar at some point. Now, after having played second fiddle to other actors in most of his recent films, the Oscar-winner will assume the lead once more for "The Outfit," a crime drama that marks Graham Moore's feature directing debut.
For those who don't recognize the name: Moore picked up his own Oscar a year before Rylance did thanks to his script for the Alan Turing memoir, "The Imitation Game." As it so happens, "The Outfit" is the first completed movie Moore has worked on as a writer since then, although he's kept busy penning novels and developing other as-yet-unmade films in the meantime. Let's dig into it, shall we?
The Outfit Release Date and Where You Can Watch It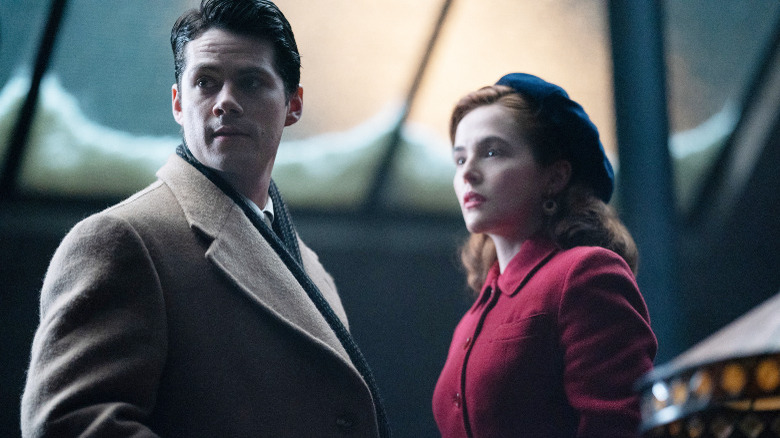 Focus Features
"The Outfit" is being released by Focus Features and will open in theaters exclusively on February 25, 2022 — just a week short of a year after it kicked off production in England. This far out, though, it's hard to say how the Omicron variant (which is causing Covid numbers to spike) will impact theater attendance over the next month, much less what state the box office will be in by the time "The Outfit" arrives. The fact that it's a dramatic thriller geared towards adults won't do the movie any favors either. Those types of films weren't exactly thriving commercially right before the pandemic, much less amidst the surge of another variant.
On a more cheery note: those who would prefer to watch "The Outfit" at home won't have to wait too long for it to become available as a digital rental option. Thanks to Comcast and Universal's deal with theaters, Focus Features can release its films on-demand as soon as three weeks after they hit theaters. So, in all likelihood, you'll be able to stream "The Outfit" from a service like Fandango by the latter half of March 2022.
What Is The Outfit About?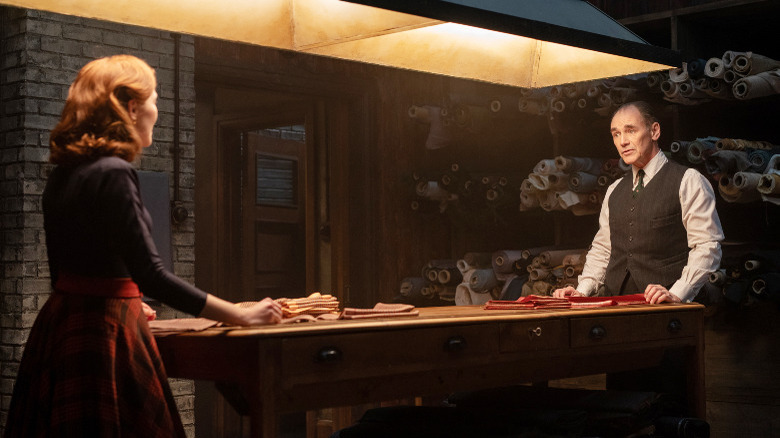 Focus Features
Rylance stars in "The Outfit" as Leonard, a skillful English tailor who sets up shop in Chicago in the wake of a personal tragedy. All seems to be going well with his humble operation, a business that makes the finest of clothing for those who can afford it. Problem is, the customers who can afford it are all (or mostly) mobsters trying to pass for being respectable, which Leonard is wiling to overlook if it allows him to make a living. Of course, that comes back to haunt him when he and his assistant Mable get dragged into a deadly game between their gangster clientele one night.
Oscars aside, I felt "The Imitation Game" meant well but was far too timid in the way it handled Turning's sexuality to really do justice by him as a person, which in turn muddled its attempts to tell an engrossing story about people who deal in secrets or present themselves as one thing while being something else. By the look of it, however, "The Outfit" will allow Moore to continue using that motif, only this time in a context he seems more comfortable with. Not that there's, per se, anything wrong with a storyteller picking a lane that best suits them and sticking with it.
The Outfit Director, Writers, and More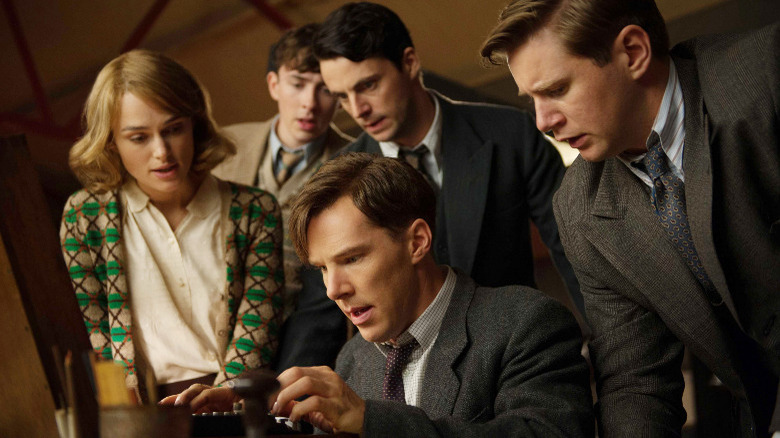 The Weinstein Company
While Moore is relatively new to the art of directing, he's surrounded himself with an accomplished production team on "The Outfit." Their ranks include Mike Leigh's longtime cinematographer Dick Pope ("Secrets & Lies," "Mr. Turner") and production designer Gemma Jackson ("Finding Neverland," "Game of Thrones"), as well as Oscar-winning editor William Goldenberg and Oscar-winning composer Alexandre Desplat, both of whom also worked on "The Imitation Game." What's more, the film's costumes (including the suits crafted by Leonard) were designed by Zac Posen ("Down a Dark Hall") and Sophie O'Neill, who did costume work on films as varied as "The Theory of Everything" and, most recently, "The King's Man."
In addition to calling the shots, Moore also co-wrote "The Outfit" with Johnathan McClain. An actor-writer with a background in theater, McClain starred in TV Land's "Retired at 35" (a sitcom about a New York executive who moves into his parents' retirement community in Florida) and has appeared on such high-profile shows as "Mad Men" and "24" since he started acting on TV in the early 2000s.
The Outfit Cast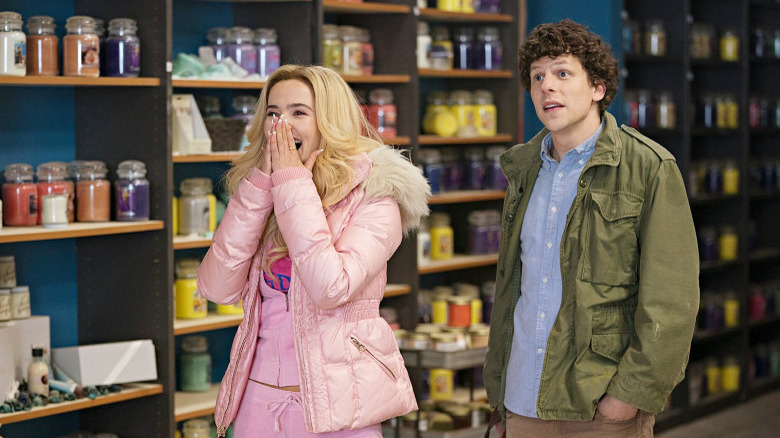 Sony
Joining Rylance in "The Outfit" cast is Zoey Deutch ("The Politician," "Zombieland: Double Tap") as Mable, who may or may not be holding onto some big secrets of her own. Dylan O'Brien ("Teen Wolf," "The Maze Runner") and Johnny Flynn ("Genius: Einstein," "Emma") also co-star as the two gangsters who set the film's plot in motion by pressuring Leonard in doing them a not-so-virtuous favor, with Nikki Amuka-Bird ("Old"), Simon Russell Beale ("Penny Dreadful"), and stage veteran Alan Mehdizadeh rounding out the movie's ensemble.
Between its smaller cast and the action being, by look of it, mostly limited to Leonard's shop, "The Outfit" could make for an effectively contained thriller that doubles as a showcase for Rylance's prowess as an actor who specializes in subtly (even when he's playing a caricature). And while it doesn't necessarily seem like a must-see, there should always be a place for adult-oriented fare of this variety.
The Outfit Trailer and Synopsis
From the Academy Award-winning writer of The Imitation Game (Graham Moore) comes The Outfit, a gripping and masterful thriller in which an expert tailor (Academy Award winner Mark Rylance) must outwit a dangerous group of mobsters in order to survive a fateful night.