Resident Alien Season 2: Release Date, Cast, And More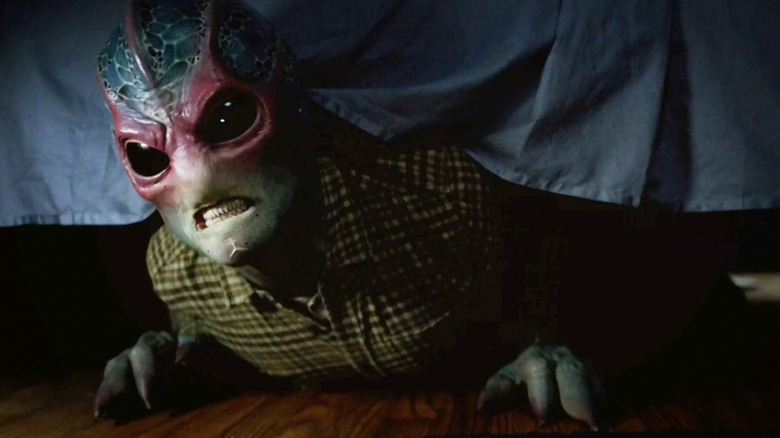 USA and Syfy
(Welcome to ...And More, our no-frills, zero B.S. guide to when and where you can watch upcoming movies and shows, and everything else you could possibly stand to know.)
Syfy is notorious for their goofy hybrid monster movies like "Sharknado," but they're also home to some of the best TV shows in the game, like "Chucky," "Wynonna Earp," and most recently, "Resident Alien." Debuting earlier this year, "Resident Alien" won over audiences so quickly, Syfy greenlit a second season just before the season 1 finale. The show is based on the Dark Horse comic of the same name, and follows an alien who crash-lands on Earth hellbent on fulfilling his mission to destroy all human life. The alien kills a man named Dr. Harry Vanderspeigle and assumes his human form and identity, but the longer he stays on the planet, the more conflicted he becomes about fulfilling his mission. The alien begins taking a liking to humans who show him kindness despite his frequent social missteps, but everything changes when he realizes a nine-year-old boy can see his true form. The return of the sci-fi comedy is just around the bend, so here's everything you need to know to prepare.
Resident Alien Season 2 Release Date and Where You Can Watch It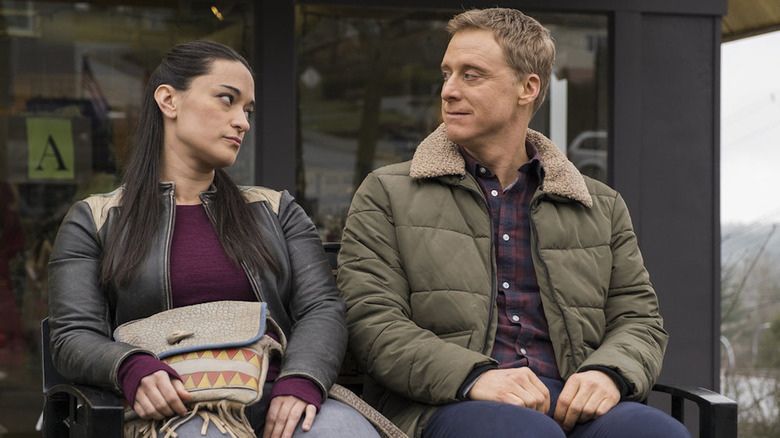 USA and Syfy
Season 2 of "Resident Alien" is set to premiere Wednesday, January 26, 2022. For those that don't have access to cable, the Sling app does have a channel for Syfy and USA, which was how I was able to watch "Chucky" as it aired. If you want to catch up and watch the first season to prepare for the launch of season 2, the show is available through premium subscriptions on Hulu, YouTube, and fuboTV in addition to Peacock. More likely than not, "Resident Alien" will follow suit with "Chucky" and the second season will end up on Peacock following the season finale.
What Will Resident Alien Season 2 Be About?
Now that Harry (that's the alien's human name, his alien name is impossible to speak) is once again back on Earth, he's got to face the consequence of having failed the mission from his alien race to destroy all humans. Due to his change of heart, Harry has now made it his quest to protect the people of earth, all while struggling to maintain his alien identity as his human emotions grow stronger every day. The last we saw Harry, his alien buddies are less-than-thrilled about the failed mission, so there's a good chance they're going to retaliate. That said, we still don't understand why his alien comrades hate humans so much, and hopefully season 2 will give us some better insight as to why they want us exterminated.
The show is also going to go on a New York City adventure at some point, but NYC by way of Vancouver as the pandemic prevented an actual visit to the Big Apple. The circumstances of the adventure have been kept under wraps, but showrunner Chris Sheridan hinted that it will bring the show closer to the source material.
Resident Alien Season 2 Cast, Crew, and More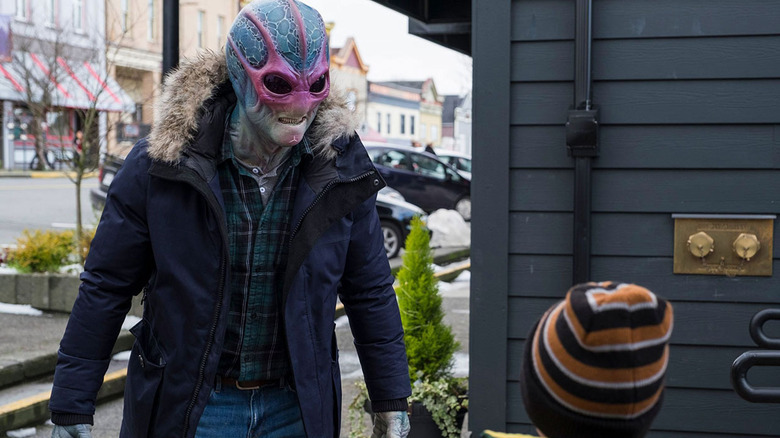 USA and Syfy
Alan Tudyk is set to return as the alien/Harry, as is Sara Tomko as Asta. Tomko's social media teasing also included evidence of the return of Corey Reynolds as Sheriff Mike Thompson and Elizabeth Bowen as Deputy Liv Baker. New to the cast is Emmy-winner Alex Borstein, who is set to play Carlyn, a socially awkward lab worker who develops a crush on Harry. Tudyk and Borstein are the on-screen comedy couple I didn't know I needed, but it's truly inspired casting.
Chris Sheridan returns as the executive producer and showrunner for season 2. Mike Richardson and Keith Goldberg of Dark Horse Entertainment, Justin Falvey and Darryl Frank of Amblin TV, Robert Duncan McNeill, Christian Taylor and Nastaran Dibai also serve as executive producers.