'Sharknado 6' Will Mercifully End The Franchise With Time Travel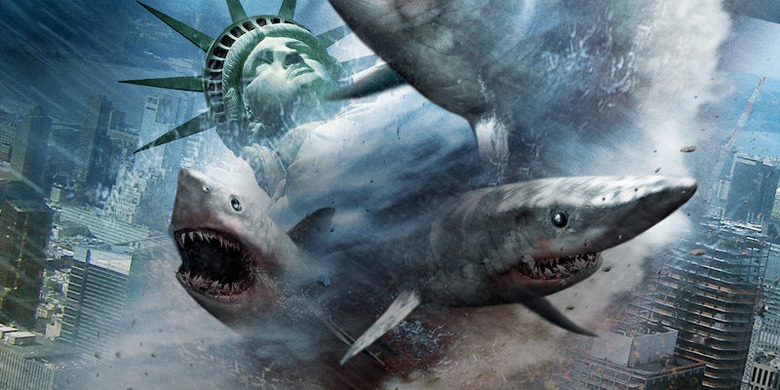 Syfy let a goofy joke get out of hand after their original B-movie Sharknado became a ratings hit. The movie about a tornado that picks up sharks from the ocean and sends them into the flooding city streets of Los Angeles launched an inexplicable franchise that has delivered four sequels so far. But Syfy has one more shark-infested cyclone up its sleeve.
Sharknado 6, which will likely have a stupid subtitle to go along with it, has been announced by Syfy. It will be the final installment of the franchise, and what better way to send off Sharknado than by bringing time travel into the equation.TV Line has first word of Sharknado 6 bringing the franchise to an end. The film follows leading man Ian Ziering returning as franchise character Fin as he wanders the Earth alone after it was destroyed in the previous sequel. Somehow, he's left with only one option and that's to travel back in time to stop the very first Sharknado that started this whole nonsensical apocalypse. If only he could go back and stop the first movie from existing.
Joining Ziering will be returning franchise cast members Tara Reid, Cassie Scerbo and Vivica A. Fox. Other details on the story mostly remain under wraps. The only hints at what's to come can be found in this brief but ridiculous synopsis:
"All is lost, or is it? Fin unlocks the time-traveling power of the SHARKNADOS in order to save the world and resurrect his family. In his quest, Fin fights Nazis, dinosaurs, knights, and even takes a ride on Noah's Ark. This time, it's not how to stop the sharknados, it's when."
Yep, that sounds about as ridiculous as we've come to expect, though somehow not much more ridiculous than the plot of the last Transformers movie, which also had Nazis, dinosaurs (or Dinobots), knights and a ride on a submarine instead of Noah's Ark. That almost makes me pause to think the Sharknado movies aren't much worse than some more legitimate box office fare.
The Sharknado films have become famous for giving D-list celebrities and people who have no business acting a chance at getting a paycheck to appear briefly in these movies, usually just before being killed in a gruesome fashion. The last movie featured the likes of Fabio, Tony Hawk, Clay Aiken, Olivia Newton-John, Chloe Lattanzi, Bret Michaels, Margaret Cho, Charo, Gilbert Gottfried, Al Roker, Kathie Lee Gifford, Hoda Kotb, Chris Kattan and plenty more people you've forgotten about. Who will be shark meat this time?
Director Anthony C. Ferrante will return behind the camera after being at the helm of all the previous Sharknado movies. This joke has gone on far too long, and we're just glad it's finally coming to an end.