Resident Alien Season 2: Everything We Know So Far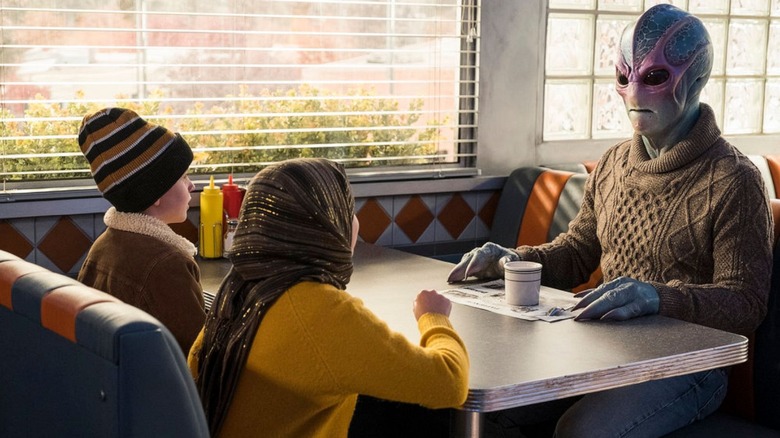 SyFy
The start of 2021 introduced the science-fiction comedy series "Resident Alien," with a second season greenlit just before the season 1 finale. Based on the Dark Horse comic of the same name, the series centers on an alien with an unpronounceable birth name who crash-lands on Earth on a mission to wipe out humanity. After killing Dr. Harry Vanderspeigle and assuming his identity, the alien struggles with the morality of his mission to kill all humans the more he learns about humankind. Despite his attempts to blend in with society, he frequently misunderstands social cues and frequently stands out. All that changes, however, when he begins to develop human emotions while in disguise and realizes that a 9-year-old boy in town can see his true alien form.
When and Where To Watch Resident Alien Season 2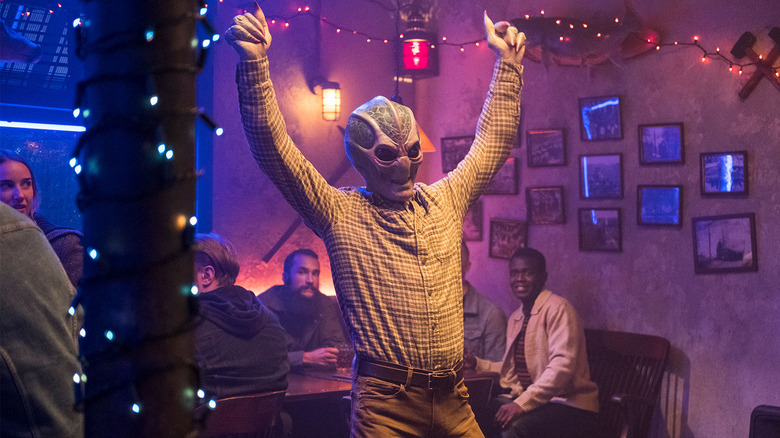 SyFy
The second season of "Resident Alien" was ordered after the first season garnered an estimated 9.3 million viewers. Just as the first season, the show will continue to be available through the SyFy network although there is no projected debut date as of yet. Fortunately, we do know that "Resident Alien" season 2 started production sometime in August thanks to actress Sara Tomko's social media.
Tomko teased on Twitter "This just in... we're BACK...," featuring a selfie of herself and Alan Tudyk (in human form). "Day One of Season Two & we're in the groove! Look at this guy, he's visiting from another planet."
This just in… we're BACK… @ResidentAlien #residentalien #seasontwo @AlanTudyk @amblin @DarkHorseComics @SYFY @nbc Day One of Season Two & we're in the groove! Look at this guy, he's visiting from another planet 👽👩🏻 pic.twitter.com/99amBuop8S

— Sara Tomko (@actressaratomko) August 3, 2021
The Hollywood Critics Association recently gave "Resident Alien" the award for Best Cable Series, Comedy at the end of August.
What We Think Resident Alien Season 2 Is About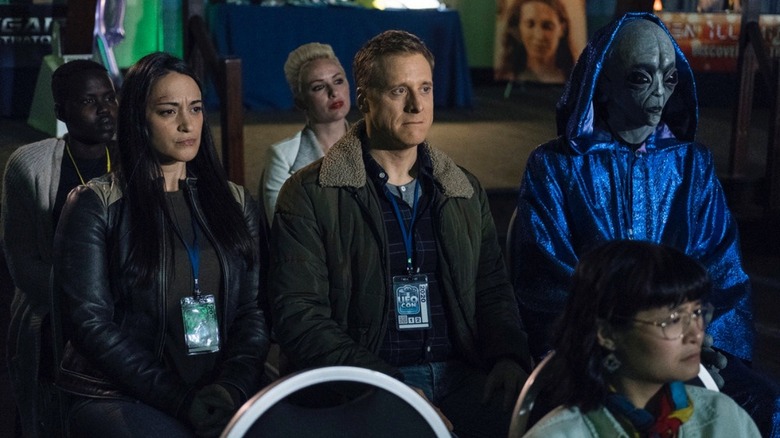 SyFy
SyFy has been pretty mum about the plans for the second season, but plenty of fans have been speculating and fantasy booking since the announcement of more episodes. Plenty are hoping for more information regarding the alien's planet, and what about humans makes them hate us all so much? As he was unable to complete his mission of destroying all humans, there's a good chance his home planet is unhappy with the lack of progress and hopefully we'll get a chance to see what they have to say about it.
Sara Tomko's character Asta was the perfect anchor to the alien (played by Alan Tudyk) hijinks, and quickly became one of the best characters on cable TV right now. The season finale teased some progress between Asta and her estranged daughter Jay (Kaylayla Raine), so there's a good chance that we'll be seeing a lot more exploration into this relationship in the next season.
Again, this is all just speculatory so the second season could be an underwater musical for all we know ... but wouldn't that be awesome?
What We Know About The Resident Alien Season 2 Cast and Crew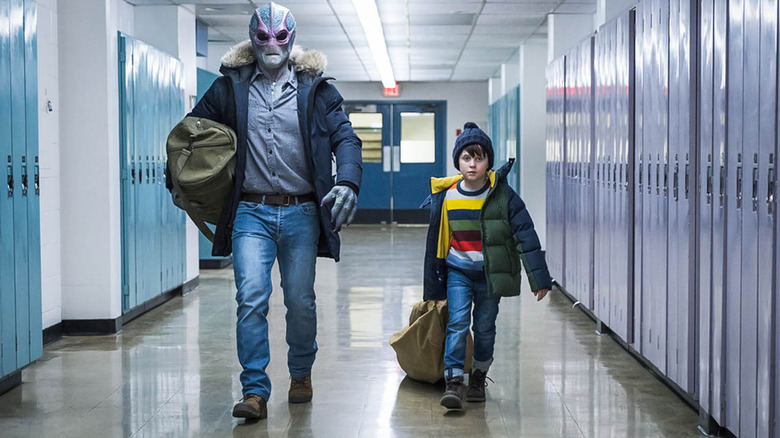 SyFy
Alan Tudyk is set to return as the alien/Harry, as is Sara Tomko as Asta. Tomko's social media teasing also included evidence of the return of Corey Reynolds as Sheriff Mike Thompson and Elizabeth Bowen as Deputy Liv Baker.
Got arrested. It was fun. Just kidding I'm not telling you any spoilers. #ResidentAlien #seasontwo #dayone @ResidentAlien @coreyreynoldsLA @MissLizBowen @amblin @DarkHorseComics @SYFY @nbc pic.twitter.com/QMIoozNrPS

— Sara Tomko (@actressaratomko) August 4, 2021
No official word on the return of Alice Wetterlund, Levi Fiehler, Alex Barima, and Mandell Maughan, but it's hard to believe that they won't make a return. It's also exciting to think about the possible guest appearances we'll see in season 2, considering Nathan Fillion, Linda Hamilton, and Terry O'Quinn's appearances in season 1 went over really well. I've got my fingers crossed for a Jewel Staite cameo, or anyone else from "Firefly," honestly.
Chris Sheridan ("Family Guy") is set to return as executive producer and showrunner but there have been no further details regarding writers or directors