Superhero Bits: Kim Kardashian Spoils Spider-Man, Venom 3 Rumors & More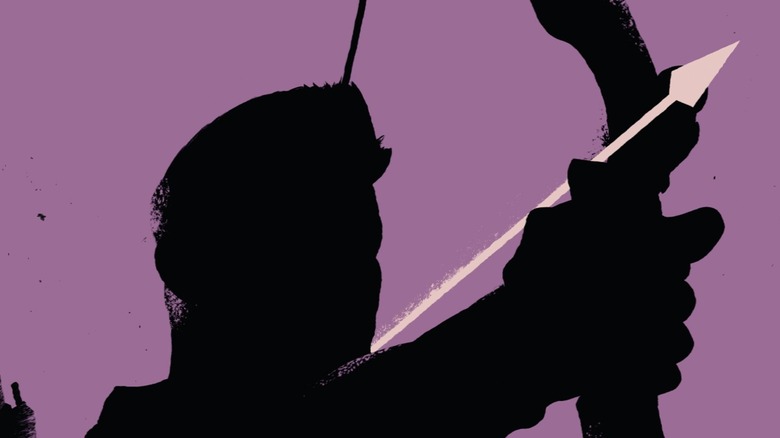 Marvel Studios
(Superhero Bits is a collection of stories, updates, and videos about anything and everything inspired by the comics of Marvel, DC, and more. For comic book movies, TV shows, merchandise, events, and whatever catches our eye, this is the place to find anything that falls through the cracks.)
In this edition of Superhero Bits:
"Venom 3" rumors surface.
James Gunn introduces a new "Peacemaker" character.
Riddler gets a website for "The Batman."
Kim Kardashian spoils "Spider-Man: No Way Home."
Naomi Series Trailer and Synopsis
The CW has released a brand new trailer for the upcoming DC series "Naomi," which hails from Ava DuVernay. A synopsis for the premiere episode has also been revealed, which reads as follows:
Naomi McDuffie (Kaci Walfall) is living her best life as a top student, skateboarder and Superman-stan, when a 'stunt' in the middle of her hometown of Port Oswego turns her world upside down. While Naomi's doting parents – Greg and Jennifer McDuffie (Barry Watson and Mouzam Makkar) – are concerned with their daughter's strange new fainting spells, the teen's closest friends – Annabelle (Mary-Charles Jones), Nathan (Anthony Puig), Lourdes (Camila Moreno), Anthony (Will Meyers), and Jacob (Aidan Gemme) – join Naomi to help uncover who or what is behind the unexpected event that has the small military town buzzing. A bit of sleuthing leads Naomi and her friends to discover that the owners of two local businesses – Dee (Alexander Wraith) and Zumbado (Cranston Johnson) – seem to know a lot more about the incident than everyone else. Soon Naomi realizes that the mysterious event is just the beginning of a thrilling journey that will change her life and challenge her to question everything she knew to be true.
Amanda Marsalis directed the episode, which was written by DuVernay and Jill Blankenship. "Naomi" premieres on The CW on January 11, 2022.
Meet Judomaster From Peacemaker
Series creator/director James Gunn has revealed a new look at "Peacemaker." Specifically, Nhut Le as the character Judomaster, who will be appearing alongside John Cena, who reprises his lead role from this year's "The Suicide Squad." While the image doesn't tell us much, it does signify that Gunn is continuing to have a lot of fun with obscure characters from the DC Comics canon. The show is set to premiere January 13, 2022 on HBO Max.
Doc Ock Heads to Marvel Puzzle Quest
Marvel is doing everything in its power to bring the characters from "Spider-Man: No Way Home" to every corner of its empire. Case in point, Doc Ock, inspired by Alfred Molina's version of the character from the record-breaking film, has been added to "Marvel Puzzle Quest." So, those who are already playing the game can enjoy what Otto Octavius has to offer, or those who enjoy puzzles and Marvel things that haven't yet played the game may now have reason to check it out.
Venom 3 Rumors Include Multiverse Shenanigans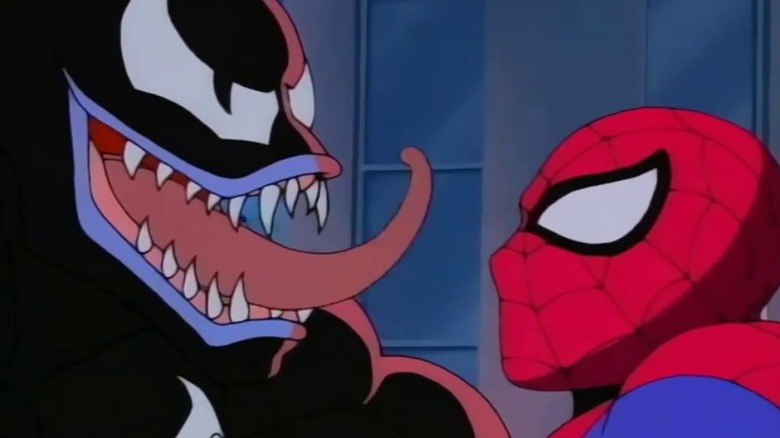 Marvel
What's the time? It's rumor time! While it has not been handed the official green light, we know Sony has plans to make "Venom 3." That is not at all surprising, given how successful both "Venom" and "Venom: Let There Be Carnage" were. Now, however, it seems the success of "Spider-Man: No Way Home" may have some bearing on the sequel as well, if a new report from Daniel Richtman is correct. And, for what it's worth, Richtman has a pretty damn good track record.
So, we will be seeing a Spider-Man in Venom 3. I think Andrew Garfield will be playing Spider-Man in the movie. pic.twitter.com/LI2xbpiqAY

— Spider-Man News and Leaks (@DiegoNoWayHome) December 27, 2021
Alright, so it looks like Tom Hardy's Venom/Eddie Brock may be taking a trip down the multiverse rabbit hole as well. But that Spider-Man bit is particularly huge. The question is, who will it be? This doesn't have to be Tom Holland's Spider-Man. In fact, it could just as easily be Andrew Garfield's version of the character, which might actually make more sense as to not mix it all in with the main MCU. In any event, this could turn "Venom 3" into a must-see event, and would make a lot of sense from a marketing perspective. We'll see what happens.
Peacemaker Clip Introduces The Team
Circling back to "Peacemaker," a new promo for the upcoming series has surfaced online. It introduces us to the team that John Cena's character will be (reluctantly) working with in the new show. It, admittedly, doesn't give us too much to go on, but does offer a sense of the tone and gives us an idea of how he gets roped into another big mission. "Peacemaker" debuts on January 13 on HBO Max.
The Batman Launches Viral Website for The Riddler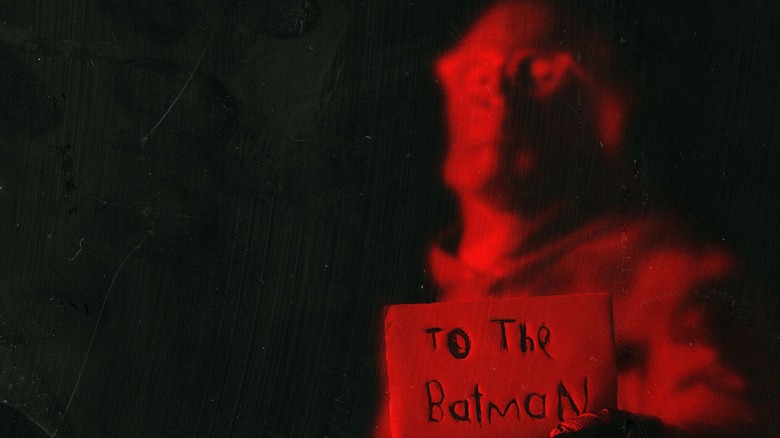 Warner Bros.
Warner Bros. is getting a little creative with the marketing for "The Batman," which is due to hit theaters in March. While several villains will appear, it is Paul Dano's Riddler who is being positioned as the main antagonist for Robert Pattinson's Dark Knight. Recently, the studio launched RataAlada.com, which is dedicated to Riddler and is seemingly positioned as a bit of in-universe marketing for the film. The site itself is a riddle and is an odd little tease that hardcore fans may want to explore. At the very least, it's more creative and interesting than a bad character poster or something of the like.
Kim Kardashian Spoils the F*** Out of No Way Home On Instagram
Look, "Spider-Man: No Way Home" has made well over $1 billion worldwide at the box office and it's been in theaters for about two weeks. Anyone reading this column has likely seen it. That said, Kim Kardashian is pitching to a different audience. As such, it was a bit surprising when she decided to up and spoil the movie's biggest reveal on her Instagram Stories (seen above). So yeah, not a great move on her part. For shame, Kim. This is not exercising great responsibility.
WandaVision and Loki Are the Most Pirated Shows of 2021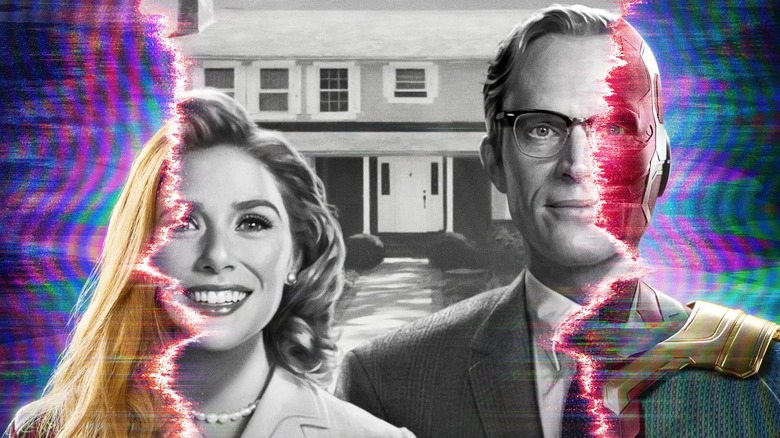 Marvel Studios
The good news is that the MCU shows on Disney+ have been a huge hit so far. The bad news is, according to TorrentFreak, that a whole lot of people pirated those shows in 2021. "WandaVision" and "Loki," per the website, were the most pirated shows in the world this year, beating out Netflix's "The Witcher." Also on the Marvel front, "The Falcon and the Winter Soldier" came in at number four, with "Hawkeye" at number five and "What If...?" at number six. Looking at the glass half full, the Marvel brand is arguably stronger than ever. But yeah, that's an awful lot of stolen Disney+ subscription money.
Hawkeye Credits Artwork
Lastly, Marvel Studios has released some official artwork from the credits of "Hawkeye," which wrapped up its run on Disney+ recently. While the show left much to discuss, the artwork featured in the show's credits sequences was a true highlight, and these images allow us to take a better look at some of the characters in comic book-y fashion. Aside from Clint Barton, we also get some Kate Bishop action and, most importantly, Lucky the Pizza Dog. Check it all out in the above Instagram post.