Spider-Man: No Way Home Is Now Sony's Biggest Movie Of All Time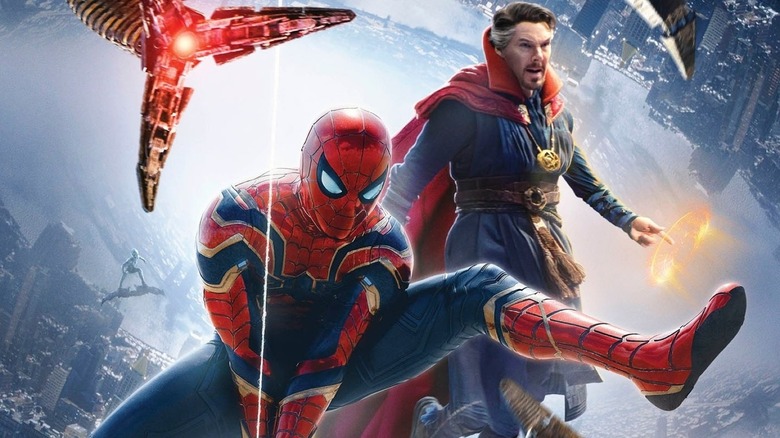 Sony Pictures
It took less than two weeks: "Spider-Man: No Way Home" is officially Sony's biggest movie of all time. Yes, that's right, after a mere 13 days in theaters, the latest entry in the Marvel superhero franchise has achieved what no other movie released by the long-standing studio has before, amassing well over $1 billion at the global box office, setting records we thought might never be broken in the pandemic era. And yet, here we are.
As reported by Forbes, counting Tuesday's grosses, director Jon Watts' "No Way Home" has now earned $516.4 million domestically, topping "Star Wars: The Rise of Skywalker" ($515.2 million). Internationally, it has taken in a healthy $644.9 million. Add that up and you get $1.16 billion worldwide. That puts it above "Spider-Man: Far From Home," the 2019 entry in the franchise that helped tee up this movie, which earned $1.13 billion during its entire theatrical run. That, up until now, was Sony's biggest movie ever. Before that, 2012's "Skyfall" ($1.1 billion) held that particular honor.
This is impressive, to say the very least. The fact of the matter is, even with the omicron variant running rampant, "No Way Home" stands to become one of the highest-grossing movies of all time. Estimates now have it hitting around $800 million domestically and, if all goes well, reaching $1.75 billion or so globally. Yes, movies like "West Side Story" and "Nightmare Alley" are suffering, but the silver lining is that people are indeed still willing to go to the movies en masse. There is hope.
Spider-Man Is Staying With Sony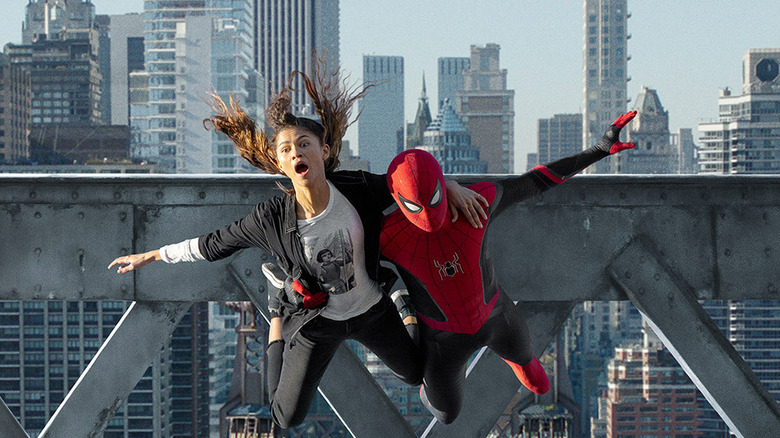 Sony Pictures
Outside of the raw numbers, this all gets to a point on the business side of things and should curb a longstanding discussion the internet likes to have every once in a while. Let's be crystal clear about this: Sony is never giving up the rights to the "Spider-Man" franchise. Period. End of discussion. No matter what rumors crop up in the near future or have cropped up in the past, this is the single most valuable superhero asset on the planet, and thanks to Marvel's desperate need for cash more than two decades ago, the movie rights for Spidey and his entire surrounding cast of characters (which allowed for "Venom" to become a box office smash) were sold to Sony. The rest is history — and Sony, not Disney, will continue to write that history.
It remains true that Disney and Sony have a deal in place which allows Tom Holland's Peter Parker to appear in the Marvel Cinematic Universe, but Sony still gets most of the money from these solo movies. And the studio can make as many spin-offs, like the upcoming "Morbius," as it pleases. As much as Disney would surely love to have the rights to arguably its biggest character outside of Mickey Mouse back, the incredible returns from this movie all but solidify (barring a catastrophe none of us can predict right now) that Sony is going to hold on to these rights indefinitely. As it should.
"Spider-Man: No Way Home" is in theaters now.