Peaky Blinders Season 6 Trailer: The Shelby Gang Returns For One Last Fight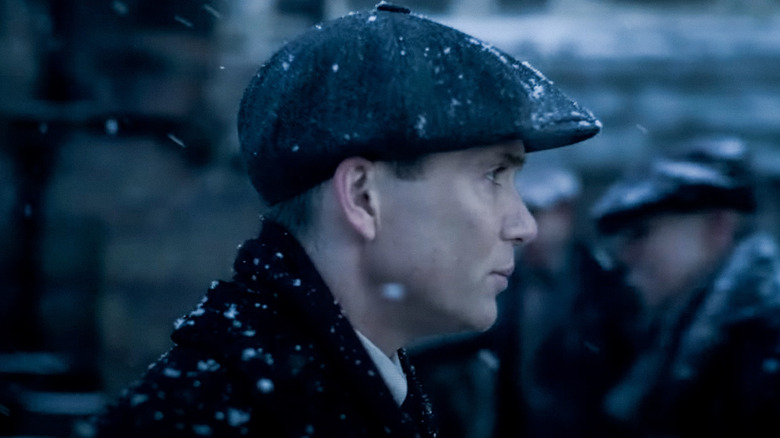 Netflix
Take a little walk to the edge of town, go across the tracks...
Now that the "Peaky Blinders" opening credits song (that would be "Red Right Hand" by Nick Cave & The Bad Seeds, for those with itchy YouTube trigger fingers) is permanently stuck in your head again, I've hopefully set the perfect mood for everyone reading this to jump right in to the smoggy, filthy, cigarette-choked streets of Prohibition-era Birmingham. 
When last we left our indefatigable gang of criminals, killers, bootleggers, and illegal gamblers, Thomas Shelby's (Cillian Murphy) grand plans to take out the fascist villain of Season 5, Sam Claflin's Oswald Mosley, had all gone up in smoke. Tommy's would-be assassin is instead killed, Aberama Gold (Aidan Gillen) meets his own untimely demise during the chaos, and Mosley's fear-mongering propaganda campaign continues unabated, gathering even more steam with Tommy's public endorsement rather than coming to an ignominious end as the Peaky Blinders' leader had anticipated. The final few moments of season 5 are as chilling as any other scene in the entire series to this point — beset by visions (nightmares?) of his lost love Grace (Annabelle Wallis), Tommy brings a pistol to his own head and prepares to put an end to all his suffering and thwarted schemes.
Finally, however, fans will at last get the chance to find out what happens next. The BBC has released the Season 6 trailer, picking up on the action in the aftermath of last season's chaos. Check it out below!
Peaky Blinders Season 6 Trailer
Happy New Year, folks!
To this point, almost everything we knew about the upcoming season of "Peaky Blinders" came from an all-too-brief teaser reuniting Tommy Shelby with longtime frenemy, Alfie Solomons (Tom Hardy), who made a shocking return from the dead late last season. A team-up may once again be in the cards, reflecting the seriousness of the threat posed by Oswald Mosley's unhinged political movement, bringing Nazism to the shores of England. Believe it or not, even Tommy Shelby has his limits. He may have gotten in bed with the fascist leader (pulled straight from the annals of history, no less) in order to further his own interests and that of his family, but the patriarch has finally met his match and reached his limits. The results, well, speak for themselves. Expect plenty of explosive developments to come.
Created and written by Steven Knight ("Locke," "See," "Spencer"), "Peaky Blinders" stars Murphy and Tommy Shelby, Paul Anderson as his brother Arthur, Sophie Rundle as his sister Ada, Finn Cole as half-brother Michael, Anya Taylor-Joy as Michael's girlfriend, and many more. Tragically, Helen McCrory passed away from cancer earlier in 2021, leaving an unfillable gap in the production as the matriarch of the Shelbys, Aunt Polly.
Though this will be the final season of "Peaky Blinders," fans can look forward to the story continuing on as a feature film, set to release sometime in 2023 or 2024. In the meantime, Season 6 will premiere in early 2022.