Here's Where You Can Watch The Harry Potter 20th Anniversary Reunion Online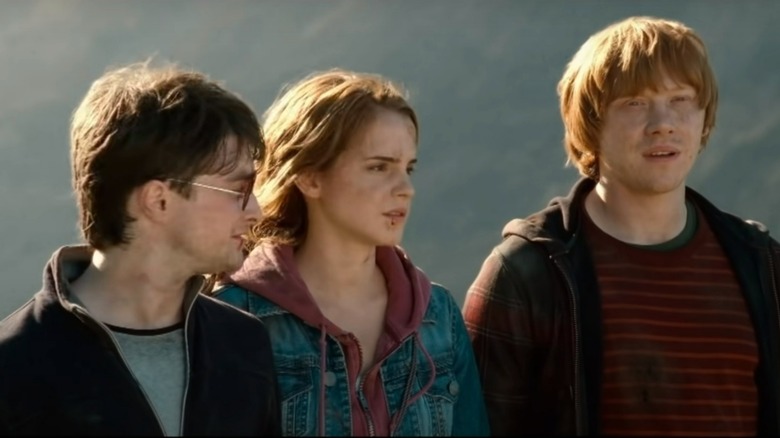 Warner Bros.
Are you ready to take a trip back to the Wizarding World?
Oddly enough, it'd be easy to feel as if we never even left in the first place. Between the end of the "Harry Potter" saga in 2011 and the beginning of the "Fantastic Beasts" prequel series in 2016, we've hardly gone without the beloved fantasy franchise in some form or another since, well, 2001. That's the inevitable side effect of our current franchise-or-bust approach to blockbuster filmmaking these days, which seemingly dictates that no property can be allowed to rest for any length of time before further mining it for as much "content" as its worth. To date, the mixed reception to these "Fantastic Beasts" films (which seem increasingly less focused on the actual fantastic beasts as it goes on?) may be reflected in the performance of "Fantastic Beasts: The Crimes of Grindelwald" at the box office, grossing the least of any film in the entire franchise and introducing some uncertainty into the future of the franchise that continues with the upcoming "Fantastic Beasts: The Secrets of Dumbledore". Add on the controversy stemming from actor Johnny Depp's casting as Grindelwald and the allegations of domestic abuse that follow him, combined with author J.K. Rowling's repeated transphobic rhetoric, and the 20th anniversary of "Harry Potter" has taken on a somewhat more restrained sense of celebration than it otherwise would've.
But that's not to say that there's no enthusiasm left whatsoever. As painful as it may be for fans to navigate these murky waters surrounding a story that means so much to so many, there is something to the idea that works of art can be bigger and more important than the terribly flawed human beings who created them in the first place. That brings us back to the "Harry Potter 20th Anniversary: Return To Hogwarts" special, which will reunite the main cast of the movies for an extravaganza that hopes to rival the ones that recently brought together the cast of "Friends" or "The Fresh Prince of Bel-Air." Countless viewers essentially grew up right alongside the "Harry Potter" cast, lending an even heavier sense of nostalgia to a reunion special like this. Interest is sure to remain high, so read on for everything you need to know about how to watch "Harry Potter 20th Anniversary: Return To Hogwarts."
How To Watch the Harry Potter Reunion Special
There are few worse feelings than to spend months looking forward to a particular special or event, counting down the days until its arrival ... only to end up scrambling at the last minute because you have absolutely no idea how to actually watch it. Folks, we've all been there. Sports fans increasingly have to go through this whole song and dance with the introduction of streaming partners like ESPN+ or Hulu now hosting exclusive rights to broadcasting certain games, leaving many out in the cold if they haven't done their research ahead of time. Yup, I'm unfortunately speaking from experience here. And if sports fans aren't immune to this phenomenon, then neither are movie junkies.
Luckily, those who pay attention to entertainment on a routine basis know the ins and outs by now. WarnerMedia's streaming service, HBO Max, has rapidly carved its own niche in terms of advertising itself as the place to be for reunion specials of fan-favorite shows and movies. As mentioned earlier, both "Friends" and "The Fresh Prince of Bel-Air" found a home at HBO Max, giving longtime fans some catharsis by reuniting the casts of each respective series and giving them space to talk through their memories and experiences on their classic shows.
Where some fans may have been disappointed by the bare-bones production value of prior reunion specials, however, "Harry Potter 20th Anniversary: Return To Hogwarts" promises to set a whole new bar. The previous trailer teased the appearances of cast members such as Helena Bonham Carter, Robbie Coltrane, Ralph Fiennes, Jason Isaacs, Gary Oldman, Tom Felton, James Phelps, Oliver Phelps, Mark Williams, Bonnie Wright, Alfred Enoch, Matthew Lewis, and Evanna Lynch, all in addition to main stars Daniel Radcliffe, Emma Watson, and Rupert Grint.
Fans will be able to ring in the new year with this can't-miss special from the comfort of their own homes on January 1, 2022, provided you have a subscription to HBO Max. For those who don't, plans start at $9.99 on a monthly basis. Though it may be cutting it a bit close, you'll also be able to revisit all eight "Harry Potter" films if you so choose, all of which are streaming on HBO Max.