Here's Where You Can Stream Or Buy Every Season Of Sherlock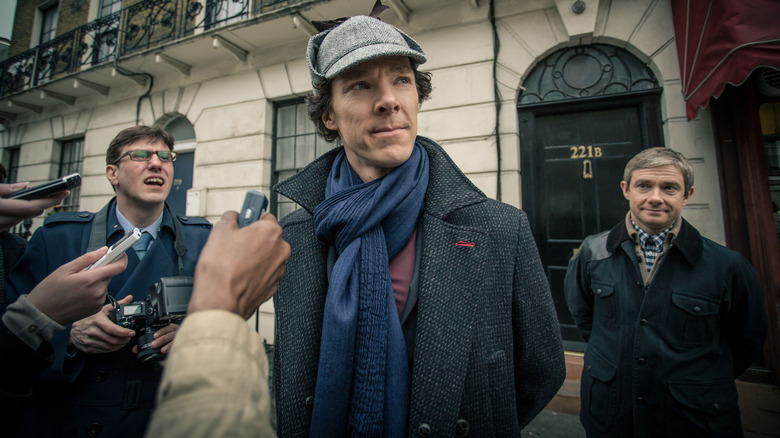 BBC
(Welcome to Where to Watch, which provides a clear and simple answer to the question, "Hey, where can I watch this thing?")
In order for a movie series or show to eventually become a victim of their own hype, they first need to steadily build up and justify that hype in the first place. That concept sounds simple enough, but rarely has that proven to be more true than with the BBC series "Sherlock." Created by Steven Moffat and Mark Gatiss, "Sherlock" first premiered in 2010 and served as a launching pad for both Benedict Cumberbatch and Martin Freeman into mainstream popularity. Though only consisting of three total episodes during each season, the extended runtime of an hour and half helped make each story feel like a meaningful, feature-length chapter in an ongoing story that would only become more and more of a pop culture sensation with each passing year.
Ultimately, many would agree that the series sort of went off the rails by the end, never quite managing to achieve the same level of consistency after the emotional high point of Sherlock Holmes faking his own death to save his friends in the Season 2 finale, "The Final Problem." Otherwise, however, the series has been lauded for successfully reinterpreting the classic Sir Arthur Conan Doyle literary character into a modern London setting, along with his loyal friend Dr. Watson. Throughout its run, "Sherlock" was nominated for (and subsequently won) several prestigious awards, spanning the Emmys, BAFTAs, and even the Golden Globe Awards.
Unfortunately, the cleverly-written detective series currently isn't streaming "for free" on any major subscription service, though one gets the impression that it would play like gangbusters for any platform that scooped up those rights. Instead, we have provided a quick and handy guide for how you can purchase each season of the largely well-received BBC series, which may or may not have another season in the cards at some point in the future.
Where You Can Buy Sherlock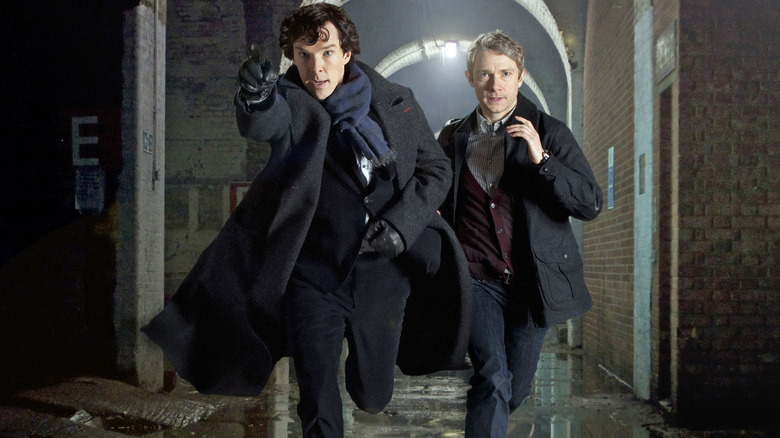 BBC
As mentioned, the original run of "Sherlock" included 12 total episodes spread out over 4 separate seasons — with one additional Christmas special thrown in there as well. In any case, the holiday season may already be winding down, but the complete collection of "Sherlock" on physical media would serve as a fantastic gift for any invested fan of the series. Luckily, you're only one quick Google search away from owning the Blu-ray set (Christmas special included!) through any major digital retailers. As vocal proponents of physical media, we maintain that this is easily the best way to watch all of "Sherlock" from the comfort of home for the collectors among us.
But if not? Never fear! However risky it may be when it comes to the concept of "owning" movies or shows that could easily disappear overnight without a trace at any given moment, you can also purchase each season of "Sherlock" digitally. As of the time of this writing, Vudu is offering a sale that applies to each individual season. Seasons 1-4 are all available in both standard definition and HDX for $9.99 each, marked down from $14.97 and $20.97, respectively. Next is Amazon, which similarly offers all 4 seasons in high definition for $9.99 each. Customers also have the option of buying individual episodes as well. Seasons 1, 3, and 4 offer episodes for $6.99 each, while the second season is available for $2.99. For Google Play, viewers can purchase each season for $13.99 in total or individual episodes for $4.99. The Christmas special, titled "The Abominable Bride," can also be purchased along with a few extras for $11.99.
Finally, iTunes has each of the 4 seasons in HD for $9.99 each. "The Abominable Bride" is available to purchase, along with extras that include a trailer for the Christmas special, a behind-the-scenes look titled "A Study in Sherlock" with cast interviews and a look at the creation of the series, a "Making of" featurette for the Christmas special, and several cast and crew interviews as well. Additionally, viewers can also buy the complete series of 4 seasons and the Christmas special for a total of $29.99.