Hulu's Puppies Crash Christmas Is The Only Good Left In The World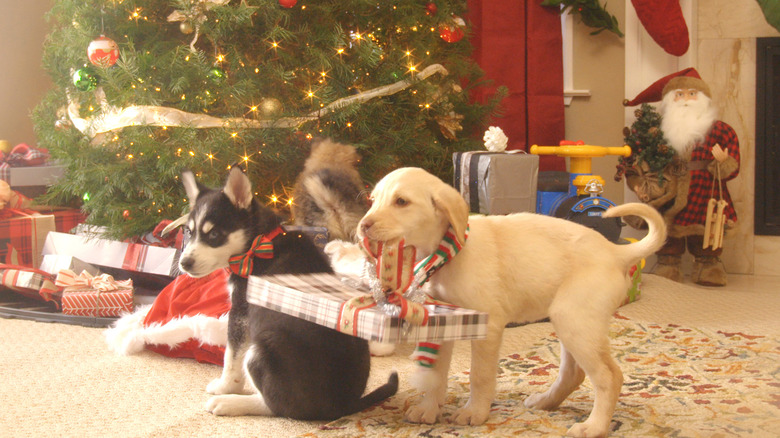 Hulu
The Critic's Choice Awards have been postponed, "John Wick: Chapter 4" has been delayed until 2023, the Omicron variant of COVID-19 is spreading faster than a click-bait headline about a Marvel movie, and "Titane" was snubbed from the Oscars shortlist. I don't know about you, but heading into the weekend holiday, it's becoming harder and harder to find things that make me feel anything other than existential dread with a sprinkle of seasonal depression. I already dipped into my usual holiday feel-good films like "The Muppets Christmas Carol" and goofy rom-coms like "Just Friends," but with each day bringing its own fresh hell to the real world, they're just not hitting quite like they used to.
Fortunately, a savior does exist: a Christmas blessing capable of bringing so much holiday cheer it's impossible for even the Grinchiest of Grinches not to feel at least an additional drop of serotonin. I'm talking about Hulu's answer to the Yule log, "Puppies Crash Christmas." For the last 5 years, "Puppies Crash Christmas" has acted as my emergency first aid kit for the case of the merry miseries, and every year I am gobsmacked to discover that there are people in this world who have yet to be blessed by a half-hour special of rambunctious mutts wreaking absolute havoc in a fancy living room fully decorated for Christmas. The puppies bust out of Santa's sack of presents, and are given free reign to obliterate play with anything they can get their little paws and snoots on.
It's Like Christmas Puppy Purge Night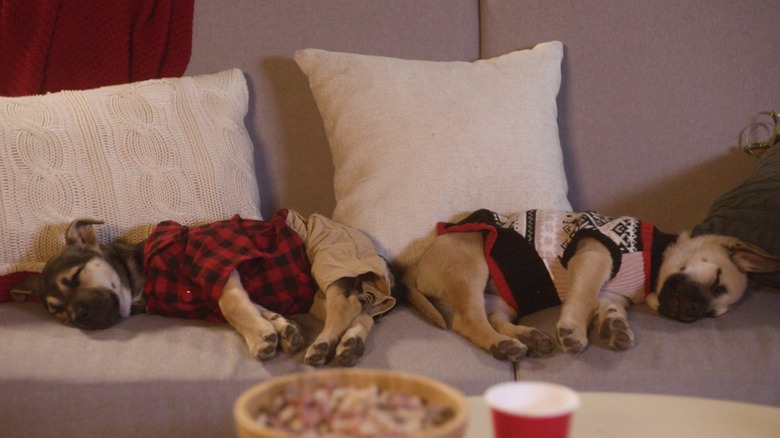 Hulu
I must resist the urge to rip down my neighbor's beautiful light display in a jealous rage every day, but thanks to "Puppies Crash Christmas," I am able to witness what "The Purge" would look like if set up for dogs in festive sweaters. These puppies are behaving in ways that would be seen as nightmarish if they were in our own living rooms, but watching these adorable little monsters tear apart a Better Homes and Gardens-esque display offers pure Christmas catharsis. At one point, a Scottie dog is trying their hardest to pull down the tablecloth but is fighting against the weight of a painstakingly prepared Christmas dinner. I can't help but turn into every Midwest dad watching a football game and cheer so hard I launch off the couch when they finally pull it down.
And don't worry, if you need extra puppy Christmas destruction, Hulu also has "A White Elephant Puppy Party" featuring adorable canines in their holiday best, royally ruining any and every gift they find. OH, AND SOME OF THEM WEAR PANTS! I'm sorry for not putting a spoiler warning for that reveal, but I fully broke down in tears in front of a bar full of people in 2019 when that image appeared on my screen for the first time. I'm doing you a favor by allowing you to prepare accordingly. And for you cat lovers out there, Hulu also has "A Very Kitty Cocktail Party" which is equally as adorable but far less destructive. So when you're tired of 24 hours of "A Christmas Story," head on over to Hulu and give yourself the gift of puppies heckin' s*** up.