Did You Catch That Karate Kid Homage In Cobra Kai Season 4 Episode 1?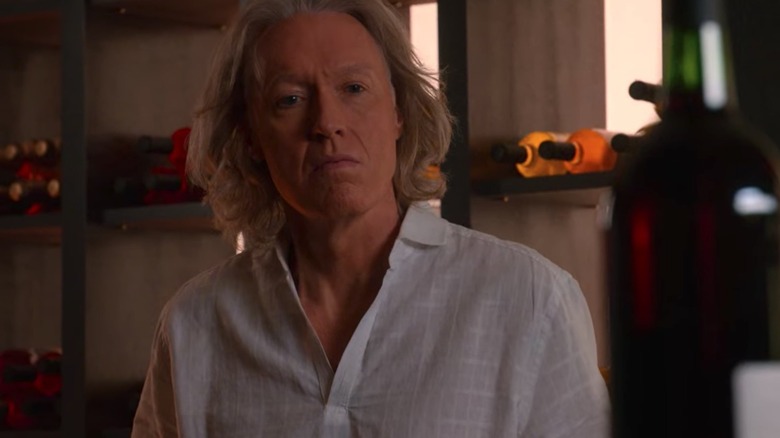 Netflix
"Cobra Kai" season 4 is upon us! Not only that, but we're getting a fifth season, which finished shooting before we even got a chance to watch season 4! The first episode gave us a look at the return of Terry Silver (Thomas Ian Griffith), a Vietnam veteran who served with John Kreese (Martin Kove). He's the guy who started Cobra Kai with Kreese, but he's moved on to bigger and tofu-ier things. Terry has taken out his ponytail (which is symbolic of a time in his life when he terrorized teenagers to win tournaments, I guess) and moved to Malibu. He has a whole lot of money, lives on the beach, has a jerk of a girlfriend, and he's happy with his life. 
Not that his girlfriend making a mindfulness app is a bad thing. It's a wonderful thing. Good for stress. They make jokes about tofu. I'm a vegetarian and I get the jokes. It's just that she's sort of smarmy. 
Anyway, Kreese comes to a party Terry is throwing after he hangs up on Kreese. He tries in his brash Kreese way to get Terry to come back to Cobra Kai. Terry seems like he doesn't want to be going backward, and after years of therapy, he's content with his life, his private chef who makes him what appears to be creme brulee for breakfast(?), and his linen pants. 
Except he's not actually content. 
We learn in a flashback that he was in a bad place. His dad wanted him to take over the family business after Vietnam, but he made a promise to Kreese that he'd be there for him, no matter what. It appears that he did in fact take over, though, after the events of the third film in the series.
A Tribute to Robert Mark Kaman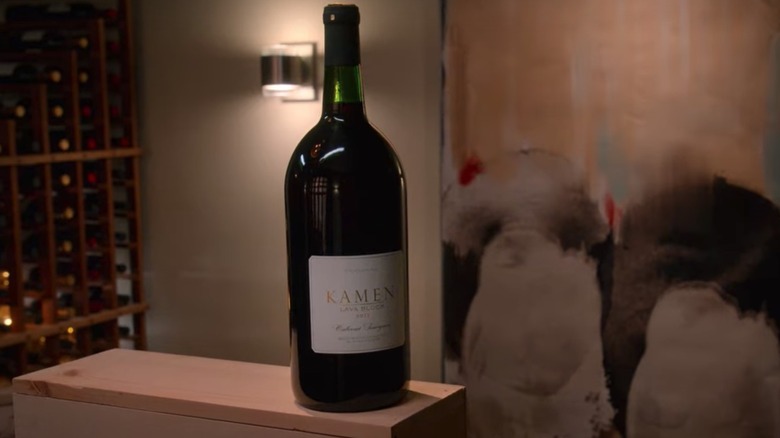 Netflix
Kreese triggered something in him, and when Terry's girlfriend asks him to fetch her a bottle of wine (see – smarmy), he has a moment that ends up being a tribute to someone important to the franchise.
There is a bottle of Kamen Estate Wines just sitting on a box in his wine cellar, which of course he has. It's a big sucker, too. We're supposed to see the name on the bottle. Terry looks at it for a moment and then kicks it into a wall! It looks like blood dripping down his very pricey (and very ugly) art. After that, he ties up that symbolic ponytail and heads out to Cobra Kai's dojo. 
Do you recognize that name? Robert Mark Kamen is the creator of the whole "Karate Kid" franchise. He wrote the first three films. He also co-wrote "Gladiator," "Taken," and "The Fifth Element." In case you didn't know, Kamen came up with the story because he was beaten up by a group of jerks at the 1964 World's Fair in New York. He took karate from a Marine who was all about violence in the manner of Kreese/Cobra Kai, but moved on to a defensive style, learning from a sensei named Chojun Miyagi.
Even more fun? Kamen now owns Kamen Estate Wines in Sonoma California, which produces Cabernet Sauvignon and Syrah. The one in the show is a Cabernet. 
Finally, don't miss the tribute at the end of the episode to Ed Asner (sniff), who played Johnny Lawrence's (William Zabka) stepfather, Sid Weinberg, in season 1 and season 3. Rest in peace, Mr. Asner.