Movies Like The Shawshank Redemption You Really Need To See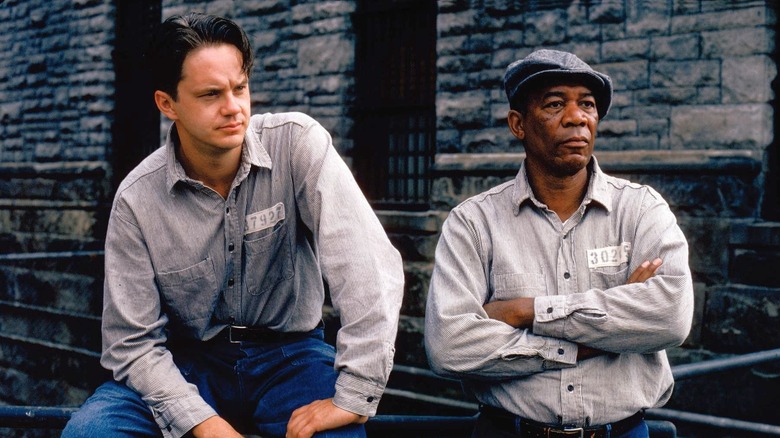 Columbia Pictures
"The Shawshank Redemption" is one of the greatest films of all time, and while the film was critically embraced upon its initial release in 1994, it has continued to bring in fans in the years following its release. "The Shawshank Redemption" is a novelty in that it wasn't initially a box office success, and famously lost the Academy Award for best picture to the wildly successful "Forrest Gump." However, the film soon became a top video rental and launched a new generation of fans at the dawn of the internet era.
"The Shawshank Redemption" is widely known as the film that tops IMDb's list of the Top 250 greatest films ever made, and it frequently appears on audience polls of modern classics. It's not hard to see why. It's a great film to return to when you're feeling down, but it's far from a traditional "inspirational melodrama." There are emotionally devastating moments and uncomfortable truths within the film, and as a result, the awe-inspiring moments are more impactful.
"The Shawshank Redemption" is based on the short story "Rita Hayworth and the Shawshank Redemption" by Stephen King, and follows shy banker Andy Dufresne (Tim Robbins). Andy is wrongfully accused of murdering his wife and sentenced to life in prison, where he befriends the career criminal, Red (Morgan Freeman). They form a friendship amidst their horrible circumstances.
If you love "The Shawshank Redemption" like so many do, then make sure to check out these other great movies, as well.
Stand by Me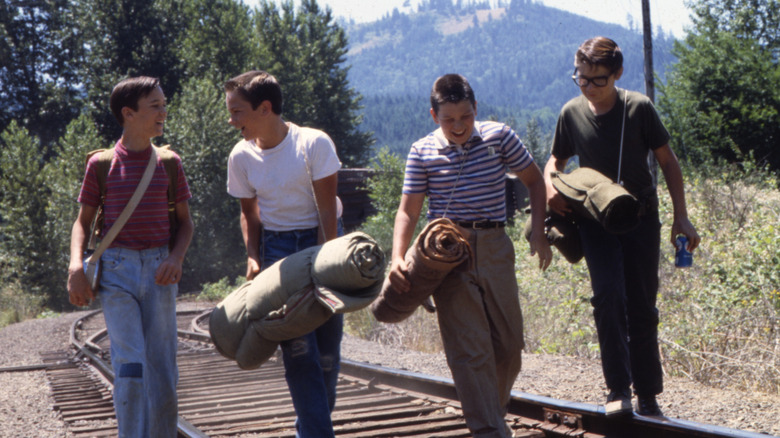 Columbia Pictures
Stephen King is one of the most widely adapted authors in Hollywood, and his stories are frequently brought to life on both the big and small screen. Although King is often thought of as a "genre" author due to his frequent additions to the horror genre (most notably classics like "The Shining," "The Mist," and "Carrie"), he's also a terrific dramatic storyteller who can tell deeply affecting stories set within a non-supernatural reality. "The Shawshank Redemption" is a great example of one of King's works that is free from such mystical elements, as it focuses purely on the reality of a human friendship.
The short story "Rita Hayworth and the Shawshank Redemption" is part of the same short story collection that also includes the classic coming of age adventure "The Body." "The Body" was adapted into the 1986 film "Stand by Me" by Rob Reiner, and the film has many similar qualities to "The Shawshank Redemption." Both are reflective films that follow a character's nuanced reflections on mortality during their later years, and both show how pivotal moments of friendship and hardship shape their experience. If the final moments of "The Shawshank Redemption" cause many viewers to shed some tears, then the ending of "Stand by Me" is equally as powerful.
The film follows the reflections of the author Gordon (Richard Dreyfuss) as he looks back on his childhood. As a kid (Wil Wheaton), he and his friends discover a body shortly after the death of Gordon's brother (John Cusack).
The Green Mile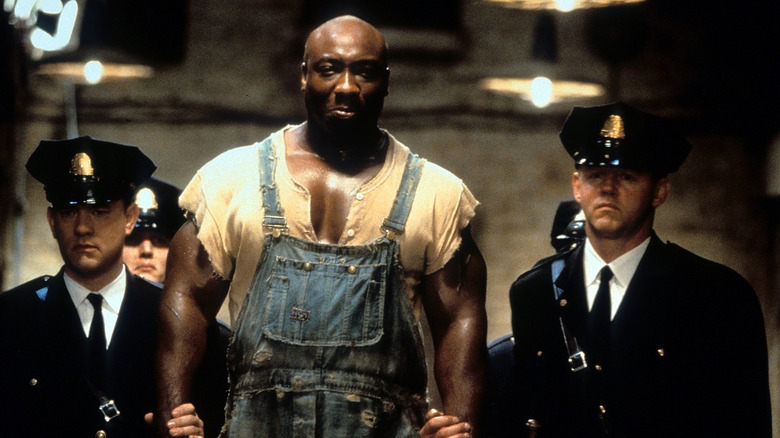 Warner Brothers
Shortly after the success of "The Shawshank Redemption," the film's reputation as a box office disappointment began to disappear as it became a success through home rentals and physical media sales. As the film soon began transitioning from "cult favorite" territory to "all-time great" status, it was clear that the union of Stephen King's writing and Frank Darabount's direction was a successful one. Darabount was then hired to adapt another of King's works, also set in a prison.
Similar to "The Shawshank Redemption," "The Green Mile" shows the potential for hope amidst a cruel and depressing life behind bars. However, it was distinguishable due to the changed perspective, as "The Green Mile" follows the lives of both prison guards and prisoners themselves. It also incorporates elements of fantasy that are absent in "The Shawshank Redemption." Both films are long ("The Green Mile" is over three hours), but they justify their run time thanks to the meticulous character building.
"The Green Mile" centers on corrections officer Paul Edgecomb (Tom Hanks) during his career on Cold Mountain Penitentiary's death row. Edgecomb is introduced to prisoner John Coffey (Michael Clarke Duncan), who is accused of murdering two young girls and sentenced to die. Coffey has a childlike innocence to him, and Edgecomb discovers that he has some unexpected supernatural abilities: Coffey can heal people from debilitating diseases, and claims that he was only trying to protect the two girls.
Good Will Hunting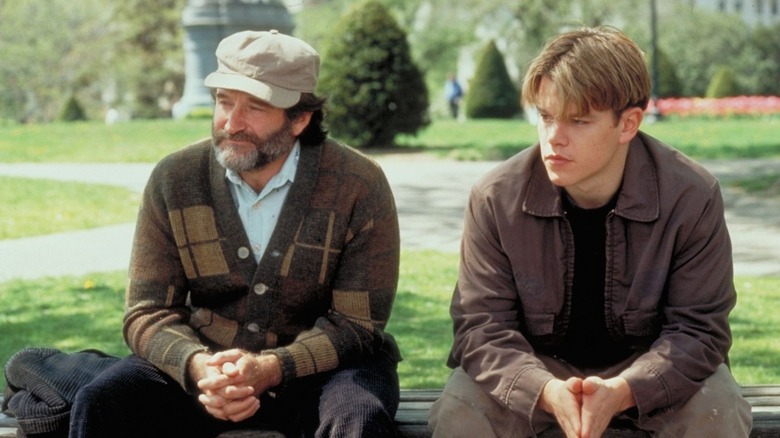 Miramax Films
"The Shawshank Redemption" is a film that is both deeply inspiring and refreshingly ambiguous. While there are certainly iconic moments wherein the film's characters make bold decisions, it's not a film that shies away from the unfortunate realities of life. Andy and Reds' joyous reunion in the film's closing moments is only as impactful as it is due to the more dramatic, heartbreaking moments such as Brooks' death. Setting the drama within a world that felt realistic allowed the film to not seem like a hokey melodrama.
Gus Van Sant's 1997 drama "Good Will Hunting" has a similarly complex inspirational message. The film centers on Harvard janitor Will Hunting (Matt Damon), who has a genius-level IQ but has never fully applied himself. Part of this is due to his dire financial situation, but he's also reluctant to commit himself due to some troubling experiences in his youth. After a run-in with the law, Will is placed under the care of a therapist, Dr. Sean Maguire (Robin Williams), and the two develop a friendship. Maguire inspires Will to find a more positive and optimistic way of looking at life, setting him on a course for success.
Both "The Shawshank Redemption" and "Good Will Hunting" are renowned thanks to critical moments of insights for the characters. In "The Shawshank Redemption," it's Andy's reflections on the power of hope, and in "Good Will Hunting" it's Maguire telling Will that his father's abuse is not his fault.
One Flew Over The Cuckoo's Nest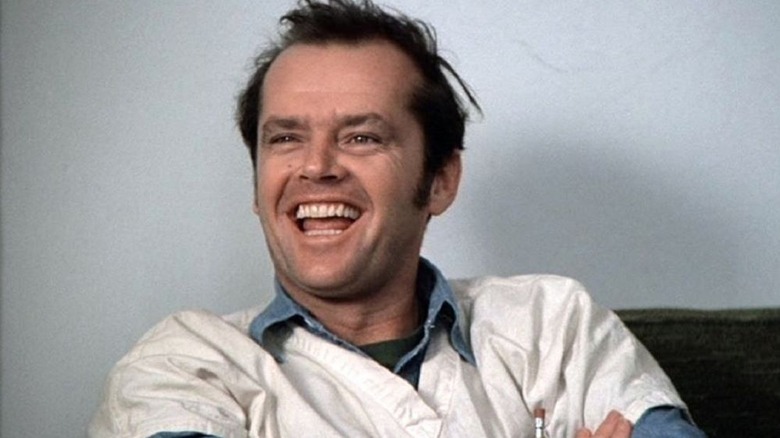 United Artists
"The Shawshank Redemption" is a great film about the oppressive nature of institutions and how degrading it can be for inmates. The circumstances at Shawshank penitentiary are dire, and the staff abuses and objectifies the inmates with zero empathy. As a result of the lack of a strong presence by the corrections staff, the more vile prisoners form their own brand of street justice and take turns beating Andy and his friends. However, many of the prisoners grow inspired by Andy's words about hope and form a community around him.
The 1975 classic "One Flew Over The Cuckoo's Nest" shows a similar power in inmates forming a communal bond as they deal with abusive caretakers. Milos Forman's best picture-winning classic stars Jack Nicholson as Randle McMurphy, an accused criminal who is admitted to a mental institution instead of a state jail. Randle initially thinks that this will allow him to avoid working manual labor, but he discovers that the head nurse, Mildred Ratched (Louise Fletcher), is completely terrifying and enjoys tormenting her patients. Forman captures how the characters conflict with authority.
Like Andy in "The Shawshank Redemption," Randle forms a bond with his fellow patients as they cope with their circumstances. Both films have great ensemble casts, and the supporting characters are equally as memorable. Brad Dourif is particularly powerful as the perpetually nervous Billy Bibbit, who is encouraged to be more engaged by Randle.
Invictus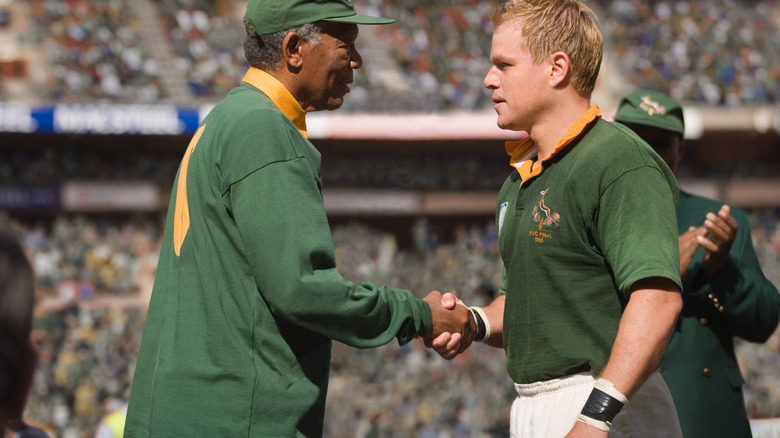 Warner Brothers
Although the story of "The Shawshank Redemption" begins with Andy, Red is the heart of the film. Red initially scoffs at Andy's claims of innocence, as it's a story he's heard before from many other prisoners. Red has fully accepted his own guilt and doesn't see any prospect of leaving jail, but he grows fascinated by Andy's optimistic nature, realizing that the banker isn't quite as naive as he initially thought. Red grows to accept Andy and forms a powerful friendship with him. He's one of the great screen characters of all time, and none of it would be as impactful if it wasn't for the sensitive, moving performance by Morgan Freeman, who received an Academy Award nomination for best actor.
Freeman's iconic voice and strong dramatic presence have made him one of the greatest and most reliable performers of his generation; his comforting presence makes him very reassuring when playing altruistic or heroic characters. Few figures in modern political history are as heroic as Nelson Mandela. When Clint Eastwood was selecting someone to play the iconic South African President in his 2009 biopic "Invictus," Freeman was an obvious choice. The pair had previously worked together on Eastwood's 1992 best picture winning western "Unforgiven."
"Invictus" follows an older Mandela as he watches the mixed-race South African team compete in the 1995 Rugby World Cup and ultimately claim victory, which is very inspirational for the newly democratized nation.
The Rainmaker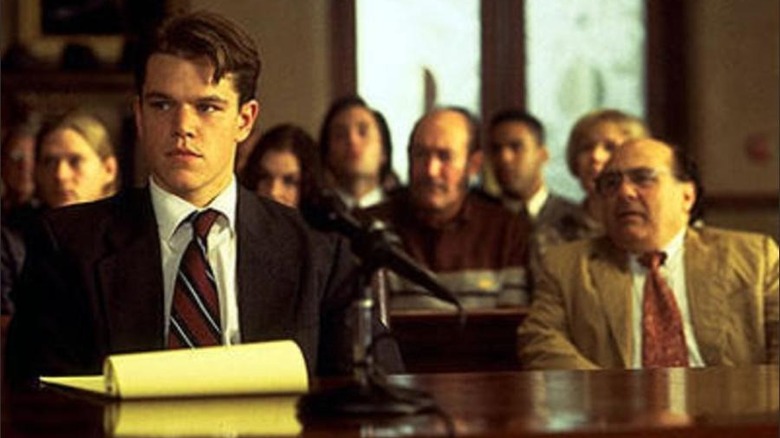 Paramount Pictures
"The Shawshank Redemption" contains inflammatory criticism of the failures of the legal system and the corruption that exists throughout the state law process. Andy's trial is influenced by a lack of evidence and misleading witness testimonies, and as a result, he's imprisoned for life and barely gets the chance to defend himself. Andy is shell-shocked when he's sentenced, and soon discovers that there's little sense of due justice at the state penitentiary. Both violent criminals and petty thieves are thrown together and treated the same.
Legal thrillers can sometimes lionize the justice system, but the 1997 John Grisham adaptation "The Rainmaker" contains a more nuanced depiction of how it often fails its subjects. Matt Damon stars as the idealistic law student Rudy Baylor, who works part-time at a local restaurant as he graduates University of Memphis Law School. Without the funds to support himself or a job at a major firm, Rudy starts his own practice with the idiosyncratic Deck Shifflet (Danny DeVito). Deck was a former paralegal, but he's entranced by Baylor's refusal to take on cases he doesn't believe in.
The pair become interested in the couple Dot and Buddy Black, whose young son Donny is dying of leukemia. A bone marrow transplant could have saved Donny's life, but it wasn't approved by their insurance provider Great Benefit. Rudy and Deck take on Great Benefit, which is defended by the cynical defense attorney Leo F. Drummond (Jon Voight).
The Intouchables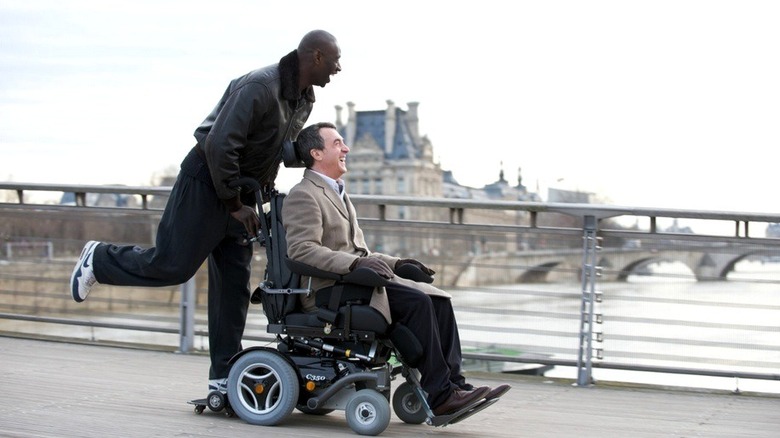 Gaumont
Among its most memorable qualities, "The Shawshank Redemption" is a great film about the power of friendship. Andy and Red's bond is unusual to begin with, as the two come from completely different backgrounds and don't initially appear to have much in common. Andy is a moderately successful banker with knowledge of the financial world, while Red grew up in a very poor community and was found guilty of murder as a young man. Despite their overt differences, the two find common ground in their hopeful prospects about the future. Robbins and Freeman have amazing chemistry and sell the most dramatic conversations within the film.
The 2011 French drama "The Intouchables" explores a similar unusual friendship between characters who've taken very different paths in life. The wealthy businessman Philippe (François Cluzet) is immobile and uses a wheelchair, and he's told that he needs a full-time caretaker to help him. Philippe looks at many potential candidates, but the professional and frank nature of the ambitious medical students does not appeal to him. He eventually chooses the idiosyncratic Driss (Omar Sy), who has little professional training and is only looking for a means of providing for his son.
Driss' frankness appeals to Phillippe, as he doesn't stigmatize his ailment and brings humor into his life. Both characters learn from each other's perspective; Driss is emphatic of Phillippe's health issues, and Phillippe learns how to respect a working-class man.
The Pianist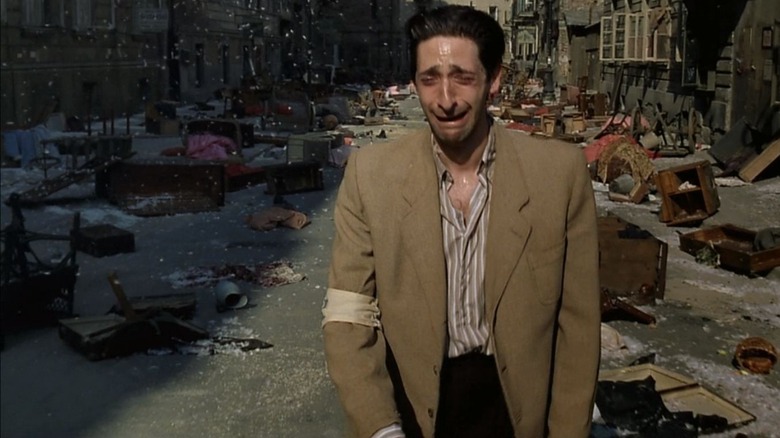 Studio Canal
"The Shawshank Redemption" continues to resonate with audiences thanks to its message of perseverance amidst challenging circumstances that seem hopeless. Prison seems like the last possible place that anyone would find hope, but amidst the darkness, Andy is able to share insights about how to survive. He inspires the other prisoners with his words of wisdom.
The 2002 drama "The Pianist" showed a similar protagonist who has the power to inspire others amidst a horrible situation. The biographical film follows the young piano player Władysław Szpilman (Adrien Brody), who grows up with his family in Warsaw. Szpilman's beautiful music is celebrated by his community, particularly during the stress of the 1939 Nazi invasion of Poland. Szpilman is separated from his family amidst the Holocaust and becomes a prisoner at the Treblinka extermination camp, but his skills are recognized by his oppressors. German soldiers turn to Szpilman for his piano skills.
The film chronicles Szpilaman's transportation between different captors over the course of the war, and how in fleeting moments he can give happiness to fellow Jews. Similar to "The Shawshank Redemption," "The Pianist" is not an easy film to watch, as it's one of the most gripping depictions of the Holocaust ever seen on screen. Like Andy, Szpilman is a surprising and powerful character. He may not initially appear to be a man of strength, but his power of perseverance is incredible. Brody became the youngest ever recipient of the Academy Award for best actor.
Spirited Away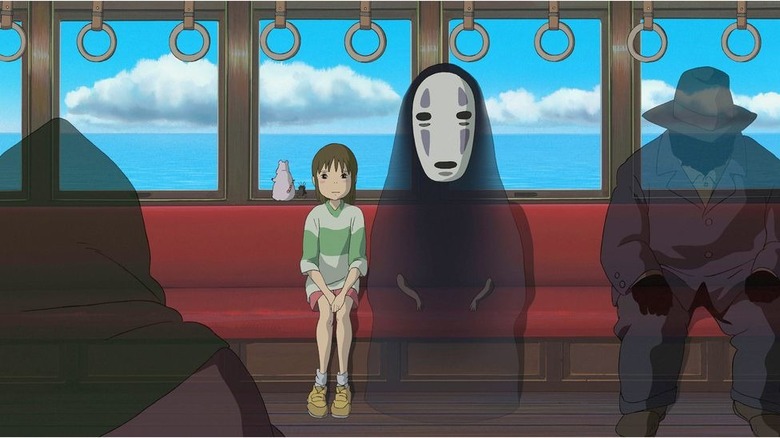 Studio Ghibli
"The Shawshank Redemption" has a powerful message about the power of storytelling. Andy's words of wisdom inspire his fellow prisoners as he explains to them that they're stronger than their circumstances and can overcome them. It's a beautiful message, and a large reason why the film continues to resonate with fans. Robbins captures this sense of vulnerability within Andy, as he never knows which of his friends could be killed or harmed next.
Hayao Miyazaki is one of the most distinguishable visual artists working in animation, but his standout films work because he delivers that same sense of emotional vulnerability. Miyazaki's 2001 fantasy film "Spirited Away" explores childhood anxieties and fears about the state of the natural world. The film follows 10-year-old girl Chihiro as she moves to a new home with her parents. Chihiro is put off by her parent's consumerism, and becomes shocked when a magical spell transforms them into pigs. She then retreats to a magical world filled with exotic creatures, and searches for a way to turn her parents back into their former selves by working at a lavish bathhouse.
While Chihiro's circumstances may not seem as dire as Andy's, the film uses metaphors to explore more serious issues. Chihiro is trapped with a very traditionalist Japanese society and not given the freedom to express herself, and gains more individuality when she's given the freedom to work on her own. The film won the Academy Award for best animated feature.
Pan's Labyrinth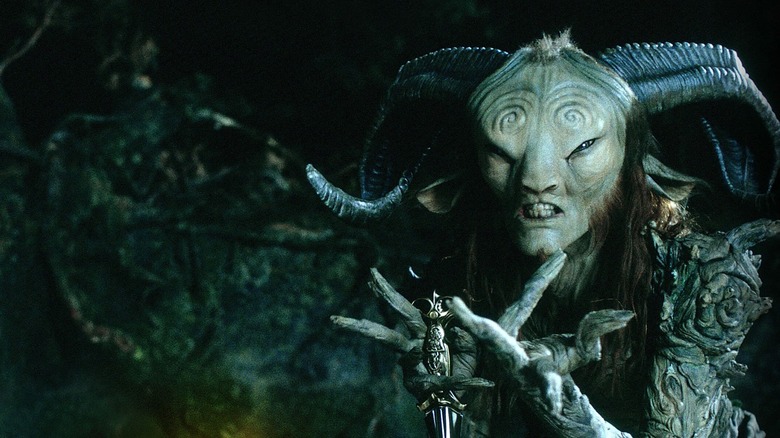 Warner Brothers
"The Shawshank Redemption" tells its story with King's signature novelistic quality. The film is framed around Red's voiceovers, and it's interesting to see him recount how his experiences with Andy shaped him in his later years. The voiceover allows the film to foreshadow its critical moments later on, and it feels personal thanks to Freeman's sensitive performance.
Guillermo del Toro is a filmmaker obsessed with fairy tales and imagination, and his 2006 fantasy film "Pan's Labyrinth" embodies how magical stories can inspire people who suffer through hardship, loss, and trauma. Set amidst the Spanish Civil War, the film follows the 10-year-old Ofelia when her dying mother Carmen (Ariadna Gil) weds the cruel military commander Captain Vidal (Sergi López). Ofelia is able to escape the fascist movement each night as she enters into a mysterious underworld filled with magical creatures, and is named the Princess Moanna. Del Toro's incomparable visual artistry shows the parallels between the two realities.
To Kill A Mockingbird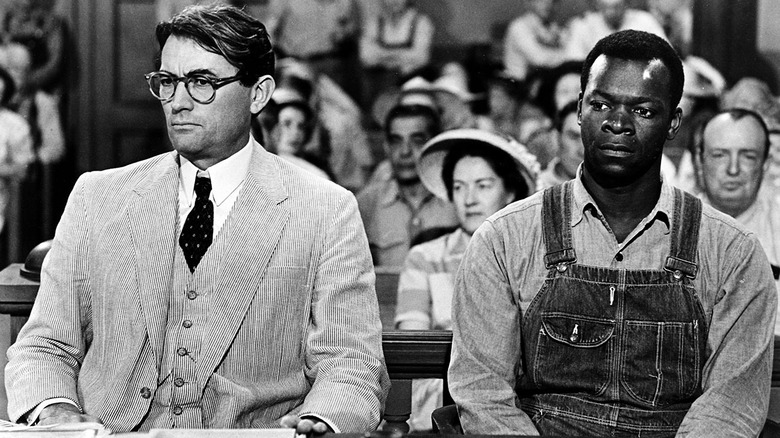 Universal Pictures
One of the most powerful moments in "The Shawshank Redemption" is watching Red finally confront the prison staff for their abusive behavior. Red has more than earned the right to be furious about how he's been handled, but Freeman plays the scene with much more subtlety. Red feels defeated and hopeless that anything will change, and he has nothing left to prove. It's a strong moment that allows Red to reflect on his life and eviscerate those that have tormented him.
Cinema has the power to spotlight critical issues like Red's unfair treatment by law enforcement, and the 1962 classic "To Kill A Mockingbird" contains one of the most powerful moments in the history of film. Based on the Pulitzer Prize-winning classic by Harper Lee, the film follows the childhood of Scout (Mary Badham) as her father Atticus Finch (Gregory Peck) is hired as a defense attorney for Tom Robinson (Brock Peters), an African-American man accused of raping a white girl. Finch's closing trial speech criticizes the jury for singling out Tom because of his race.
Empire of the Sun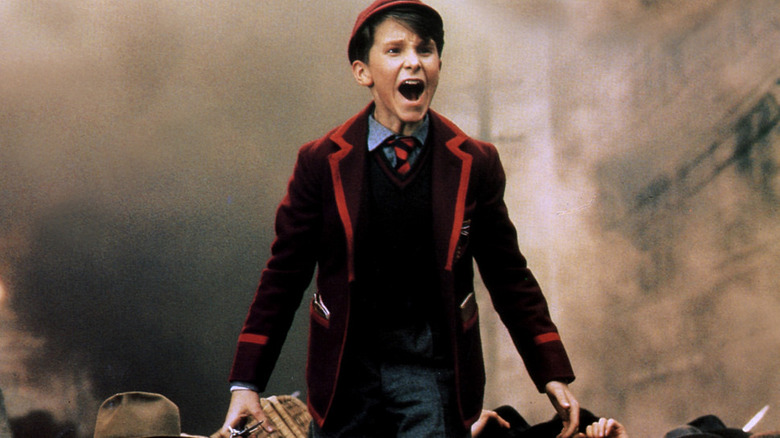 Amblin Entertainment
"The Shawshank Redemption" justifies its length by giving Andy constant new challenges and characters to interact with. Andy is initially reclusive, but he grows to learn about some of the other inmates when Red introduces him. This allows Andy to begin his own business within the prison, build a library, and enjoy weekly movie screenings. The 142 minute running time flies by.
Steven Spielberg is no stranger to long movies, but he has an ability to create emotion that makes his films still accessible. Spielberg's 1987 epic "Empire of the Sun" depicts the childhood of the wealthy British child Jami Graham (Christian Bale), who is separated from his family during Japan's invasion of China in World War II. Jamie manages to hide from the invaders, and searches for his parents in a long journey throughout the war. Like "The Shawshank Redemption," it's a film that features eccentric characters amidst heartbreaking circumstances.