Why The Shawshank Redemption Was A Box Office Flop, According To Morgan Freeman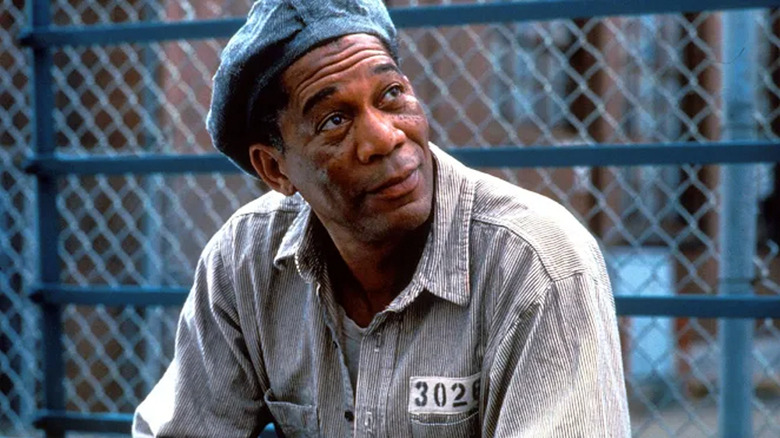 Warner Bros.
You'd be hard-pressed to find a cinephile without a tried-and-true pick for the Best Film Ever Made. For some it's "The Godfather" or "Pulp Fiction," a must-see classic like "Citizen Kane" or a deep cut from the oeuvre of Stanley Kubrick. But one film that's cemented itself above them all — at least according to IMDb — is "The Shawshank Redemption."
Today, "The Shawshank Redemption" has become synonymous with cinematic greatness, even to those who've yet to see the film. The film holds the highest ranking for any film on IMDb. It has sat at the top of the platform's Top 250 films for almost 20 years. It's even been crowned the "best film ever made" through publications like LADBible. Its present-day prestige, however, has completely overshadowed the film's shaky start.
"Shawshank" was a box office flop upon its release in 1994, a fact that could shock anyone who grew up hearing its praises. The film initially earned a mere $16 million in its first theatrical run, a number that barely redeemed its $25 million budget. Granted, "Shawshank" enjoyed a stellar awards season in 1995, collecting seven Academy Award nominations, including Best Picture, that would draw renewed interest to the film and eventually influence a theatrical rerelease.
How could a film now considered such a revelatory classic start on such bad footing? One of its stars, Morgan Freeman, blames it on the title.
"The Shawshank Redemption" Was Too Hard to Remember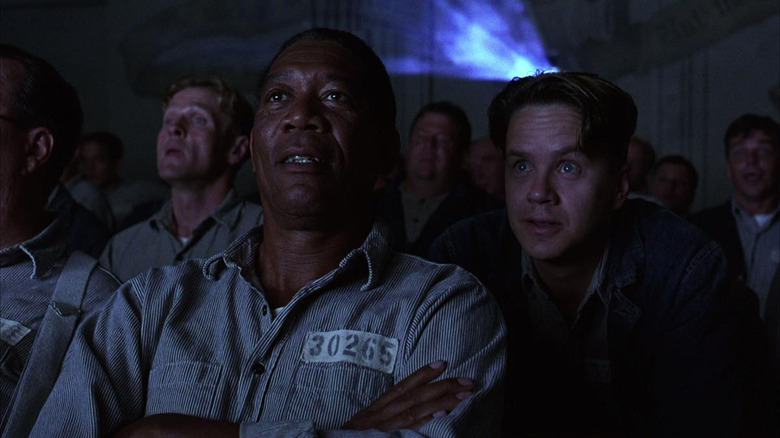 Warner Bros.
Success for many films lives and dies on its name. A trailer can effectively sell a film to audiences, but so can word of mouth."The Shawshank Redemption" star Morgan believes this was the very reason that the film struggled on its first outing.
Because of the film's vague title, no one could accurately recommend it, even if they had seen it. "Nobody could say 'Shawshank Redemption,'" the actor told Vanity Fair in 2014. "Your friends say, 'Ah, man, I saw this movie, The ... what was it? Shank, Sham, Shim? Something like that. Anyways, terrific.' Well, that doesn't sell you."
Co-star Tim Robbins echoed those sentiments to Entertainment Weekly, adding, "And that makes sense too, because for years after that film came out, people would come up to me and say, 'You know, I really liked you in that film 'Scrimshaw Reduction' or 'Shimmy, Shimmy, Shake' or 'Shankshaw' — you know, so many different ways that people got it wrong.'"
It may come as another surprise that "Shawshank" is actually adapted from a work by Stephen King — and the author had an even longer title for his story. King's novella "Rita Hayworth and the Shawshank Redemption" served as the main inspiration for the film, and though his title seems longer and even more vague, it makes more sense with context.
The story is based around the inmates of the fictional Shawshank State Penitentiary, mainly on the lives of Andy Dufresne (Tim Robbins) and Ellis "Red" Redding (Morgan Freeman). Andy is sentenced to two life terms at Shawshank after being falsely implicated in the murder of his wife and her lover. It's there that he first meets Red, a fellow lifer, who scores a Rita Hayworth poster for Andy to cement their friendship. Behind this poster, Andy digs a tunnel that will secure his escape from the penitentiary, and redemption for the 19 years he spent there.
Shawshank Sold Itself Best Outside of Theaters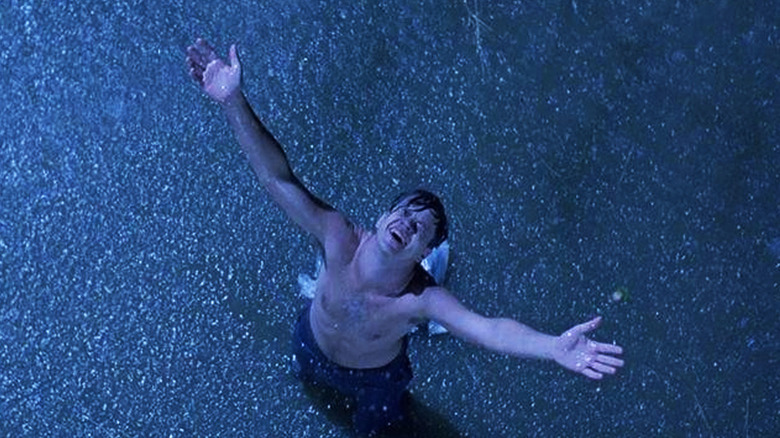 Warner Bros.
Even though "The Shawshank Redemption" wasn't the most eye-catching title, it might not have been the main culprit behind the film's slow-burn success. 1994 was the year for many films that are now considered classics. "Shawshank" was in fierce competition with other Oscar darlings like "Pulp Fiction" and "Forrest Gump," the latter of which swept every category that "Shawshank" had a stake in that awards season. Blockbusters also took up the most space in audiences' imaginations, which pushed a quiet prison drama like "Shawshank" to the fringes until awards season rolled around.
"Shawshank" may not have brought home any of the seven Oscars it was nominated for, but it certainly made up for it in the 20-plus years since its release. After the Oscars, Ted Turner acquired the rights to the film for his network TNT, and that's how it really endeared itself to audiences, seemingly playing every single weekend. It was also the top video rental after hitting VHS in 1995. Over 320,000 rentals were circulated across the U.S. that year, according to Variety. 
Freeman now compares the popularity of "Shawshank" to a slow-growing oak tree, as opposed to the weed-like trajectory of its contemporaries. It's ironic that a title considered indistinguishable is now such a household name. "The Shawshank Redemption" has yet to be dethroned as one of the best films ever made, but it's only right that its eventual successor have an equally-confounding title to work with.