Every Bob's Burgers Christmas Episode Ranked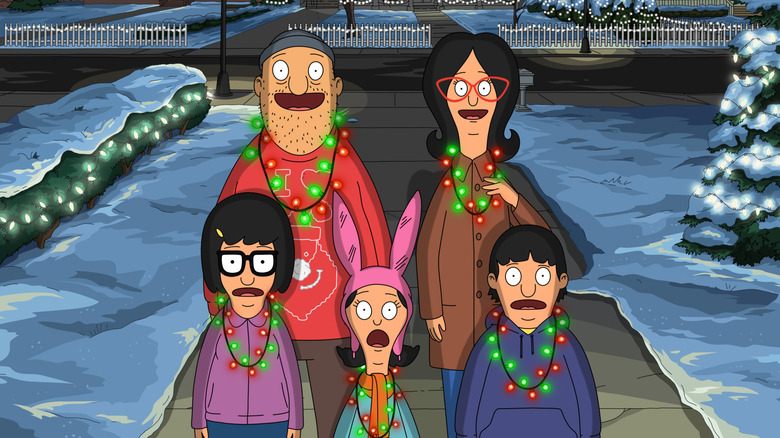 20th Television
Although "Bob's Burgers" has plenty of great episodes to choose from, the yearly holiday installments are always a special treat. The show's Halloween episodes are packed with trick-or-treating and a lighthearted, spooky atmosphere. Its Thanksgiving episodes are filled with trials, tribulations, and turkey. And then, of course, there are the Christmas episodes, which celebrate both the coziness and the chaos of the winter season. 
On "Bob's Burgers," Christmas offers plenty of opportunities for hijinks, from Linda's near-maniacal love for the holiday to the three Belcher kids' (often led by Louise) schemes to score good presents from Santa, no matter what the cost. There are dysfunctional family members to deal with on all sides, and that's without mentioning the ongoing pressure of trying to run a family restaurant during one of the busiest times of year! From its 3rd season onward, "Bob's Burgers" has managed to provide us all with some annual holiday cheer that's sweet and silly without ever getting too cheesy (unless cheese happens to be a topping on the Burger of the Day, of course). 
So, in honor of the Christmas season, we've ranked every "Bob's Burgers" Christmas episode from worst to best. Deck the halls, pour some cocoa, and gather around to see what presents we've got under our tree (and where they fall on our naughty and nice list).
10. Father of the Bob (Season 5, Episode 6)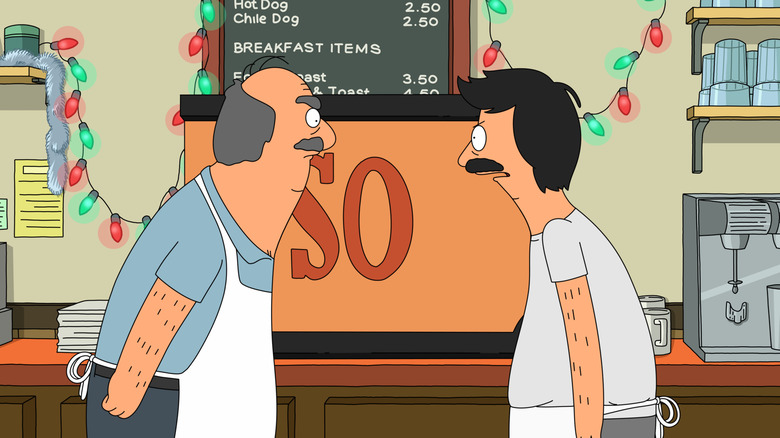 20th Television
Though Linda's eccentric relatives have appeared in several holiday specials, and her sister Gayle is a constant source of chaos in the Belchers' lives, we rarely get a look at Bob's extended family. In this episode, Bob receives an invitation to his estranged father's annual Christmas party, which is held at his own restaurant, Big Bob's Diner. At Linda's insistence, Bob agrees to attend with his family, but tension between Bob and his father boils over into a battle for cooking dominance in the kitchen. 
It is only after embarrassing his father that Bob finds a clipping of the first review that his restaurant received, something that his father has held on to for years. As a result, the two are finally able to talk through their issues and, in spite of how stubborn they both are, come to a mutual understanding. "Father of the Bob" is more grounded and quite a bit more stressful than the other episodes on this list, but it's also a good reminder of how we can work through issues with the ones we love. It's a good lesson, especially during a time of year when familial tensions can run especially high.
9. Yachty or Nice (Season 11, Episode 10)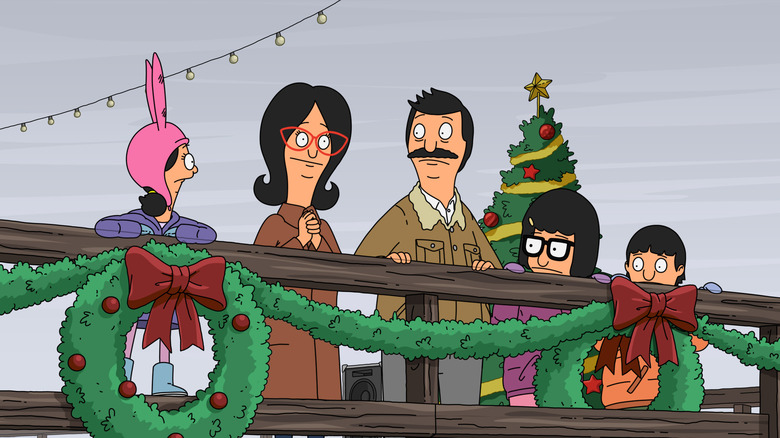 20th Television
One of the longest-running jokes on "Bob's Burgers" is the vicious rivalry between Bob and Jimmy Pesto, the snarky, showboating owner of the Italian restaurant across the street. It's almost unheard of for Jimmy to do anything nice for Bob, which is the source of Bob's anxiety throughout this season 11 episode. 
After being invited to cater the local yacht club's holiday boat parade, Bob is concerned that there might be some sort of ulterior motive at play. His suspicions are confirmed when he learns that Jimmy Pesto was responsible for Bob's invitation. However, the situation is more complicated than it first appears, and for once Jimmy is not out to get him. 
Meanwhile, Louise, Tina, and Gene set their sight on a boat filled with presents intended for needy kids. Determined to get her hands on the haul, Louise enlists her siblings to help execute a plan to steal some of the presents for themselves. However, their guilt gets the better of them when they realize that the presents are intended for kids who are truly a lot worse off than they are. As Bob learns to accept good things as they come to him, the Belcher kids receive an important reminder to be grateful for the things they already have.
8. Better Off Sled (Season 9, Episode 10)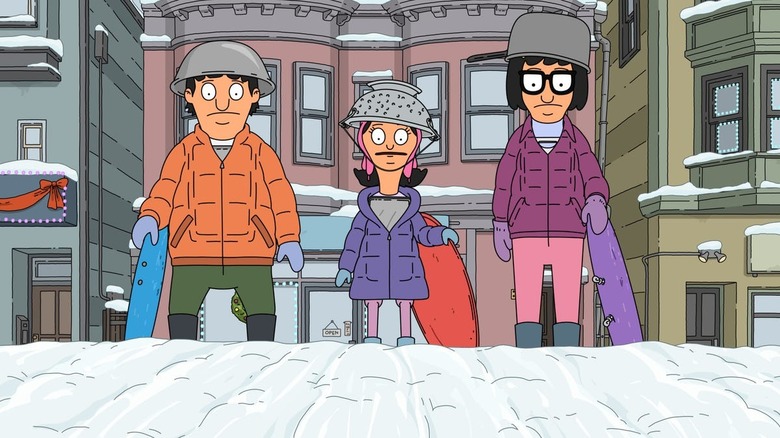 20th Television
Normally it's the Belcher kids who spend the Christmas season preoccupied with gifts, but in this season 9 episode it's Bob and Linda who are focused on presents, although they're more concerned about giving than getting. See, Tina, Gene, and Louise are busy trying to get the most out of the neighborhood's only sledding hill. 
After a massive snowfall, the kids are excited to get in some top-notch sledding over Christmas vacation, only for Louise's teenage nemesis, Logan, to throw a wrench into their plans. Logan and his friends have taken over the sledding hill. When the kids and their friends attempt to take the hill back, they're greeted by an army of teenage boys and a barrage of snowballs. It's only when they seek the help of Regular Size Rudy's cousin, a high school softball player who is not too fond of Logan, that they start to get the upper hand. This episode is full of epic snowball warfare, especially when a group of athletic teenage girls shows up to help the younger kids and put Logan and his cronies in their place. 
Meanwhile, Linda struggles to knit scarves for the kids by Christmas, and is devastated when Bob proves to be a much more gifted knitter than she is. However, the kids prefer her hole-filled creations to Bob's perfectly executed scarves, because on "Bob's Burgers" character and heart matter a whole lot more than perfection.
7. Have Yourself a Maily Linda Christmas (Season 10, Episode 10)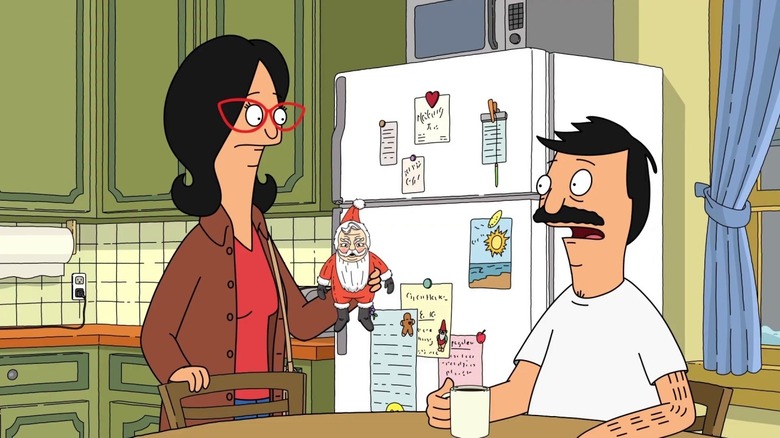 20th Television
Every so often, Linda takes on a second job outside of the restaurant, usually with delightfully disastrous results. We're treated to another one of Linda's short-lived side hustles in this season 10 episode, which sees Linda taking on a temp job at the local post office to save up some extra money for the holidays. When it becomes clear that one man's gift for his nephew will not be delivered by Christmas, Linda takes matters into her own hands — and probably breaks several federal laws in the process. 
While Linda battles bureaucracy and evades the Postal Service, Bob and Tina are trapped at home with her sister and her parents, who are always seconds away from a massive fight. During all of this, Gene and Louise search for the perfect gift for Tina, who has delivered meaningful, personalized presents during their sibling gift exchange (they both got her barrettes in return). "Have Yourself a Maily Linda Christmas" is a perfect encapsulation of the stress, exhaustion, and love that characterizes the last few days before Christmas.
6. Gene's Christmas Break (Season 12, Episode 10)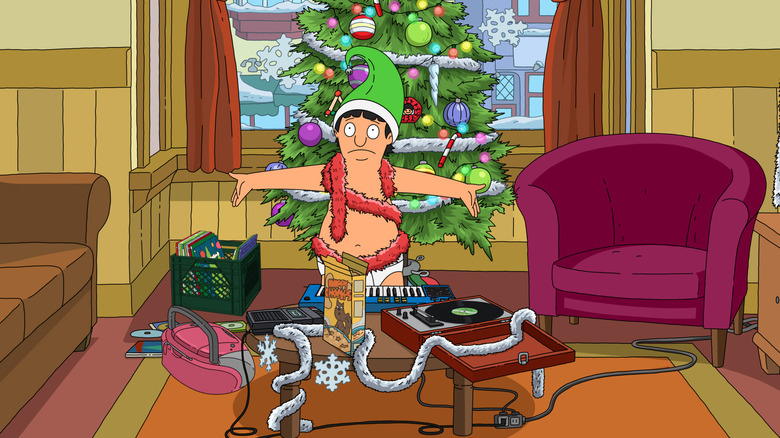 20th Television
Fans of Gene and his weird and wonderful music, this one's for you. Gene and his keyboard are a "Bob's Burgers" staple, bringing a dose of music and unadulterated joy (plus some sampled fart noises) to the show. No matter what his family — or the rest of the world — says, Gene's dual passions for music and absurdity persist.
In this episode, sweet Gene engages in his yearly Christmas DJing, much to the annoyance of the rest of the Belcher family (except Linda, who loves all of her children's nonsense). His most-played tracks are from his favorite holiday album, a trippy Christmas record from 1973 called "Percy McTinsel-bud's Tinsel Machine." He loves the album so much that he takes it to bed with him, where he inadvertently rolls over the record in his sleep and breaks it. Though the family is relieved to have a break from this perpetual-motion Tinsel Machine, they quickly change their tune when they see how devastated Gene is. Louise and Tina join Gene on a quest to track down a new copy of the super-rare album, with Bob and Linda joining in when the task starts to look impossible.
Though less action-packed than other "Bob's Burgers" Christmas episodes, "Gene's Christmas Break" is a sweet look at the lengths the family will go to cheer each other up, respecting the fact that one person's annoying novelty song might just be another person's treasure.
5. Bob Rest Ye Merry Gentle-Mannequins (Season 3, Episode 9)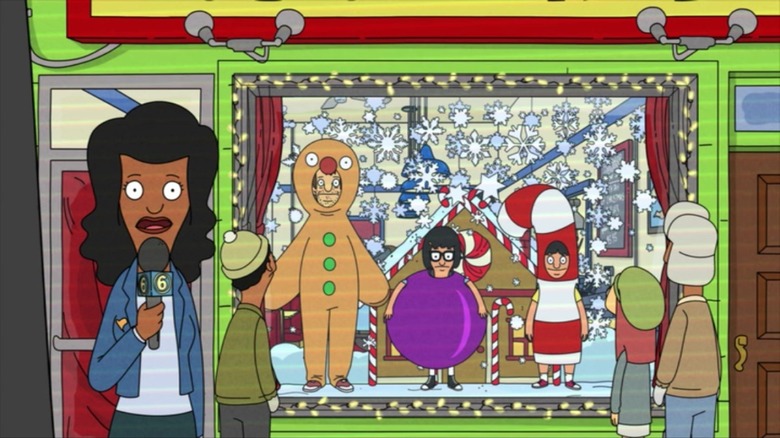 20th Television
The first-ever Christmas episode of "Bob's Burgers" goes jingle all the way right out of the gate. After one of Bob's relatives leaves him a storage unit, the Belchers are excited to see what sort of riches might be waiting for them. Instead of fur coats, money, or even a dry erase board, however, they find a man named Chet living inside. Unwilling (and a bit afraid) to leave him there, the family brings Chet back to their house so that he won't have to spend Christmas alone. 
It quickly becomes clear that Chet has a talent for creating beautiful holiday window displays, a skill that he quickly employs at the restaurant. Bob is thrilled, asking Chet to create a display each day leading up to Christmas. Chet agrees, and then shares a deeply troubling revelation about himself: He believes that he was once a department store mannequin who was married to another mannequin named Nadine. After Chet's heartbreak drives him to put together a bloody nightmare of a window display, the family decides to track down Nadine and reunite Chet with his plastic bride. 
This episode is funny, festive, and deeply bizarre, highlighting the show's talent for capturing all three things at once. "Bob Rest Ye Merry Gentle-Mannequins" shows the importance of generosity and caring for others, as well as how love can be found in the strangest places. It also shows that you should probably not let strangers from storage units move into your house — but hey, it works out fine in the end!
4. The Last Gingerbread House on the Left (Season 7, Episode 7)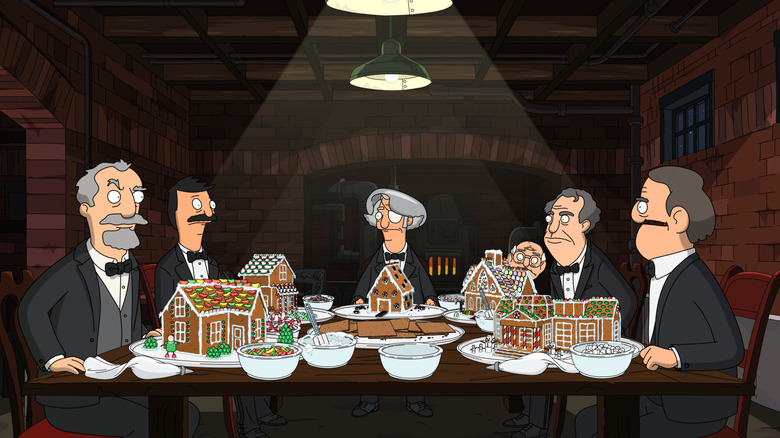 20th Television
One of the most memorable secondary characters on "Bob's Burgers" is the Belcher family's eccentric and ridiculously wealthy landlord, Mr. Fischoeder. This episode takes the Belcher family to Mr. Fischoeder's neighborhood after the real estate tycoon invites Bob to a Christmas party. 
Of course, nothing with Mr. Fischoeder is ever as it seems, and Bob is quickly pulled into a high-stakes gingerbread house-building competition, which Mr. Fischoeder offers to pay him to lose. Looking for a way to come up with the money for his children's Christmas presents, Bob agrees to take a dive, but his natural talent for gingerbread houses (and his irritation with Mr. Fischoeder's constant taunts) gets the better of him, and he decides to forgo the bribe and play to win. 
While Bob faces off against the wealthiest gingerbread enthusiasts in town, Linda leads the kids (and Teddy) in a night of Christmas caroling. They end up at a local house that is rumored to be haunted. Fortunately, everything works out alright for the Belchers in the end.
Christmas is about family, and as "The Last Gingerbread House on the Left" proves, that means something different to everyone. Sometimes, a family is two parents and a gaggle of children, and sometimes it's a group of peculiar old rich men who build gingerbread houses together in a cellar.
3. Christmas in the Car (Season 4, Episode 8)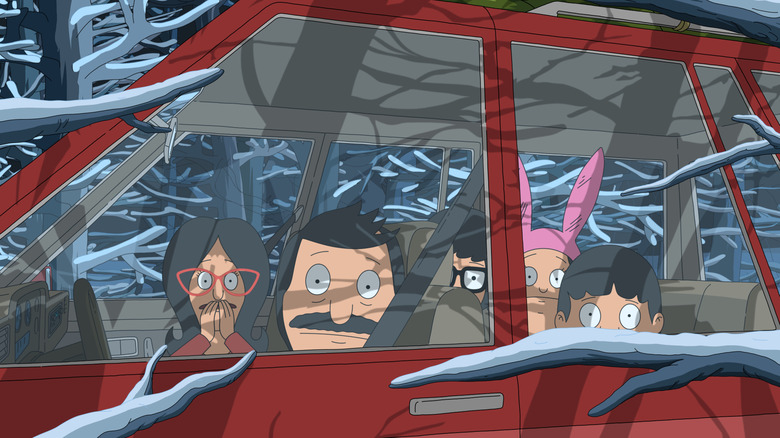 20th Television
"The Last Gingerbread House on the Left" isn't the only episode in which the Belcher family's Christmas takes a potentially life-threatening turn. In the season 4 episode "Christmas in the Car," the family embarks on a last-minute trip to buy a tree after the one Linda bought prematurely (she picked it up on November 1) dies on Thanksgiving. However, the trip goes horribly awry when Bob and Linda accidentally antagonize the driver of a candy cane-shaped semi-truck. 
Bob becomes convinced that the driver of the semi is targeting them and trying to run them off the road. The rest of the family writes this off as paranoia until the truck comes back and tries again. While Bob and the rest of the family worry that this Christmas might be their last, Teddy goes to the Belcher home to turn off the oven and keep the Christmas ham from drying out. Unfortunately, he becomes caught in a trap that Louise has set for Santa and cannot get free. 
Thankfully, it turns out that the real villain was loneliness, and that the semi driver was only acting out because spending Christmas by himself was taking a toll on his mental health. The family patches things up with the driver, makes it home to free Teddy, and then listens to one of Gene's favorite Christmas songs, "Jingle in the Jungle," on the radio.
2. Nice-Capades (Season 6, Episode 5)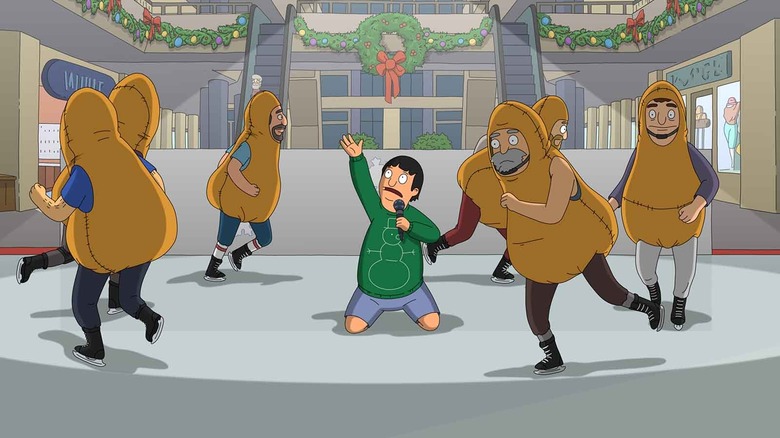 20th Television
A lot of the magic of "Bob's Burgers" comes from the Belchers' three kids and their willingness to believe in wild and impossible things. Tina believes in ghosts, Gene believes in a legendary two-butted goat, and Louise believes very strongly in the power of Santa Claus. Louise takes her Christmas list, and the big guy's ability to make her wishes a reality, very seriously.
In "Nice-Capades," the three siblings inadvertently anger a mall Santa when they kick him out of a massage chair. Terrified of being placed on the naughty list, Louise convinces her siblings to help put together an elaborate musical spectacular that they will perform on the mall's ice rink, outlining exaggerated versions of all the good deeds they did that year. 
At the last minute, Louise's conscience gets the better of her and she can no longer bring herself to lie. She admits that she was exaggerating, and accepts her place on the naughty list. Instead of punishing her, the Santa applauds her integrity, and guarantees that the Belcher kids will be staying on the nice list. 
In addition to a bunch of fun musical numbers (including Mr. Fischoeder performing a song about all the different alcoholic drinks he enjoys at Christmas), this episode is a lovely showcase for Louise as a character. She may present herself as a hardened cynic who never stops scheming, but underneath the surface she is a sweet kid who cares a lot about others.
1. The Bleakening (Season 8, Episodes 6 & 7)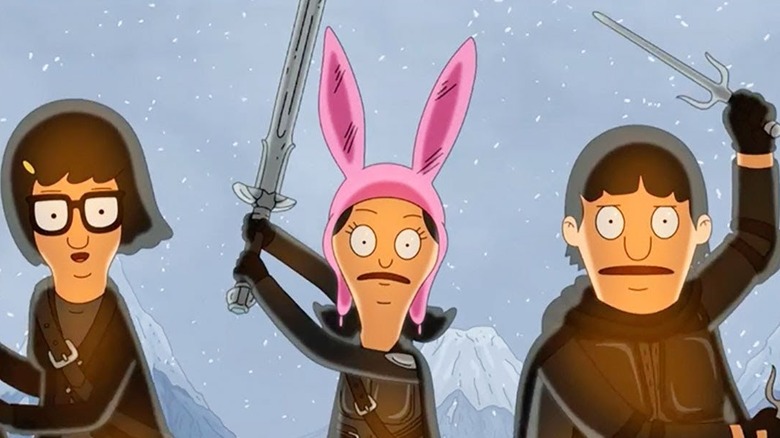 20th Television
One of the best things about "Bob's Burgers" is its original songs. From ridiculous boy band jams like "Whisper in Your Eyes" to Gene's '80s mashup "Work Hard or Die Trying, Girl," the show has given us plenty of jams to laugh and dance along to. But it's season 8's epic two-part Christmas special "The Bleakening" that gave us some of the show's best songs overall. 
The hour-long story of "The Bleakening" follows Linda as she tries to host the best Christmas party of all time. However, after her party, she realizes that her beloved miniature Christmas tree, which was covered with all of her favorite decorations, has been stolen. As a rash of Christmas robberies sweeps the town, Linda attempts to investigate the crime and recover her prized ornaments. 
Louise and her siblings come to believe that the robberies are the doing of the Bleaken, the "Bob's Burgers" version of evil Christmas sprits like the Krampus. The three kids set out to track down the Bleaken and defeat him before he can steal their presents, embarking on an epic journey that leads them (and their parents) to the real culprit: an underground Christmas rave held by their friends and neighbors, designed to replace a closed gay nightclub. Sadly, Louise doesn't get to fight a monster, but Linda gets her tree back, the thief apologizes, and the group realizes that holiday cheer is best when shared with everyone. Christmas isn't about objects, after all. Like "Bob's Burgers," it's about people.