'Krampus' Trailer: You Better Watch Out, You Better Not Cry...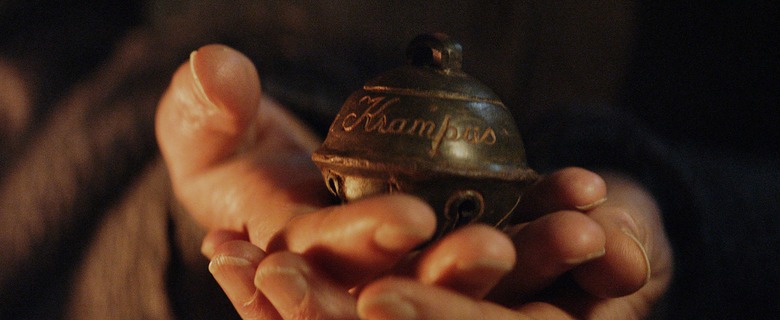 September seems a bit early to start getting swept up in the holiday spirit, but we'll let Krampus slide. Especially since we're totally terrified of him. Universal and Legendary have just released the first domestic trailer for the new horror-comedy by Michael Dougherty (Trick 'r Treat), about a sort of anti-Santa who visits families that have been more naughty than nice. Watch the Krampus trailer after the jump.
Legendary posted the Krampus trailer on YouTube. It's more or less the same footage as the international trailer released yesterday, which was mostly the same footage we saw at Comic-Con. But it's in English this time, which is obviously a plus.
The story centers on a little boy (Emjay Anthony) who loses his Christmas spirit after spending time with his bickering family (including Adam Scott and Toni Collette as his parents, and David Koechner and Allison Tolman as his uncle and aunt). His disillusionment turns out to be very dangerous, however, when it attracts the attention of the demonic Krampus.
As the grandma in the trailer describes him, "he is the shadow of Saint Nicholas." But he's not evil per se. "He's more complex and nuanced than that," said Dougherty. "If you study the myth, there's something darkly playful about him. He's having a good time doing what he does and he enjoys the cat-and-mouse aspect of it."
Krampus comes to town December 4.
Legendary Pictures' Krampus, a darkly festive tale of a yuletide ghoul, reveals an irreverently twisted side to the holiday. When his dysfunctional family clashes over the holidays, young Max (Emjay Anthony) is disillusioned and turns his back on Christmas. Little does he know, this lack of festive spirit has unleashed the wrath of Krampus: a demonic force of ancient evil intent on punishing non-believers. All hell breaks loose as beloved holiday icons take on a monstrous life of their own, laying siege to the fractured family's home and forcing them to fight for each other if they hope to survive.