Why The First Big Car Chase In No Time To Die Was So Challenging To Pull Off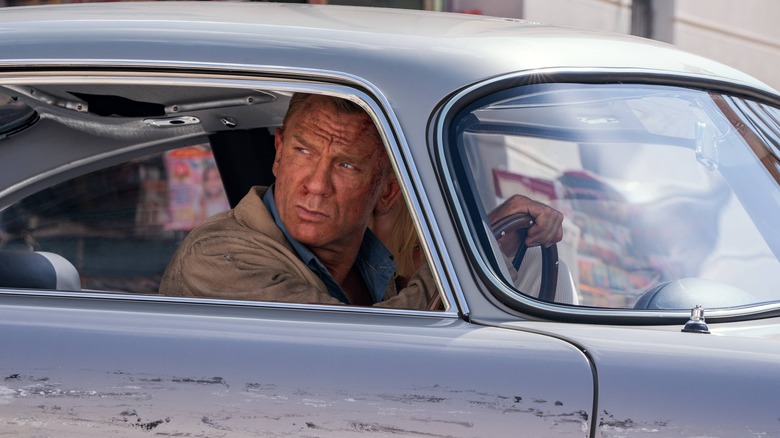 MGM
Ambitious stunts and "Bond" movies go together like, well, James Bond and martinis. "No Time to Die" represented the very last film in the Daniel Craig era and, with an American filmmaker behind the wheel for the first time in franchise history, director Cary Joji Fukunaga allowed the actor to go out in style with some of the biggest, most thrilling stunts we've ever seen the character punch, jump, and drive his way through. With "No Time to Die" coming to 4K UHD, Blu-ray, and DVD today after a thoroughly successful run at the box office, /Film's Ethan Anderton was able to catch up with longtime special effects supervisor Chris Corbould, a mainstay in the "Bond" franchise ever since 1977's "The Spy Who Loved Me" and who has worked on several other blockbusters such as 1999's "The Mummy," Christopher Nolan's "The Dark Knight" trilogy, "The Force Awakens" and "The Last Jedi," and the upcoming "Doctor Strange in the Multiverse of Madness."
In this interview, Corbould opened up about all sorts of aspects of "No Time to Die" through the lens of his specific perspective on the stunt-heavy side of things, from Daniel Craig's driving abilities to Corbould's favorite Bond car. In this excerpt, the special effects supervisor details exactly why the big car chase that kicks off the action in the film was particularly difficult to bring to life on screen in all its white-knuckle action.
"It's not necessarily going as big as possible"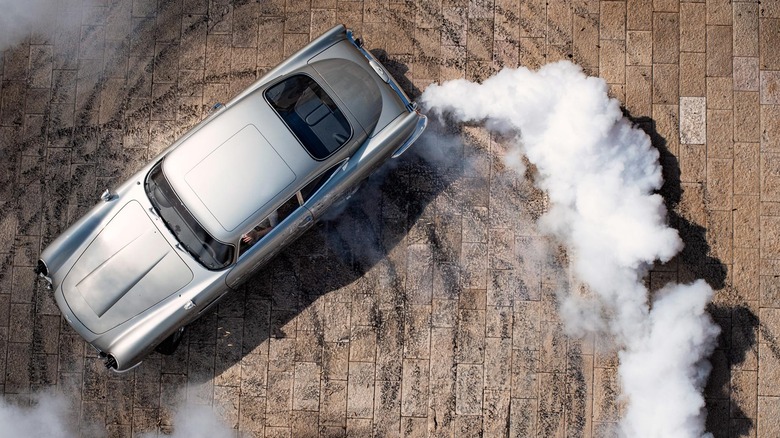 MGM
With the exception of the opening Madeleine Swann-centric flashback, "No Time to Die" holds back on extensive action sequences until quite a bit of time has passed in the prologue. That all changes when Bond trips a booby trap at the gravesite of his lost love, Vesper Lynd, and kickstarts a frantic car chase in and around the streets of Matera, Italy. In his talk with Chris Corbould, /Film's Ethan Anderton asked him about the most challenging stunt in "No Time to Die." According to Corbould,
"The DB5 chase was an interesting sequence to do because we were working in Matera, which dates back thousands of years. So we had this high speed chase, and we had to be very respectful of all the old buildings. So whenever there was a chance of possibly a car spinning out, we would put concrete blocks all round the buildings and dress them in to look like they were existing buildings that preserved them. In the square where we did the donut and they fired the guns, everything from four foot down was all dressing that we'd had with a bullet impact set and everything above it was a thousand years old. So that was one of the things we had to be considerate of."
When evaluating these sorts of stunts early on in the filmmaking process, the texture and style of the action has to match the emotions of the script at that particular moment. While "No Time to Die" certainly boasts all sorts of larger-than-life sequences that harken back to past "Bond" movies which were considerably more heightened than during Craig's run, this particular car chase had a very good reason to be more stripped down as opposed to starting things off with a (literal) bang.
"Well, it's not necessarily going as big as possible. The one thing we're trying to do is be original. The DB5 chase, there's much bigger, more spectacular, more fantastical car chases out there, but we wanted to keep this gritty, short, down to earth and just hard hitting. So it's kind of fitting into the storyline and the characters rather than... What we don't want is the special effects and the visual effects in a Bond film to stand out on their own."
"No Time to Die" is available on 4K UHD, Blu-ray, and DVD today.