Getting In An Off-Road Car Chase With No Time To Die's Expert Stunt Driver Had Me Shaken And Stirred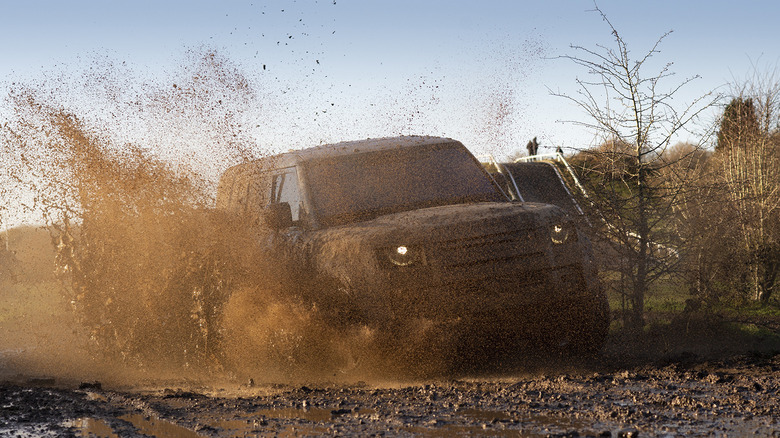 Universal All-Access
"No Time to Die" has officially arrived on 4K UHD, Blu-ray and DVD today, just in time to bring Daniel Craig's final mission as James Bond home for the holidays. In conjunction with the home video release of 007's emotional end, Universal All-Access flew me out to England to see if I have what it takes to survive a good old-fashioned James Bond car chase. 
A couple weeks ago, a group of reporters descended upon the Jaguar Land Rover Limited headquarters in Coventry, England. Our mission? Try to survive a stunt-driving session sitting in the passenger seat next to "No Time to Die" stunt driver Mark Higgins as he whipped us around a muddy, off-road course where we were pursued by Land Rover Defenders and Triumph Tiger motorcycles. Higgins only just began working with the James Bond franchise with "Quantum of Solace," but he's also an accomplished rally driver, having won the British Rally Championship three times in 1997, 2005, and 2006. Needless to say, he put us through the wringer. 
James Bond, Take the Wheel
On the Jaguar Land Rover Limited headquarters land in Coventry, England, there's an off-road course used to test the capabilities of their vehicles. In this case, Mark Higgins tore through the mud in a Land Rover Defender with me laughing nervously in the passenger seat. The vehicle never felt like it stopped sliding, whether we were evading other Defenders and motorcycles, or taking sharp turns through huge puddles.
All the while, Mark Higgins was in complete control of the vehicle without even coming close to breaking a sweat. In fact, Higgins actually coolly narrated the entire experience. While sloshing through the course and turning the steering wheel every which way, the stunt driver would calmly quip, "Oh, there's a baddie there," or "Whoops, almost got us that time." You'd never know he was recreating a car chase from a James Bond movie.
Higgins was key in creating the car chase through the English countryside in "No Time to Die," when Logan Ash (Billy Magnussen) is in hot pursuit of James Bond, Dr. Madeleine Swann (Lea Seydoux), and their young daughter. The stunt driver described the meticulous process of planning such a massive action sequence:
"There's a lot of time involved. We've got, obviously our coordinators, we've got the preparation of the cars, we'll always prep in a different area to start off with before we go on location. There's a lot of work to see what they want in terms of the visual aspect of the vehicles, and then we've got to see what works for the shoot. We have a great team of guys that we got to work. Everything you see is synchronized... so it's a lot of time, getting the timings right. So when we do get there on the day, bang, we can get it off quite quickly without wasting a lot of time with the camera."
Even though our Land Rover Defenders didn't make the same leaps through the countryside as those seen in "No Time Die," having experienced a more grounded high-speed chase, I think it's probably best that Higgins kept all four wheels on the ground this time.
"No Time to Die" is available now to purchase on 4K UHD, Blu-ray, DVD, and digital.