No Time To Die Star Billy Magnussen Plays A Sport Involving A Dead Goat Carcass, So Where's The Movie About That? [Exclusive]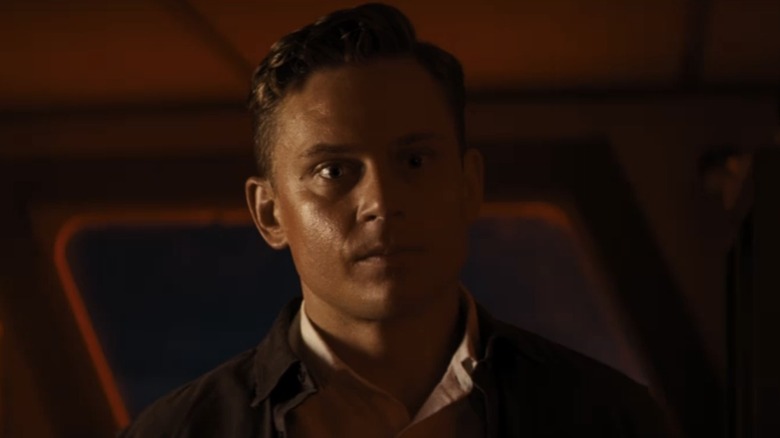 Eon Productions
Daniel Craig's final James Bond movie, "No Time to Die," became available on Blu-ray this week, just in time for Christmas. In the movie, Billy Magnussen plays the CIA agent, Logan Ash, who's a fanboy for Bond, but whose clean-cut, Mormon-nice facade soon gives way to a heel turn.
/Film's own Ethan Anderton recently interviewed Magnussen for the home media release of "No Time to Die," and in the course of their conversation, he uncovered a rather interesting side hobby that the actor has. It involves the sport Kok boru, otherwise known as buzkashi, which makes an appearance in the 1988 film "Rambo III," but which has yet to make an appearance in any Bond film.
Magnussen hasn't seen that "Rambo" sequel, but here's how he explains Kok boru and his experience with it:
"I was in Kyrgyzstan. I was part of the first ever American Kok boru team. It's kind of like hockey, but you're on horseback and the ball is a dead goat carcass. It's insane. It's absolutely insane. But it was one of the coolest things, because we were in Bishkek, and we're playing against all these teams and we're literally representing the United States. We're the first Americans some of these people had ever met. So the humanitarian work we did through just this one sport was unbelievable. We were the Jamaican bobsled team [from 'Cool Runnings.'] It's like showing up to the Super Bowl and never hearing what football was."
Kok Boru: The Movie?
Will we ever see a sports movie about Kok boru? Well, as they say in non-canonical Sean Connery Bond movies: "Never Say Never Again." Unsurprisingly, though, this might raise some hackles among animal rights organizations like PETA (People for the Ethical Treatment of Animals). Back in 2012, while Bond was busy celebrating his 50th movie anniversary with "Skyfall," a senior representative for PETA spoke to Smithsonian Magazine about Kok boru, likening the sport and its treatment of goat carcasses to fox-hunting in England or bullfighting in Spain (both of which have been banned).
Is now a bad time to mention that I once ate raw goat meat in Okinawa, Japan? The late great travel host Anthony Bourdain, subject of the documentary "Roadrunner," did it while passing through there, too.
In Kyrgyzstan, Kok boru is still part of the country's cultural heritage, so much so that UNESCO (the United Nations Educational, Scientific and Cultural Organization) even listed it as an Intangible Cultural Heritage of Humanity. For his part, Magnussen would like to see a documentary about it, and thinks it does have humanitarian value in the way that it connects people. He said:
"We were trying to put a documentary about it called the 'Nomad Cowboys.' Yeah, there's got to be something there. ... But it was insane. Out of all the things I've ever done, I think that was one of the coolest, because of the humanitarian work of just connecting people."
"No Time to Die" is on home media now.