Iron Man 3 Almost Killed Off Jon Favreau's Happy Hogan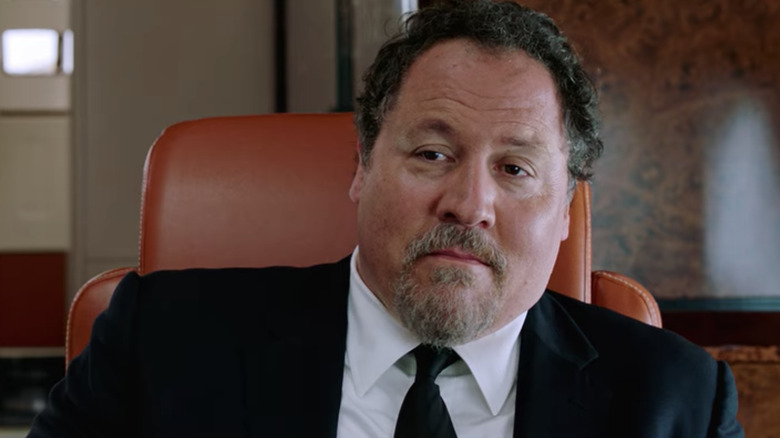 Marvel Studios
In the Marvel Cinematic Universe, the future of Happy Hogan wasn't always so happy. Jon Favreau has been with the MCU since the very beginning; he directed the first two "Iron Man" movies and co-starred alongside RDJ as Happy. By the time "Iron Man 3" rolled around, however, Favreau had vacated the director's chair, and Marvel was ready to kill off his character.
This reveal came at the red carpet premiere for "Spider-Man: No Way Home," the latest MCU film, which broke box office records over the weekend — unfortunately, at the expense of Guillermo del Toro's "Nightmare Alley." In a TikTok livestream via ComicBook.com (by way of Collider), Favreau and Marvel Studios head honcho Kevin Feige explained that a note from Favreau is ultimately what saved Happy.
If you remember, Happy gets blown up by a human Extremis bomb in the forecourt of Grauman's Chinese Theatre in "Iron Man 3." This puts him in a coma, and it's only at the end that he recovers. It turns out that could have gone a different way. Feige explained:
"There was a little difference in the script than the final movie, which was that Happy died. Jon had a note — that is one of the most important notes he gave us at Marvel — which was, 'What if Happy was severely injured but did not die?' "
The Continuing Adventures of Happy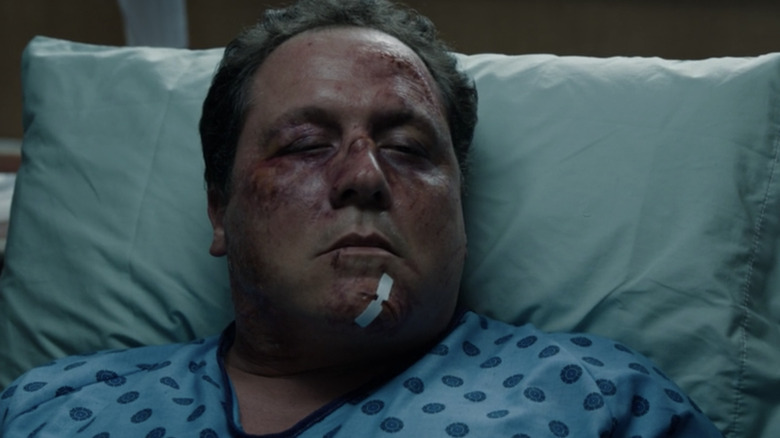 Marvel Studios
Since surviving the bomb blast in "Iron Man 3," Happy has remained an active part of the MCU, crossing over into Jon Watts and Tom Holland's new Spider-Man trilogy. In "Spider-Man: Homecoming," he acted as Peter Parker's begrudging Stark Industries handler, while in "Avengers: Endgame," he was there on the couch with Pepper Potts (Gwyneth Paltrow) as she watched the final recorded hologram message from Tony Stark (Robert Downey Jr.) to her and their daughter, Morgan Stark. He also struck up a somewhat one-sided relationship with Aunt May (Marisa Tomei) in "Spider-Man: Far from Home," and helped outfit Peter with a new Spider-suit while giving him a much-needed pep talk on a Stark jet in the Netherlands.
The finale of "Far from Home" saw Happy running around with Peter's classmates in London, and he reportedly returns for an emotional moment in "Spider-Man: No Way Home." In many ways, Happy has kept Tony's spirit alive and served as a surrogate uncle for Peter. Yet none of that would have been possible had Favreau not written that note asking Marvel to spare Happy in "Iron Man 3." He said:
"They accommodated it, and I'm so happy I've been a part of this and being able to be there with Tom Holland since the beginning. He's such a pleasure to work with, and Jon Watts, who is incredibly talented, it's just fun to continue this relationship. It is a big part of my life, and these people are friends and also people I work with."
"Spider-Man: No Way Home" is in theaters now.