It's Spider, Man! Meet The Human Raised By Na'vi In Avatar 2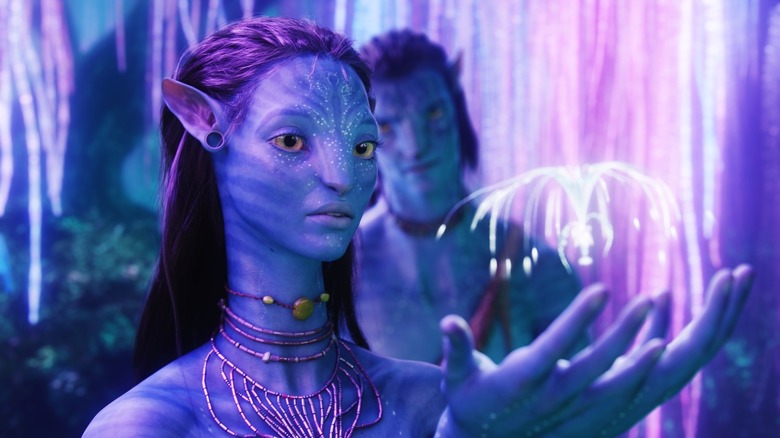 20th Century Studios
Everyone has Spider-Mania right now, folks. "Spider-Man: No Way Home" is currently setting the box office on fire, smashing pandemic records (and hopefully not becoming a super-spreader event?) to the tune of the second-biggest domestic opening weekend ever. But if you thought that fact went unnoticed by filmmaker James Cameron, who holds several box office records of his own, then think again. Not that Cameron needed any further motivation in bringing his decades-long dream project to life, but perhaps a little competition can't hurt. Clearly, the only reasonable response to the over-performance of "Spider-Man" is for Cameron to add a character named "Spider" to his own movie. Full disclosure: I never passed a business class, but this logic makes sense to me!
In all seriousness, we're chalking up this reveal to an amusing sense of timing from a filmmaker who clearly has his finger on the pulse ... though it remains to be seen if that proves true for a widespread appetite for more "Avatar" films in the first place. Conventional wisdom, however, suggests never to bet against James Cameron. Without further ado, meet Spider! The details come courtesy of Empire, as we're finally getting a look at what Jake Sully (Sam Worthington) and Neytiri (Zoe Saldaña) have been up to since the events of the original film over 12 (!) years ago. Not only has the couple raised three Na'vi kids of their own, named Neteyam (Jamie Flatters), Lo'ak (Britain Dalton), and Tuktirey (Trinity Bliss), but they've also adopted a fourth human child: Javier Socorro (played by actor Jack Champion), who goes by the name of Spider.
But this isn't a completely happy family dynamic, according to producer Jon Landau. "Jake took him in, but Neytiri always saw him as one of the people who destroyed her home and killed her father," Landau says, further explaining that, "If you look at what [James Cameron] does in his movies, he writes in universal themes that are bigger than the genre of any one movie. This time around, we're taking Jake and Neytiri and building the most universal theme of all around them. Which is family. Jake comes from the human world, Neytiri from the Na'vi world. So, they're like a modern mixed-race couple, raising kids who perhaps feel they don't belong to one world or another."
"We Have A Crab Suit," Says Avatar 2 Producer Jon Landau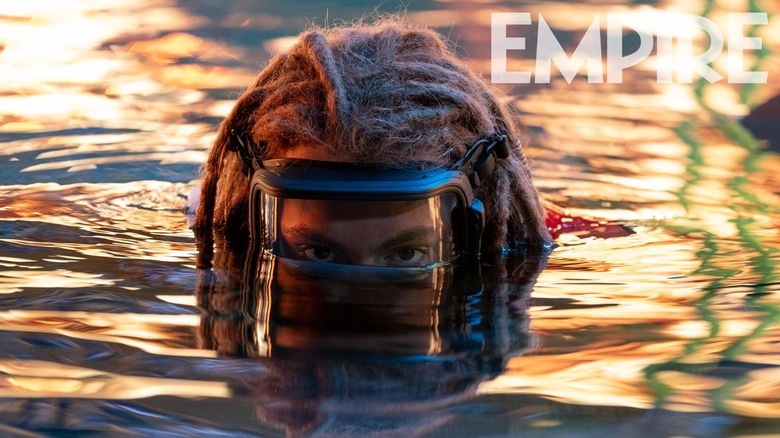 Empire/20th Century Studios
So how could a sequel to the biggest and most successful original film ever possibly top itself this time around? Well, one of the main draws will apparently be the introduction of a brand-new locale that puts Jake and Neytiri out of their element entirely. The still-officially-unnamed "Avatar 2" will see the action go from the lush tropical forests of the 2009 "Avatar" to the water-based environment of the planet Pandora's distant reefs. According to the February 2022 edition of Empire magazine, this is where they meet the Metkayina, who are led by Kate Winslet's Ronal and Cliff Curtis' Tonowari. "Literally and figuratively, they become the fish-out-of-water," according to Landau. "At first, [the Metkayina] don't necessarily want to welcome the Sullys into their world. The Sullys have to show them why they should be a part of it, and how we are all connected and can help each other."
Fans of the spectacular world-building of the original can expect even more otherworldly wildlife, vibrant locations, and futuristic tech. That new technology, apparently, will take the form of a "crab suit." As Landau matter-of-factly puts it,
"We have a crab suit. It's like the AMP suit from the first movie; it's a submarine that has arms that the person inside can manipulate. It's a pretty cool piece of hardware.
With the clans, the tech and the environments, we're continuing to build. If we introduce something, it stays with us. In many ways, the first movie is the smallest movie. Each one of these movies plays on a bigger canvas. Each has to be its own standalone film that comes to its own story conclusion and emotional resolution. But, when looked at as a whole, it's an even larger, epic journey across all five movies."
As those who've worked with Cameron are not shy about pointing out, his track record with sequels ("Aliens," "Terminator 2: Judgment Day") isn't too shabby at all. There is significant reason to believe that he'll be able to recreate (and possibly even surpass?) the magic of the original "Avatar," despite so much time passing since then and a much different post-pandemic landscape to navigate. If you can believe it, "Avatar 2" was originally meant to arrive in December of 2014. Now, it's finally set for a December 16, 2022 release.