Jurassic World Dominion Reveals The Atrociraptor, A Very Real And 'Brutal' New Dino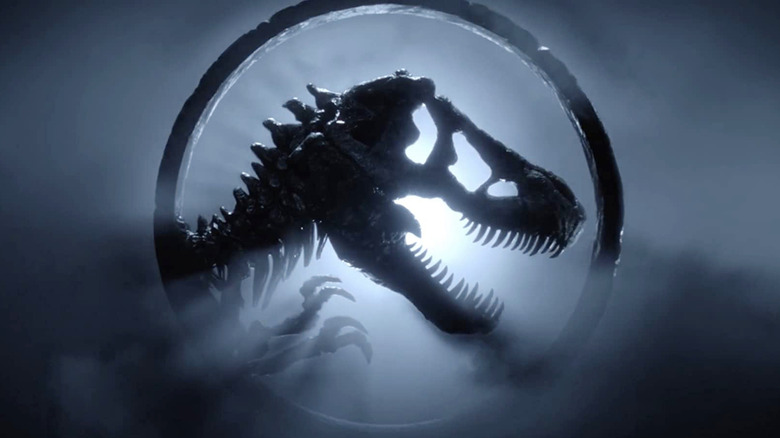 Universal
The Atrociraptor might sound like another made-up hybrid dinosaur invented for the "Jurassic World" films in the same vein as the Indominus rex and Indoraptor, but it's a very real dino with its own Wiki page and everything. It's also, apparently, not very impressed with Owen Grady's (Chris Pratt) raptor whispering skills, judging by the new image of an Atrociraptor chasing Owen on his motorbike in "Jurassic World Dominion."
Said photo (see below) arrives courtesy of Empire as part of its interview with "Jurassic World" trilogy co-writer and "Dominion" director Colin Trevorrow. The filmmaker gave a cheeky answer when asked what's happening in the photo ("It's Chris Pratt being chased by an Atrociraptor"), but confirmed the scene in question takes place in Malta. He also explained what sets the Atrociraptor apart from their cousin the Velociraptor, beyond their desire to make a Pratt sandwich:
"Where the Velociraptor is a little bit more of a stealth hunter, the Atrociraptors are a bit more brutish. These things will just come at you. And in this particular case, they've picked his scent, and they're not going to stop until he's dead. They're pretty brutal. They're pretty vicious."
Jurassic World Dominion Atrociraptor First Look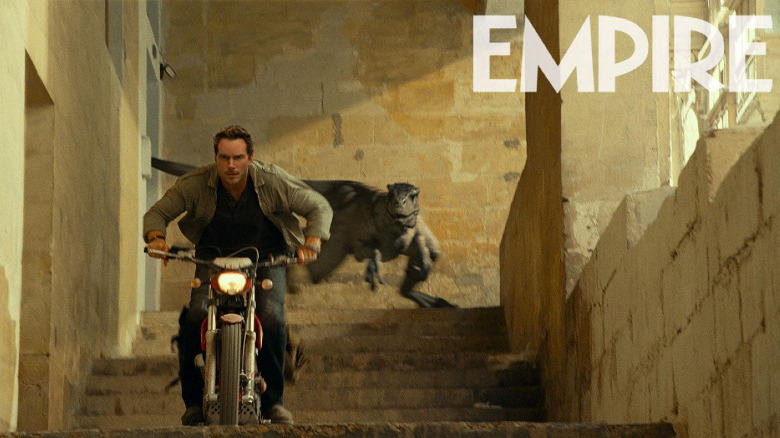 Universal/Empire
Atrociraptors are one of many real dinosaur species set to make their screen debut in "Jurassic World Dominion," along with Pyroraptors — who, despite what their name suggests, are probably not arsonists, although their name does mean "fire thief," so who knows — and, for the first time in the franchise's history, scientifically accurate dinos with feathers. Trevorrow also named-dropped another species that appears in the film in a separate quote from his Empire interview:
"I love the Pyroraptors. I love the Atrociraptors. There's a little one called the Moros intrepidus, who doesn't do a ton in the movie, but whenever it shows up, I always love it."
On the human side, "Jurassic World Dominion" is bringing back most of the main cast from "Jurassic World" and its sequel, "Fallen Kingdom," as well as "Jurassic Park" stars Sam Neill, Laura Dern, and Jeff Goldblum in their beloved roles as Dr. Alan Grant, Dr. Ellie Sattler, and Dr. Ian Malcolm, respectively. Neill has said the trio will appear "all the way through the film" (as opposed to making cameos like the one Goldblum did in "Fallen Kingdom"), which feels like a step in the right direction. Of course, the movie will need to do more than that if it hopes to come even close to recapturing the magic of Steven Spielberg's original dino adventure.
"Jurassic World Dominion" opens in theaters exclusively on June 10, 2022.