Reno 911! The Hunt For QAnon Cast And Creator Talk Cops, Cameos, And Cancel Culture [Interview]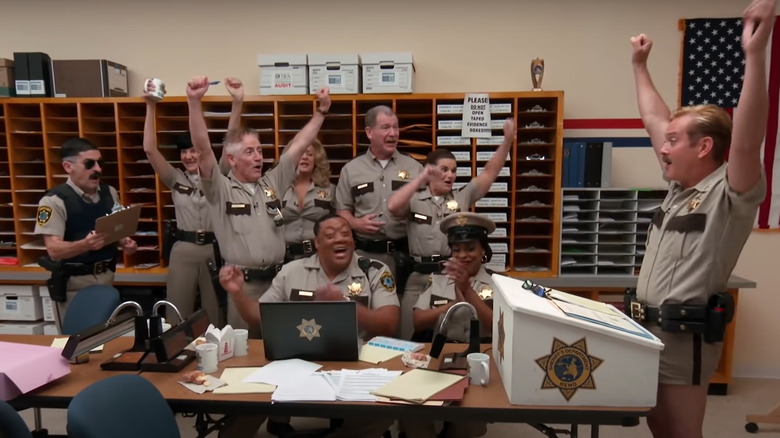 Paramount+
Nothing can stop the fictional Reno Sheriff's Department from "Reno 911!" The series has somehow outlived the slice-of-life cop shows it was spoofing, as shows like "Cops" and "Live P.D." were cancelled in the wake of the George Floyd protests and rising police brutality (though one of those shows unfortunately returned).
"Reno 911!" jumped from their original Comedy Central to the short-lived streaming service Quibi before landing at the streamer Roku, and now they're set to drop an eighth season and a new movie, "Reno 911! The Hunt for QAnon." In "Hunt for QAnon," the world's most clueless cops go undercover on a cruise to try and discover the identity of the elusive "Q". Along the way they drink lots of clam beer, break into a musical number, and end up on Jeffrey Epstein's secret island. 
I was blessed with the opportunity to sit down via Zoom with co-creator Kerri Kenney-Silver and stars Carlos Alazraqui, Niecy Nash, and Ian Roberts about police television, cancel culture, and so much more. You can check out "Reno 911! The Hunt for QAnon" when it premieres exclusively on Paramount+ on December 23, 2021.
This interview has been lightly edited for clarity. 
A movie made 'by the hair of our chinny-chin-chin'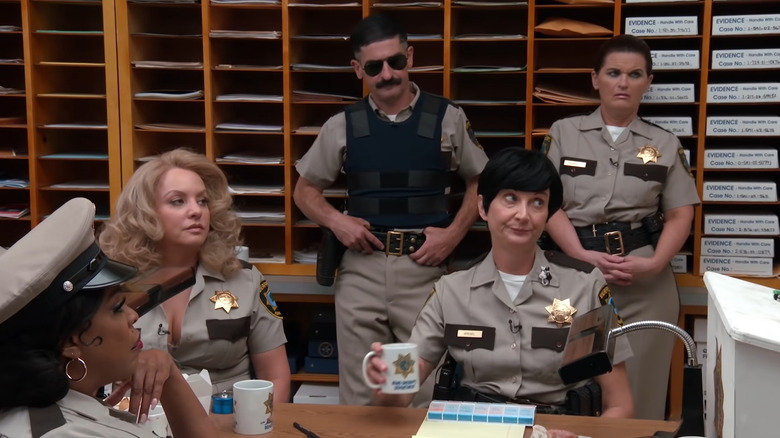 Paramount+
Can you tell me a little bit about the genesis of "Hunt for QAnon?" How did we manage to get a "Reno 911!" movie in the middle of a pandemic?
Kerri Kenney-Silver: Well, we had done a season during the pandemic successfully, kept everyone safe, not one COVID case. And we thought, when Paramount offered us the idea, we thought, "Why couldn't we do a special as well?" We managed to do that, too. "By the hair of our chinny-chin-chins" was my mantra every single day on set, and "by the hair of our chinny-chin-chin" we did it.
Can you tell me a little bit about how the big musical scene came together? 
Kenney-Silver: Well, I always like to say, we're actors. That's a part of us, right? This show is not musical, but we thought, why can't it be? And if it's a special, I feel like you can kind of go places that you couldn't necessarily go with a regular season of the show. We thought it would be nice and uplifting and a great excuse for sort of a nonsensical musical dance number. Because why not?
Carlos Alazraqui: I mean, you have Ian and me right there. You can't waste that.
"You got me on a boat and it just got me all reverent."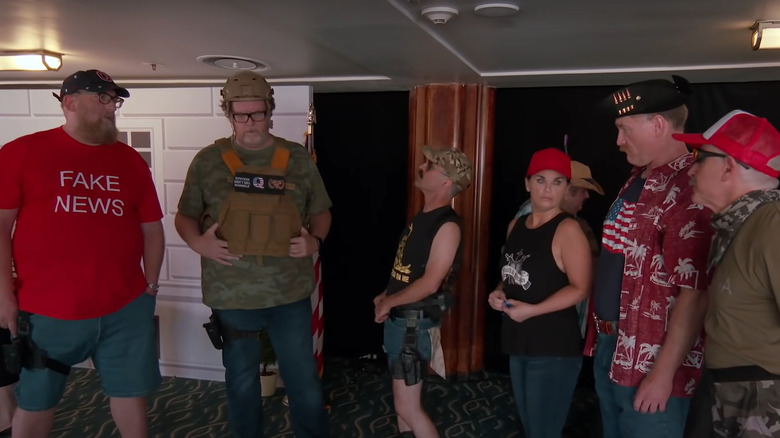 Paramount+
"Reno 911!" has always had some really great cameos and guest appearances, and "Hunt for QAnon" is no different. Can you tell me anything about some of your fabulous guest stars or anybody that you would like to see in the future season?
Alazraqui: Kate Winslet.
Kenney-Silver: Does not appear in this special. But in the future?
Alazraqui: You got me on a boat and it just got me all reverent.
Niecy Nash: I see what you did there. 
Alazraqui: There are some secret, fun, fun cameos in this one. Super, top secret fun.
Kenney-Silver: We do you have Patton Oswalt. People know that. Always fun. Always fits into "Reno." The beauty of "Reno" is you can be on the show a hundred times and play a different person every time.
Nash: You do.
Kenney-Silver: So, Gary Anthony Williams is genius. Yep. I mean, Brian Posehn, Steve Agee. Gary Anthony Williams just kills me.
Alazraqui: Oh, god. Yes.
Kenney-Silver: Anytime you can have him, too. We've got tons of people and then a couple super, top secrets that are going to be fun surprise for people.
Alazraqui: Yeah. So like, if we say it like, oh, I know who it is... [mimics being shot]
"I think we're going to keep the party going."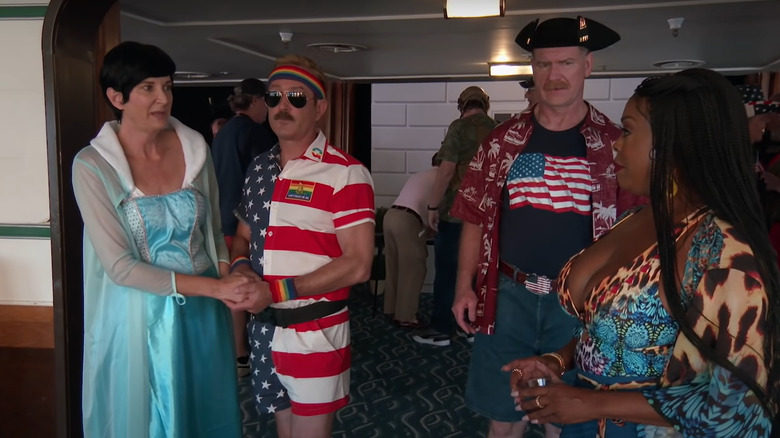 Paramount+
It's interesting that Reno 911! is still ongoing, even though some of the shows that it's spoofing aren't on the air anymore. What's it like being one of the last cop shows on TV?
Alazraqui: I think it's awesome. 
Nash: I love the fact that we're still around, and I think we will be around. You know what I mean? I mean, be around until... You know what I mean? Till we all over there with walkers and carrying on, I think we going to keep the party going.
Alazraqui: I think there's going to be a "Reno"/"Blade Runner" mashup where it's post-apocalyptic, and there's nothing but sand and yet "Reno"... "How did we end up here? Junior, you read the map wrong."
Ian Roberts: Oh my God.
Do you think Dangle will end up with robot legs?
Roberts: Yes.
Kenney-Silver: Season eight.
Nash: Why wouldn't he?
"We're not doing it for shock value."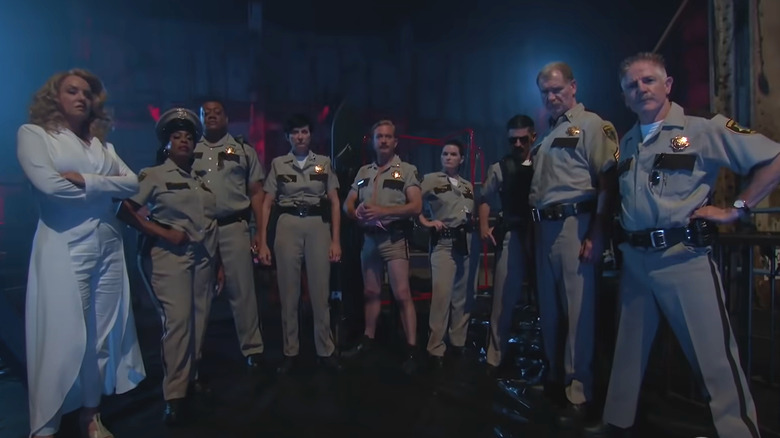 Paramount+
I'm curious. There's been a lot of complaining recently from comedians who think that you can't push boundaries anymore and that you'll "get canceled," but "Reno 911!" still pushes the bounds of good taste all the time. How have you managed to stay this scandalous and keep going?
Kenney-Silver: I think we've always, since the beginning, since we shot the pilot in 2000, when times were a little different, I think we've always sort of made fun of ourselves as much as we've made fun of anyone else. There's an equal opportunity offensive situation that happens on the show. And I think if, for instance, if personally, if I, as an improv artist on this show and one of the people creating this world, is making fun of anyone, it's white middle aged women. I think it's important that we touch on everyone. I think that the equal opportunity offense thing is sort of helpful. And I think also we've been around long enough that you know, or at least our fans, know us. They know who we are, what we stand for, and that we're shining light on these ridiculous situations and often ridiculous people sometimes through laughter. Maybe you can have someone have an aha moment, I would hope. We shall see.
Alazraqui: Everybody's true to their character, too. So, if we're attempting to make fun of somebody or go after them, it's really true to who the character is. We're not doing it for shock value. Garcia would say that. Junior would do that. Jones would say that. Williams would do that. It doesn't ring false to their character or their journey, and so I think that's why it resonates and works.
Like 'spending a weekend' with Reno's worst cops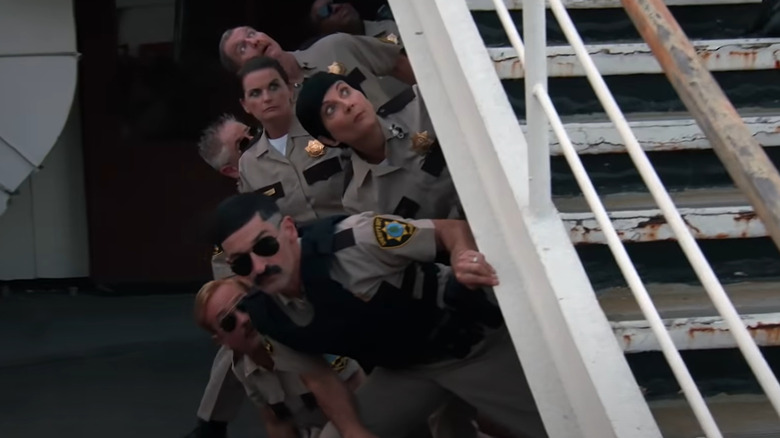 Paramount+
Is there anything from the movie that you were really excited that you got to do because you couldn't do it in the 15-minute episodes or even in the original Comedy Central show?
Alazraqui: I think said musical number is one of them. That was pretty cool.
Kenney-Silver: I mean, just being on the Queen Mary for the amount of time that we were, that's not something we would necessarily go do. We don't get around to a ton of locations on a season. We set up our location base, so we'll do eight pieces at a bowling alley, eight pieces at a diner, eight pieces at etc... So, it was nice to sort of get out of the office, so to speak, for a bit. But yeah. Certainly, the musical number was a nice change of pace.
Awesome, and how does the movie play into the upcoming eighth season coming to Roku?
Kenney-Silver: It's all us. I feel like now that we've established this rhythm of who these people are, it's always our world, even though we're on a cruise ship or whatever. We've established ourselves well enough that I feel like we could go to Mars and play the Harlem Globetrotters, and you still might take that journey if you've been with us since the beginning. It's not a departure. It's the same thing. It's a different length of the same genre, same world, same family. Somaybe it's more like spending a weekend with us as opposed to just an overnight or having lunch with us. That was really prolific, by the way. I'm going to write that down.