Star Wars Bits: The Book Of Boba Fett, Return Of The Jedi, Adam Driver, Andor, Darth Vader, And More!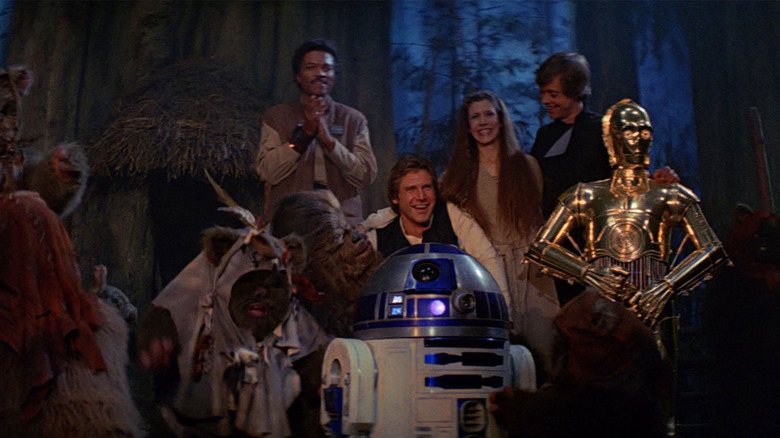 Lucasfilm
In this edition of Star Wars Bits:
Robert Rodriguez Talks "The Book of Boba Fett
"Return of the Jedi" Joins National Film Registry
Adam Driver Discusses Returning to "Star Wars"
Stellan Skarsgard Praises "Andor" Writing
And More!
Robert Rodriguez Talks The Book of Boba Fett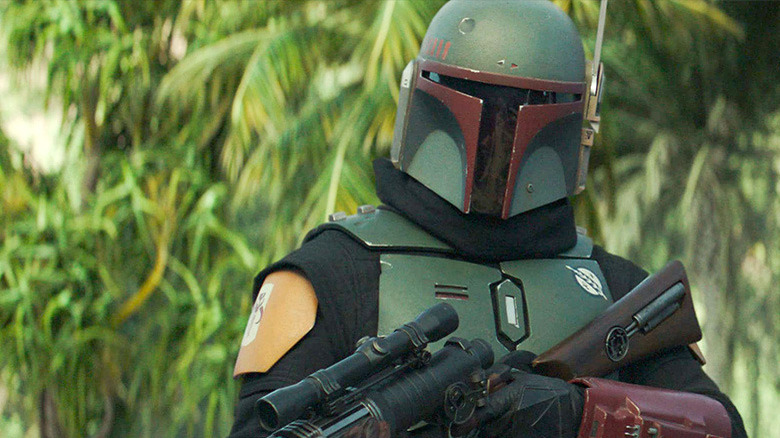 Lucasfilm
In a new interview with The Hollywood Reporter, "The Book of Boba Fett" director and showrunner Robert Rodriguez dropped some tantalizing morsels to get us excited for the upcoming Disney+ series. Here are some snippets:
Regarding the trailers and TV spots:
If 'The Book of Boba Fett' teaser trailers released so far seem a bit less than epic, it's due to a deliberate act of restraint: The producers have only revealed footage from the seven-episode season's opening minutes. 'We can't use the second half of the first episode because it gives so much away,' Rodriguez says.
We can expect new and classic characters to appear, according to writer-producer-director Dave Filoni:
"Boba gives us a direct connection to the 'Star Wars' saga since he was involved in that story," Filoni says. "This creates a nice crossover point for both classic characters and new characters. Much of 'The Mandalorian' was new, or had not been seen onscreen. Through Boba Fett, we can weave some of those characters and tales together using a character we know but don't know a lot about."
Rodriguez adds that there will be plenty of surprises:
"Things turn up you don't expect, you see things we couldn't believe we got to do," he says. "Every episode has big surprises."
Rodriguez points to "King Conan" and "The Godfather" as specific inspirations:

Rodriguez also points out that Fett's scant prior screen time leaves a lot of wiggle room for invention. The filmmakers seized onto 'King Conan' and 'The Godfather' as specific inspirations. "Boba bites off more than he can chew, and we definitely do not make it easy for him," Rodriguez says. "It's easy to sit on the throne; it's not easy to stay on. So what's it like for a bounty hunter to have to suddenly become a leader? Where's the push and pull in that? What is he trying to become? We really go in depth into the character."
"The Book of Boba Fett" premieres on Disney+ December 29. Check out the latest 30-second spot, titled "Ready," below:
Return of the Jedi Joins National Film Registry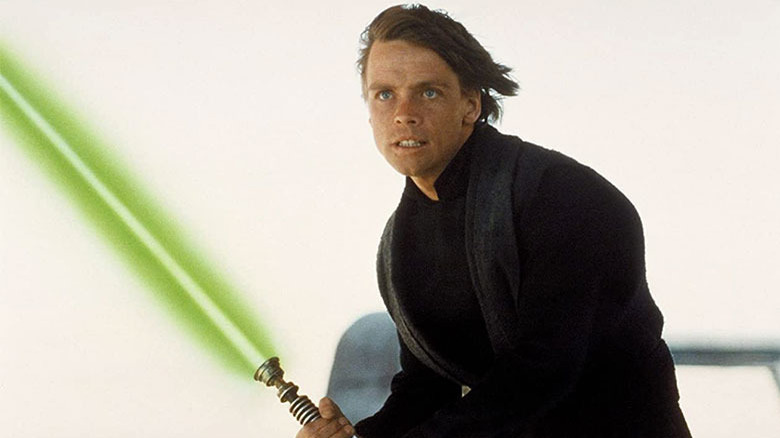 Lucasfilm
StarWars.com and Lucasfilm recently announced that 1983's "Star Wars: Return of the Jedi" will join the National Film Registry, a recognition that signifies a movie as important in American culture and film history. Directed by Richard Marquand, the final installment of the original "Star Wars" trilogy secured the greatest number of public votes among a pool of over 6,150 movies, before becoming one of 25 films selected for inclusion by Librarian of Congress Dr. Carla Hayden, following consultation with the National Film Preservation Board, which includes Board Chair Dr. Jacqueline Stewart, Alfre Woodard, Martin Scorsese, Christopher Nolan, Richard Masur, and M. Night Shyamalan.
"The National Film Preservation Board is very pleased with the inclusion of Return of the Jedi to the National Film Registry," says John Ptak of the American Film Institute, and member of the National Film Preservation Board. "George [Lucas] has created such great characters with enduring stories that are fresh with every viewing. The success and influence of the Star Wars series films on filmmakers, the industry and a global audience is remarkable and will stand the test of time."
"Star Wars: Return of the Jedi" follows "Star Wars: A New Hope" (part of the first class of inductees in 1989) and "Star Wars: The Empire Strikes Back" (selected in 2010) in receiving this honor.
Adam Driver Discusses Returning to Star Wars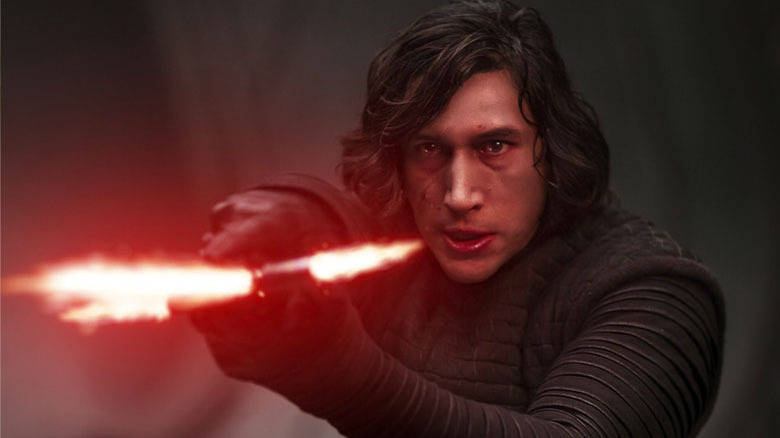 Lucasfilm
In an interview with the French magazine Premium, Adam Driver was asked about whether or not he was "beyond the 'Star Wars' thing" now that the Sequel Trilogy is complete. Driver's response suggests that while there are no current plans to return to the galaxy far, far away, he isn't opposed to the idea:
"As ever, it's a case of seeing what the future will bring, but whether I am there or not, "Star Wars" was and is always surreal... I still feel in awe of having been part of [the franchise], and that will never change. I remember working very hard not to be distracted by the fact that I was walking next to Harrison Ford and just pretending that this was another acting job in a regular movie."
He also discussed how being involved in a high-profile franchise like "Star Wars" was a life-changing experience:
"It's not changed my life in a bad way, or in a way where I feel I have lost a part of myself... I am content with how it's played out, and I don't feel negatively impacted by what has obviously been a big elevation in my career. But I can see how that does happen to some people, and it's the risk you take when you put yourself in the spotlight."
On a related note, in a recent interview with Empire, Lucasfilm President Kathleen Kennedy indicated that there will be more stories involving Sequel Trilogy characters: 
"Certainly those are not characters we're going to forget. They will live on, and those are conversations that are going on with the creative team as well."
Stellan Skarsgard Praises Andor Writing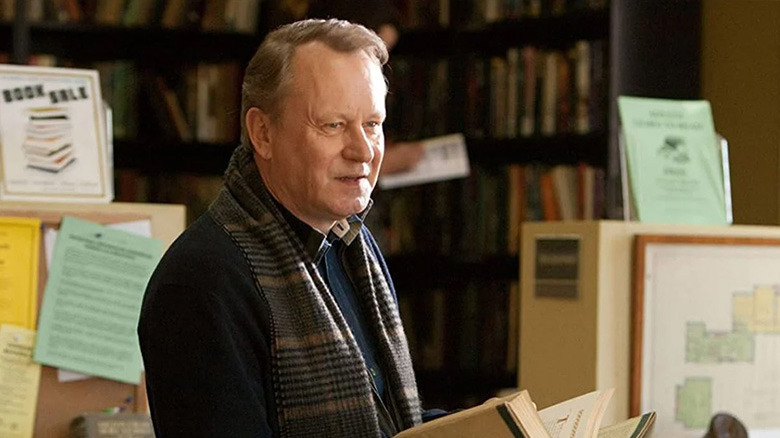 Marvel Studios
In an interview with ScreenRant, Stellan Skarsgård (of "Dune" and MCU movies like "Thor" and "Avengers: Age of Ultron") briefly discussed his time working on Disney+'s "Andor" series, which stars Diego Luna as the rebel spy first introduced in 2016's "Rogue One: A Star Wars Story." In addition to praising Tony Gilroy's writing, he also teased that his character will have "different faces to show." 
"The writing is really good. It's the same writer that did 'Rogue One.' And also to work with Diego Luna, who's an old friend. So I was excited by that. And then my character is... Well, you'll see. It's fun to play because he has a lot of different faces to show."
Little is known about Skarsgård's character, but the actor's comments suggest that he may also be a double agent or spy like Cassian Andor. 
Marvel's Upcoming Star Wars Comics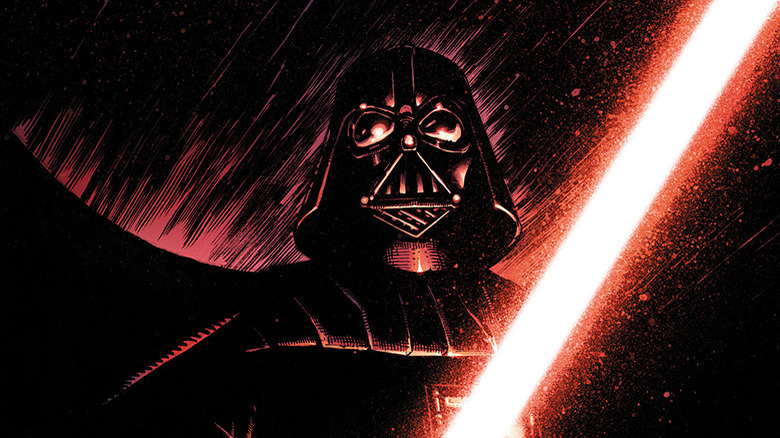 Marvel Comics
In "Darth Vader" #19, written by Greg Pak and illustrated by Guiu Vilanova with a cover by Ryan Stegman, Vader is haunted by visions of Anakin Skywalker's past. StarWars.com has an exclusive first look at the upcoming issue, which arrives December 22 and is available for pre-order now on ComiXology.
You can also check out all the Marvel "Star Wars" titles coming January 2022, including "Star Wars: Halcyon Legacy" #1, "Star Wars: The High Republic — Trail of Shadows" #4, "Star Wars: The High Republic" #13, "Star Wars: Crimson Reign" #2, "Star Wars" #20, "Star Wars: Doctor Aphra" #18, "Star Wars: Bounty Hunters" #20, and "Star Wars: Darth Vader" #21.
The Star Wars Holiday Special Modern Trailer
Nick Acosta created a modern trailer for "The Star Wars Holiday Special" in the style of "Star Wars: The Force Awakens." Using a machine-learning program called Topaz Video Enhance AI, Acosta upscales the bootleg VHS footage to 4K 60FPS. The results are pretty impressive, and slightly terrifying.
George Lucas' Original Ideas for Darth Vader
Star Wars Explained has an excellent video about George Lucas's initial thoughts on Darth Vader's past. 
The Geeknd Interviews Silas Carson
The Geeknd recently interviewed actor Silas Carson, who played both Ki-Adi-Mundi and Nute Gunray in the Prequel Trilogy. Perhaps we'll finally get the answer to that unanswerable question, "What about the droid attack on the Wookiees?"  
This Week! in Star Wars
And finally, on This Week! in Star Wars, host Kristin Baver gives us the lowdown on all the latest news from that galaxy far, far away.
This week in Star Wars, we catch up with Han and Chewie in the pages of the upcoming Marvel comic "Star Wars: Han Solo & Chewbacca," take a look at the cinematic reveal trailer for "Star Wars Eclipse," and mark our calendars for The High Republic Anniversary Special with our friend Krystina Arielle. Plus, we travel back to 2016 when "Rogue One: A Star Wars Story" hit theaters.