Station Eleven Review: A Colorful, Humane, And Shakespearean Post-Pandemic Miniseries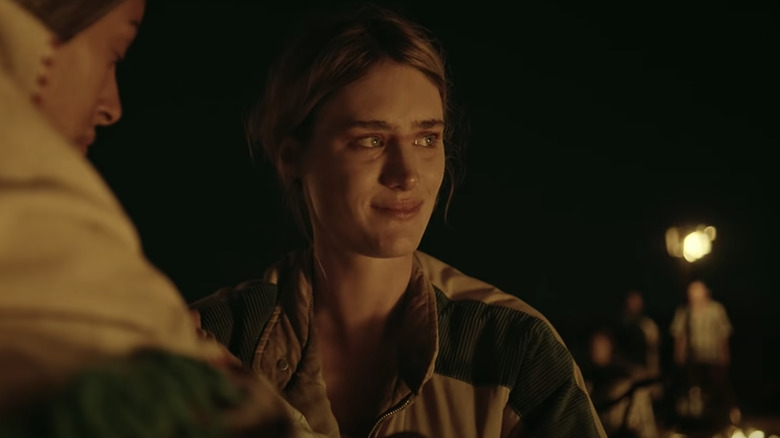 HBO Max
HBO Max's new 10-episode limited series, "Station Eleven," based on the bestselling novel by Emily St. John Mandel, might face an uphill battle engaging some viewers, if only because of its pandemic plot. If you're looking for a slice of escapist entertainment that won't remind you of anything other than the comic books you read growing up, that's what the latest Marvel jams in multiplexes and on Disney+ are for. Here, the Sturm und Drang of a pandemic and the post-apocalypse are indeed present, but what's also present are humor, humanity, and enough thrills to keep the viewer hooked from one episode into another.
Led by Himesh Patel, Mackenzie Davis, and Danielle Deadwyler, among others, "Station Eleven" is a time-jumping show that shifts character perspectives and toggles between the past, present, and future. Once you accept its initial premise, the superflu aspect of it might actually make it more relatable and relevant. It's not just about the pandemic, though experiential knowledge of such an event in the here and now certainly feeds into the tension of the first three episodes, which drop today.
This is more a story about the aftermath and how people deal with it in a world that has ended for smartphone users but that still manages to be bright and full of Shakespeare for the troubadours who survive. Mandel's novel was published in 2014 and it won the Arthur C. Clarke Award for science fiction in 2015. This streaming adaptation from creator Patrick Somerville was already in development in mid-2019 and had begun production in its Chicago setting by January 2020, when the first reported COVID-19 case appeared in the U.S.
The Leftovers with Lear and Levity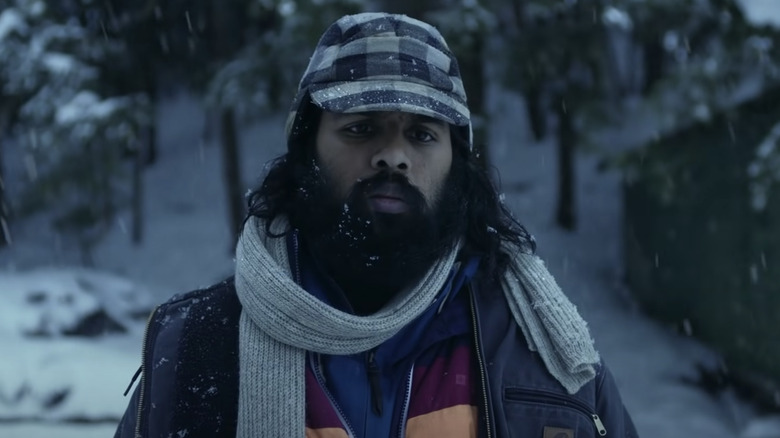 HBO Max
In the same way that Steven Soderbergh's 2011 thriller, "Contagion," suddenly infiltrated the iTunes Top 10 early in the coronavirus outbreak, Mandel's novel also saw an uptick in renewed interest and sales. What we have with this HBO Max adaptation is the slightly more well-adjusted, less grief-prone leftovers of "The Leftovers," with the survival rate reverted from 98% more toward the 0.6% ballpark of Stephen King's "The Stand." Somerville did serve as a writer on "The Leftovers" before creating "Maniac" for Netflix.
The first episode of "Station Eleven" mines a surprising amount of levity out of the end-of-the-world chaperoning that Jeevan, played by Patel, does with a young Shakespearean actress named Kirsten (Matilda Lawler), who is left stranded outside her theater venue after her resident King Lear drops dead onstage. Gael Garcia Bernal guest-stars as the Lear in question, Arthur Leander — patient zero for the audience — who shows up again in the third episode in flashbacks. Lori Petty also costars as the Conductor of the so-called "Traveling Symphony."
Jeevan is immediately an enigma. He bum-rushes the stage as Arthur is seizing up, but he doesn't know CPR and we're left finishing his sentence as he beseeches the theater audience, "Is there a doctor [in the house]?" He also has a hard time conceptualizing his job for Kirsten, though he noodles around with descriptors such as "like a reporter, or a cultural critic."
"Station Eleven" is not above employing a bit of gallows humor, like when Jeveen's phone keeps auto-correcting, "He died," to, "He diced." However, he and Kirsten have a playful dynamic, which helps ease us into the show and keeps it from being oppressive even as the flu rapidly spreads and gives Jeveen panic attacks on the train.
'Passing Through Nature to Eternity'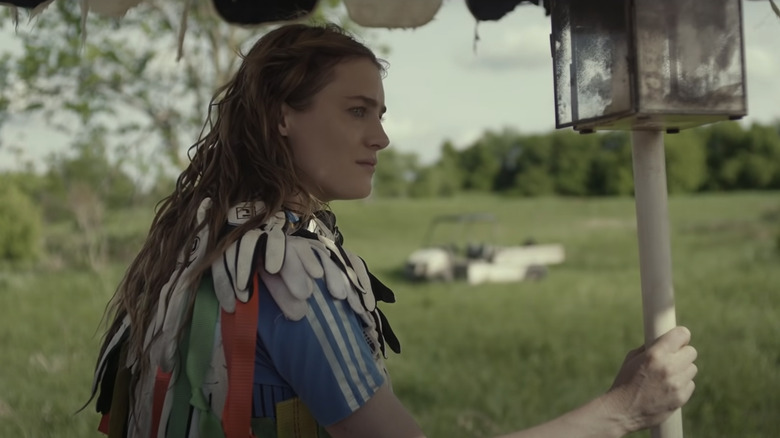 HBO Max
"Station Eleven" has an interesting way of visually juxtaposing the present with the future, and vice versa. In the first episode, it frames "before" and "after" scenes with match cuts, so that we see the same location overgrown with weeds and get a glimpse of how it will look after civilization has crumbled. It also returns us to certain settings and shows us a person frozen in icicles where we last saw them. Jeveen is glimpsed as a small, isolated figure in an empty theater, and the camera sometimes leaves the ground and cuts to a God's-eye view of a parking lot or street jammed with snow-covered cars.
As much as these techniques work to hammer home the fragility and microscopic nature of human life against the elements, they also give the show a lyrical quality, letting it flow between timelines in ways that bring out more emotion. Pre-lap dialogue from the next scene sometimes bleeds into the current one like voices in memory. Even lines of Shakespeare take on greater meaning, as we realize their significance in the context of one person's life.
Davis plays the adult Kirsten, who leads that Traveling Symphony, a band of actors and musicians whose caravan winds along green backdrops, 20 years after the collapse of society. In her present, phones are now relics whose magical functions can only be imagined, while in her past, they're still narrative participants that display their texts onscreen for us. While Kirsten is performing "Hamlet" by torchlight one night, the line, "All that lives must die, passing through nature to eternity," is set against a flashback to when she was young and received a text informing her that the owner of her father's phone was in the morgue.
A Show About What's Really Important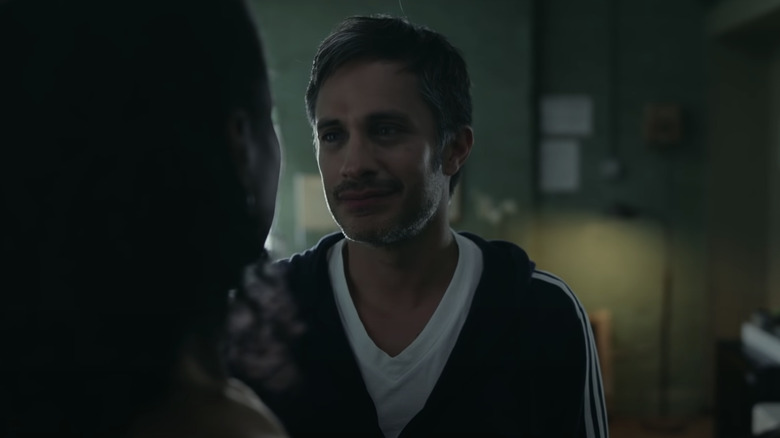 HBO Max
"Do you know about this flu?"
"What, that thing in Asia?"
Lines like those, or the later one where someone says, "The flu mutated," serve as obvious reminders of Covid and its variants. Yet in "Station Eleven," there's an element of danger that goes beyond that, whether it be the terror of an oncoming plane crash or the vague menace of another apocalypse survivor with murky intentions.
Deadwyler, who managed to stand out even among the star-studded cast of "The Harder They Fall," plays a buttoned-up woman who works in logistics but is always drawing, and who finally break downs in a boardroom in one emotional scene. As grave as some of this might sound, "Station Eleven" also finds time for lighter moments, as when an actor auditions for the Shakespearean troupe with Bill Pullman's rallying speech from "Independence Day."
Altogether, these moments help HBO Max's "Station Eleven" achieve lift-off at a life-affirming tilt. Though it began life well before most of us knew what a "coronavirus" was, the series has a poignancy to it that comes from being of the moment and for the moment. It peels away the scaffolding of technology and petty human concerns that we've erected over our existence on this planet, and goes digging for more foundational truths.
As a writer with tunnel vision — someone who spends most of his days indoors, focusing on the work in front of him at the expense of any real interaction — I found myself envying the members of the Traveling Symphony while they sit around in their camp, playing live music and enjoying each other's fellowship in person. At present, vicarious living for simple pleasures like that feels more aching and meaningful than any other special effect Hollywood could drum up. "Station Eleven" is a show about what's really important: people, art, and the force of life that hums below the distractions.