5 Comics To Read Before Watching Spider-Man: No Way Home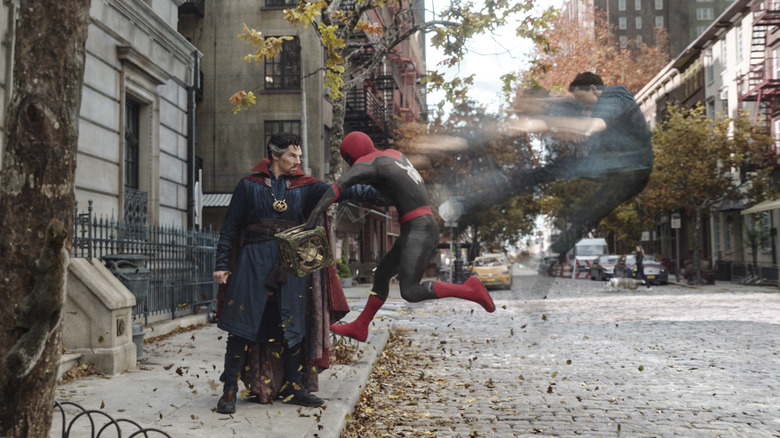 Sony Pictures
The time draws near, Marvel fans. "Spider-Man: No Way Home" is finally about to make its way to theaters, and many of you reading this may have already seen it or have plans to very soon. Whatever the case, this is a huge movie and easily the biggest event the Marvel Cinematic Universe has experienced since "Avengers: Endgame." As such, we all have a lot of questions, feelings, and anticipation heading into it. To perhaps help with some of that (or at the very least offer a relevant distraction) we are going to offer some suggested reading. Specifically, a handful of Marvel Comics titles to read before (or after!) seeing the movie to help get you in the right headspace. Let's dig in.
The Amazing Spider-Man #109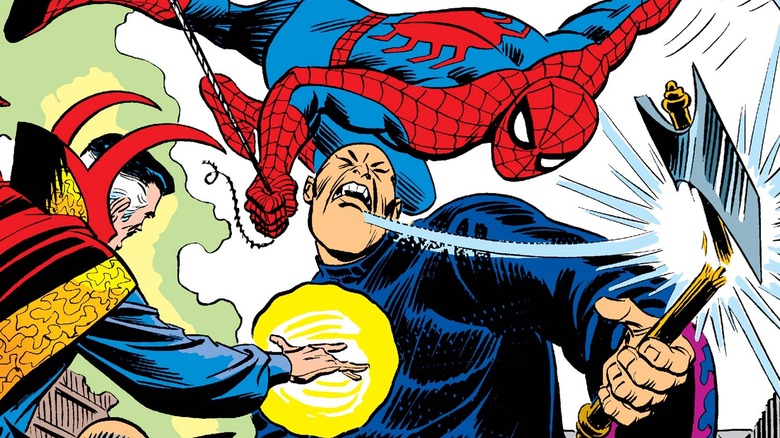 Marvel
For starters, Benedict Cumberbatch is going to be joining Tom Holland's Peter Parker this time around as Doctor Strange. That being the case, "The Amazing Spider-Man" #109, written by the legendary Stan Lee with art from John Romita Sr., is a great place to start. This is the first time that the two iconic heroes met in the pages of Marvel Comics, marking the start of a longstanding relationship that endures to this day. While the storyline, which involves Flash Thompson and a supposed Spidey imposter, doesn't seemingly have much bearing on "No Way Home," it offers us a look at the very beginnings of this duo.
Here's the synopsis:
Spider-Man and Dr. Strange rescue Flash Thompson from the Vietnamese monks who mistakenly blame him for the death of their high priest during the war.
The Amazing Spider-Man Annual #1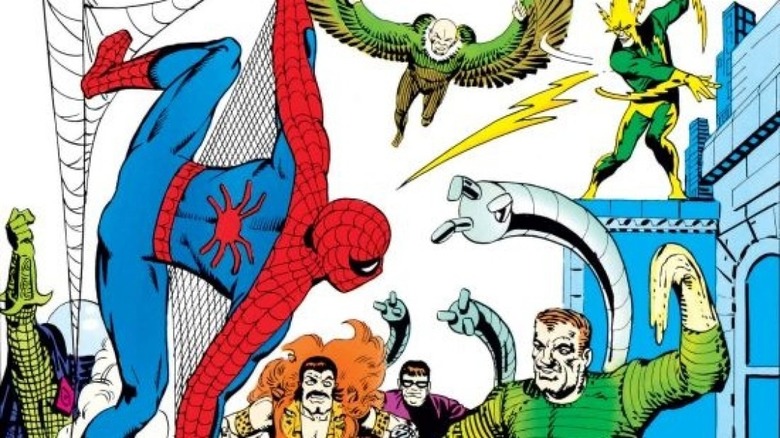 Marvel
The trailers for "No Way Home" have had fans counting villains as it is largely assumed that these multiverse visitors from past versions of the "Spider-Man" franchise are going to lead to a Sinister Six team-up. This team has a long history in the comics and, though the line-up frequently changes, it's a group of six villains who, individually, have failed to defeat Spidey. But the group first showed up in "The Amazing Spider-Man Annual" #1 back in 1964, also written by Lee with art by Steve Ditko, making it the perfect issue to check out ahead of the movie's release. It is readily available digitally and has also been reprinted in various formats for those who prefer a physical copy but don't want to shell out lots of dough for a copy.
Here's the synopsis:
Having broken out of prison, Dr. Octopus gathers Mysterio, Electro, Kraven the Hunter, the Vulture and Sandman to get revenge against Spider-Man as the Sinister Six. ... As Peter wanders the city lost in thought over all the stress caused by his Spider-Man identity, he doesn't go to school.
Spider-Man: Back In Black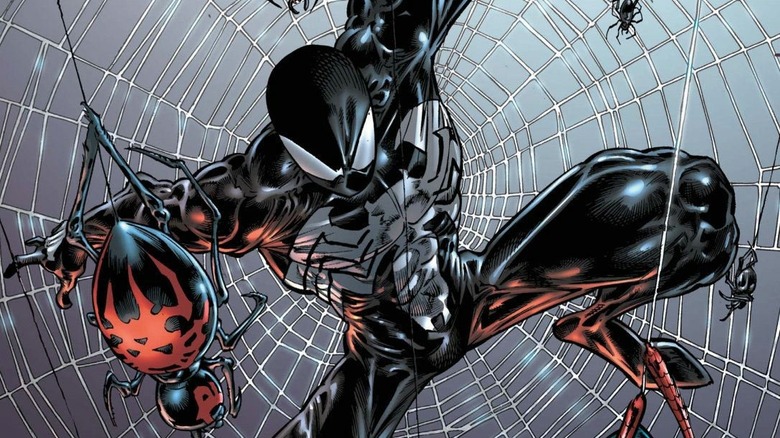 Marvel
Much like in the original "Civil War" comic book run, "Spider-Man: Far From Home" revealed Spider-Man's true identity to the world, causing hell for Peter Parker. This was explored in the aftermath of "Civil War" in an event titled "Back In Black," which was published in 2007. Written by J. Michael Straczynski, it explores what Peter's world becomes when everyone knows his identity. While Marvel eventually retconned the reveal in disappointing fashion, this storyline was worth the initial reveal, and certainly might be relevant given where Peter is starting off in "No Way Home." It is available as a collection, making it pretty easy to track down and read. It's available digitally or in physical collected editions.
Here's the synopsis:
The harrowing moments of Civil War may be in his rearview mirror, but their repercussions are a constant ordeal in Peter's life, as he must face the challenges born from the revelation of his identity. Facing down an army of super-powered Spider-Man impostors, grappling with the evil Mister Hyde, and standing up to the scourge of Venom and his alter ego Eddie Brock – the stakes have never been higher as he tries to navigate an emotional terrain that has found him forever changed.
Spider-Verse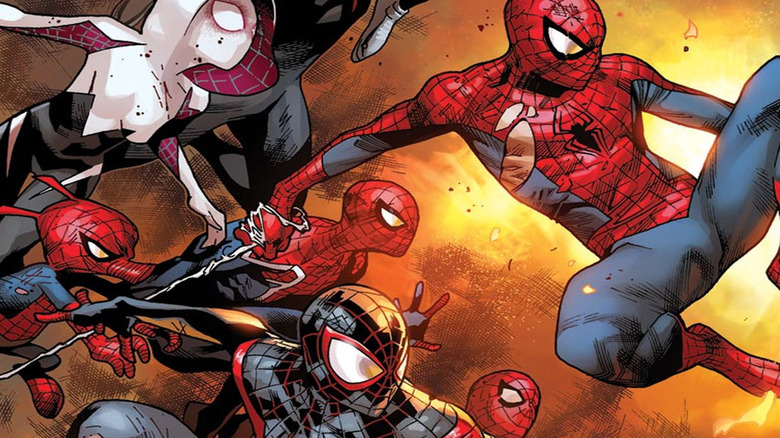 Marvel
Look, nobody is ever going to improve on the notion of bringing various incarnations of Spider-Man together when compared to 2018's "Spider-Man: Into the Spider-Verse." That having been said, the 2014/2105 event "Spider-Verse" is a fun romp, with a big line-up of writers contributing to the event including Skottie Young, Dan Slott, Robbie Thompson, and Katie Cook. And, given some of the prominent rumors regarding "No Way Home, seeing some Spider-Mans team-up to take on a major threat may well be just what the doctor ordered right now. Those interested can check out the whole reading order here, with the issues available digitally or via trade paperback.
Here's the synopsis:
Someone is working their way through the multiverse, leaving a trail of dead Spiders in their wake! And to stop them, it will take every Spider-Man ever...and then some! Featuring Spider-UK, SP//dr, Scarlet Spiders, Spider-Woman, Spider-Man 2099...can any of them survive the arrival of Morlun?
Spider-Man: Happy Birthday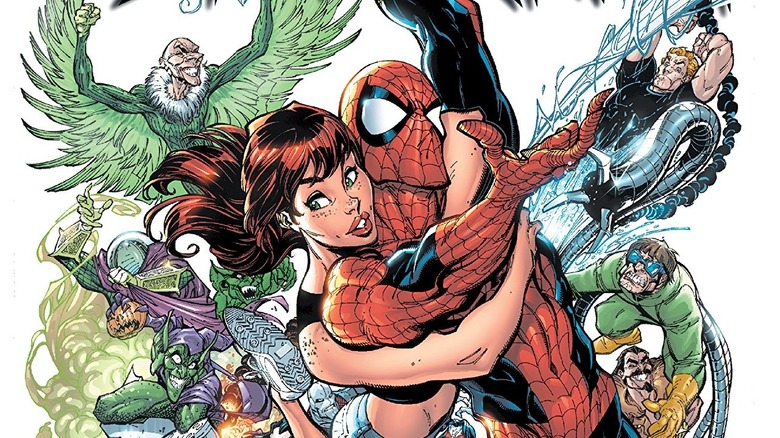 Marvel
Circling back to a Doctor Strange and Spider-Man team-up, we have 2003's "Happy Birthday" storyline, written by J. Michael Straczynski. At the time, it was all leading up to "The Amazing Spider-Man" #500. The book is a multiverse trip, with Peter and Stephen teaming up to take on none other than Dormammu. Given what we're getting in the upcoming MCU flick, seeing these two heroes going on a multiverse-spanning adventure together seems fitting. These issues are available digitally and as a collected edition in Trade Paperback form.
Here's the synopsis:
The dread lord Dormammu has found his way into our dimension and the only one who can stop him is... Well, Dr. Strange actually. But in order to do that Strange needs the help of Spider-Man. Strange sends Spider-Man through space and time in order for him to stop Mr. Fantastic from accidentally opening a portal from which Dormammu can get through. While traversing the space/time continuum, Spider-Man is forced to re-live many of his historic moments, both good and bad.
"Spider-Man: No Way Home" hits theaters on December 17.