The Lost City First-Look: Sandra Bullock And Channing Tatum Square Off Against Daniel Radcliffe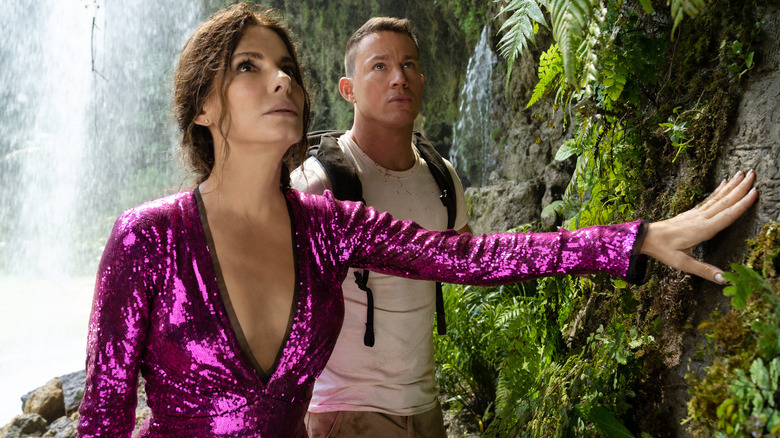 Paramount Pictures
If you're like me, you've probably missed seeing Channing Tatum's chiseled mug on the big screen for the past four years, outside of his funny but too-brief cameo in "Free Guy." It's why I'm pleased to see the "Magic Mike" star has several films on the way, starting with his directorial debut on next year's "Dog" (which he also stars in). About a month after that, Tatum will return opposite Sandra Bullock in "The Lost City" (formerly "The Lost City of D"), an action-adventure rom-com that has dropped a handful of first-look images like the one above.
"The Lost City" hales from directors Adam Nee and Aaron Nee ("Band of Robbers"), who drew from a script they co-wrote with Dana Fox ("Cruella") and Oren Uziel ("22 Jump Street"), based on a story by Seth Gordon ("Breaking In"). The film centers on Loretta Sage (Bullock), a "brilliant, but reclusive" romance-adventure novelist whose books feature "handsome cover model" Alan (Tatum) as the embodiment of a heroic character simply named "Dash." However, Loretta and Alan get pulled into a most unexpected adventure of their own when an "eccentric" billionaire (Daniel Radcliffe) kidnaps them in the hopes that Loretta can lead him to the lost treasure of the ancient city from her latest story.
Romancing the Stud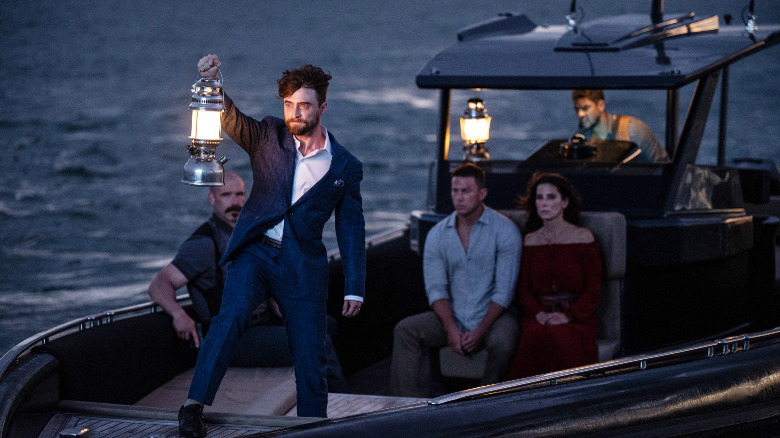 Paramount Pictures
Yes, the premise for "The Lost City" recalls that for "Romancing the Stone," but then again, when was the last time we got a movie like "Romancing the Stone?" Tatum raised that very point during his and Bullock's interview with EW, saying, "They just don't make movies like ['Romancing the Stone'] anymore. This is sort of one of those moments to see if we can land on a new version of that sort of genre movie..."
It's also interesting to note that "The Lost City" flips the "Romancing the Stone" formula on its head by making its female lead the one with more real-world experience, while its male lead is the one out to prove he can be the dashing hero he's long pretended to be. Bullock talked about that very topic with EW, stating:
"That's what's so much fun about it, you can take old setups and easily make them new. And the fun thing about the male-female narrative is that now we can turn it on its ear because it's no longer, 'This is the woman's role. This is the man's role.' You can mess with all of that and create a whole new dynamic. And that's sort of what we did."
As for Radcliffe's role? Any movie that features a weirdo one-percenter as its villain is doing something right. Even "Now You See Me 2" knew that when it cast the "Harry Potter" star as a similarly evil-doing, oddball tech tycoon.
Brad Pitt, Master of Cameos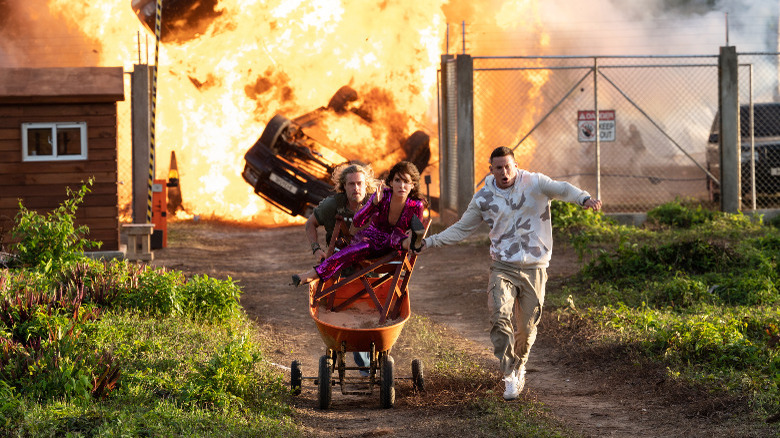 Paramount Pictures
Joining Bullock, Tatum, and Radcliffe in the "Lost City" cast are Da'Vine Joy Randolph ("Only Murders in the Building"), Oscar Nuñez ("The Office"), Patti Harrison ("Together Together"), and Bowen Yang ("Saturday Night Live"). Also along for the ride is Brad Pitt in a cameo role that came about thanks to, of all things, Pitt and Bullock sharing the same hairstylist, Janine Thompson.
While details on Pitt's character are under-wraps for now, he filmed what EW described as an "action and stunt-heavy" scene over four days. The above image offers a glimpse at his cameo in "The Lost City," with Pitt, Bullock, and Tatum carting along a wheelbarrow while fleeing a massive explosion involving multiple flipped cars. Between this and his blink-and-you'll-miss-it turn as Vanisher in "Deadpool 2," it seems Pitt is carving out a niche for himself as a master of strange, violent cameos.
"The Lost City" opens in theaters on March 25, 2022.