Hawkeye Episode 5 Just Tied Itself To Spider-Man: No Way Home With One Line Of Dialogue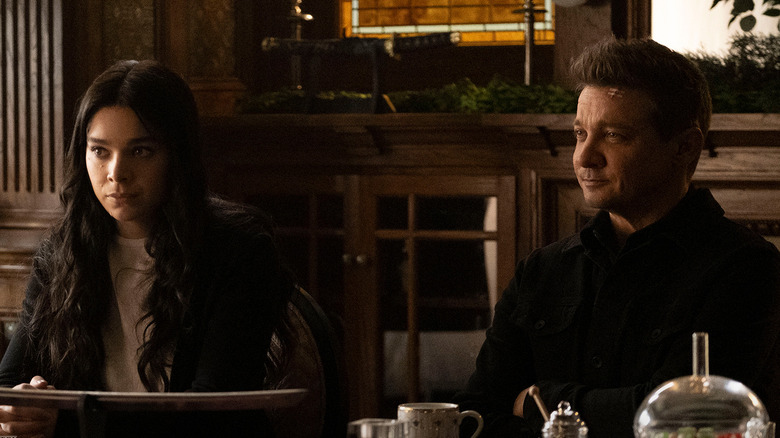 Marvel Studios
We are rapidly approaching the conclusion of "Hawkeye" on Disney+, with the game-changing episode 5 in the books. Titled "Ronin," the episode brought an awful lot to the table, so fans would be forgiven if they perhaps missed a quick connection to the upcoming "Spider-Man: No Way Home." Or, for those who did notice the connective tissue in question, it is still worth talking about what that means for the Marvel Cinematic Universe moving forward.
Warning: spoilers ahead for "Hawkeye" episode 5. Proceed with caution!
One of the biggest scenes in the episode is a rather lengthy sit-down chat between Yelena (Florence Pugh) and Kate Bishop (Hailee Steinfeld) following their blow-out confrontation on the rooftop from the previous episode. Yelena is playing nice for a good while, as she is merely trying to get information from Kate and has no intention of harming her. While making nice, Yelena is discussing things she would like to see in New York City while she's there, such as the "new and improved Statue of Liberty." Why does that sound so familiar?
#hawkeye spoilers
-
-
-
-
-
the no way home statue of liberty reference the perfect timing of these releases together yeah pic.twitter.com/gZztUfCw0b

— cara (@worthynomad) December 15, 2021
There it is. Indeed, those who have been keeping up with the "Spider-Man: No Way Home" trailers may well have noticed that the Statue of Liberty has been under construction. Specifically, it appears that they are adding Captain America's shield to the American monument. So, in terms of the overall MCU timeline, it seems "Hawkeye" takes place following the completion of this construction. The MCU timeline has been a bit messy in the aftermath of "Avengers: Endgame," but this gives us some sense of how this show relates to other recent projects.
What Does This Mean?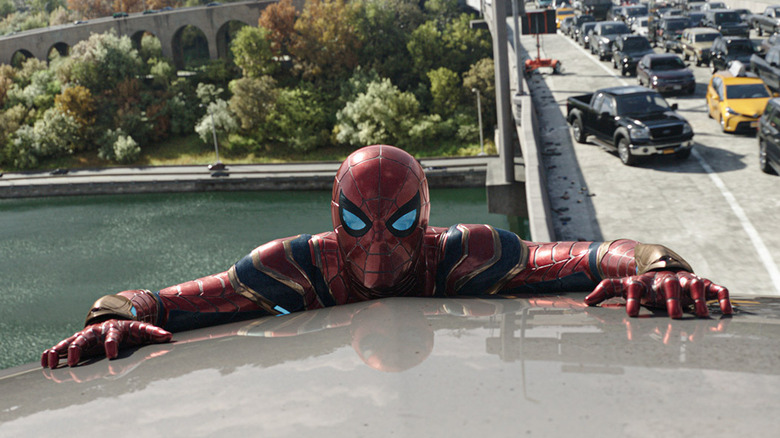 Sony Pictures
In the simplest sense, it means that the version of New York City in the MCU now has a Statue of Liberty with Captain America's shield. As for the deeper meaning? Well, is it truly all that hard to believe that this country would honor a hero such as Steve Rogers in such grand fashion following his sacrifices for its people? Sure, it's extreme, but in this universe, it's believable.
Beyond that, it seems to me that this is a classic example of the MCU not totally letting go of the ghosts of its past. While Cap didn't die at the end of "Endgame," it was certainly his goodbye, and it was a fitting one. No, we absolutely should not ignore Steve Rogers, or Tony Stark, or any other hero who has finished their business in this franchise. But if we are constantly reminded of them, it may make it tough to move on and let new heroes truly take over. Then again, this may be something we never see after "No Way Home" and, in the end, this could be nothing more than a fun little connective reference.
"Hawkeye" returns for its season finale on Wednesday, December 22 on Disney+.